How many riders can each nation select for the World Championships road race?
Great Britain, France and Italy get nine riders at the UCI World Championships road race, while Romania and Greece only get one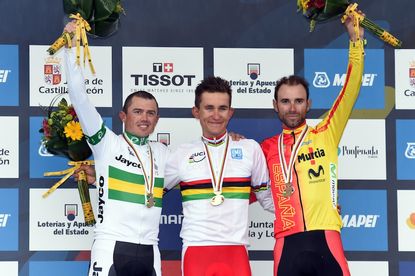 (Image credit: Watson)
Generally speaking, the nations with the best riders are allowed to select more riders for the World Championships road race, but it's a season-long competition that finalises that number.
Throughout the year, riders acquire points for their nations based on their finishing positions in races. Shortly before the World Championships the nations rankings are taken into account and teams are notified if they're allowed to select nine, six, three or just one rider for the big race.
For countries such as Spain, Italy and France - the traditional powerhouses of cycling - these rankings are not so important as the bigger nations generally have enough riders to accumulate points to guarantee them the full quota of nine riders.
For smaller cycling nations, however, the rankings make things a little harder for their riders, with Switzerland - home nation of the injured Fabian Cancellara - only entitled to three riders. The same goes for Slovakia, for whom Peter Sagan is their best bet for the win.
But for Sagan, and 2013 champion Rui Costa - who's Portugal also only have three riders - the task of controlling and winning the race is all the harder for lack of support.
And spare a thought for poor Sweden, who haven't qualified for the race, while the likes of Greece, Romania and Guatemala will ride with one man.
Nine riders: Spain, Italy, France, Colombia, Australia, Belgium, Germany, Great Britain, Czech Republic, Netherlands
Six riders: Algeria, Canada, Venezuela, the United States (hosts), Iran, Slovenia, Ukraine, Russia, Denmark, Poland, Norway
Three riders: Morocco, South Africa, Argentina, Brazil, New Zealand, Kazakhstan, Japan, South Korea, Austria, Belarus, Portugal, Turkey, Lithuania, Estonia, Croatia, Ireland, Luxembourg, Switzerland, Costa Rica
One rider: Latvia, Tunisia, Eritrea, Chile, Guatemala, Ecuador, Azerbaijan, Greece, Romania, Serbia.
Thank you for reading 20 articles this month* Join now for unlimited access
Enjoy your first month for just £1 / $1 / €1
*Read 5 free articles per month without a subscription
Join now for unlimited access
Try first month for just £1 / $1 / €1