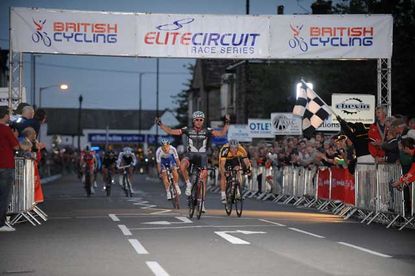 Jeremy Hunt (Cervelo Test Team) took the sprint from Ian Wilkinson (Halfords) and Ben Swift (Katusha) at last night's Hesco Bastion Elite Race at Otley's town centre cycle races.
Continental-based Hunt, back for the British national championship road race at the weekend, was always active and attacked from the off.
Large crowds around the 1.5 mile circuit watched the decisive race winning breakaway of Hunt, Swift, James Millard (Madison), Ian Bibby, Rob Partridge (Halfords), Ben Greenwood (Rapha Condor), Dave Clarke (Pendragon) and Dale Appleby (CandiTV-Marshalls Pasta) develop at around half distance of the 19-lap event.
Geraint Thomas (Barloworld), Wilkinson and Matt Cronshaw (Rapha-Condor) managed to bridge the gap from the main pack to the break in the closing laps.
The frantic pace at the front lit up the night as the skies overhead darkened. By the closing laps it was more like a nocturne as Thomas led the break in to the final lap.
Coming in to the crowd lined finish it was Hunt that came out of the gloom to take a comfortable win in the end.
Also in action on the night was local girl Lizzie Armitstead (Lotto Belisol) who raced in the senior support race earlier in the race programme.
Armitstead held her own against the men and was always near the front forcing the pace and must be counted as one of the favourites for Saturday's women's national championship road race.
RESULTS
Hesco Bastion Elite Race, National Elite Circuit Race Series

1. Jeremy Hunt (Cervelo)
2. Ian Wilkinson (Halfords)
3. Ben Swift (Katusha)
4. Dale Appleby (CandiTV-Marshalls Pasta)
5. Geraint Thomas (Barloworld)
6. Matt Cronshaw (Rapha-Condor)
7. Dave Clarke (Pendragon-Kalas)
8. Rob Partridge (Halfords)
9. Ian Bibby (Halfords)
10. Ben Greenwood (Rapha-Condor)
Giles Pidcock wins the support race
Lizzie Armitstead rode with the men in the support race, and spent much of the time on the front
Jeremy Hunt in action in the elite men's race
Ben Swift came third in the elite event
A fine second place for Ian Wilkinson
Hunt edges out Wilkinson and Swift to take the win
RELATED LINKS
National championships 2009: The big preview
Thank you for reading 10 articles this month* Join now for unlimited access
Enjoy your first month for just £1 / $1 / €1
*Read 5 free articles per month without a subscription
Join now for unlimited access
Try first month for just £1 / $1 / €1