Icons of cycling: Track mitts
A practical piece of kit and a quintessential part of being any kind of serious cyclist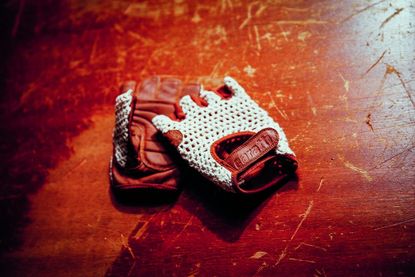 (Image credit: mike prior)
There was nothing like the feel of a brand new pair of crochet-backed track mitts. Opening the packet was a sensory serenade: the oily unctuous lanolin smell of the chamois leather, the beautifully stitched seams, and the airy yet close fit of the backs.
This was the late Seventies, when cycling style was all steel and Super Record. Imported track mitts, which rarely had labels and were the product of tiny cottage industries in Spain, could be bought mail order from the bike shop glitterati of Britain, or by adventurous souls on trips to Ghent, Milan or Paris.
But what were unobtainable to mere mortals were all-chamois track mitts, front and back, worn by the greats, like Eddy Merckx and Felice Gimondi, and before them Rik Van Looy and Charly Gaul.
Summer cycling gloves may not be an essential piece of summer cycling kit, but if you're in the market for
"They were the best," British pioneer pro Barry Hoban recalls. "And not for the likes of me. They were made of the softest leather, with a large cut-out on the back and trimmed to fit around the rider's knuckles.
"Van Looy had his name etched on his, probably pre-ordered and sent to him. The rest of us had to buy our track mitts. Teams didn't supply mitts, socks, undervests or shoes in those days. You bought your own.
"We did our buying early in each season. We'd buy cotton and wool socks, and merino wool vests — enough for the year — when we went to Milan for Milan-San Remo.
"Then a week later we'd buy track mitts in Spain, when we were there for Catalan Week, which was the same time as the Tour of Catalonia is now. There were lots of tiny glove manufacturers around Barcelona, and they came to the team hotels. I'd buy 50 pairs for the year."
Need some new gloves?
Not just for show
Track mitts are not just an affectation, though. They are practical, and they first appeared in the Fausto Coppi and Gino Bartali era of the 1940s and 1950s.
The palms improve grip, increase comfort and offer crash protection, while the crochet backs could soak up anything. Not that Merckx and Van Looy ever needed that; their noses never ran. Nothing was allowed to stain the pristine backs of their mitts.
>>> Icons of cycling: Colnago C40
Track mitts are unique to cycling, they are part of the badge we wear. Their lore, their care; these are things handed down between generations, and above all the raised hand in victory, clad in our own cut-down gauntlet, is a true icon of this sport.
Thank you for reading 20 articles this month* Join now for unlimited access
Enjoy your first month for just £1 / $1 / €1
*Read 5 free articles per month without a subscription
Join now for unlimited access
Try first month for just £1 / $1 / €1