Barry Hoban recounts his fight to place third in the 1972 Paris-Roubaix
In this extract from British cycling legend Barry Hoban's autobiography, he describes his experience during the 1972 Paris-Roubaix that could have ended in disaster, but instead ended on the podium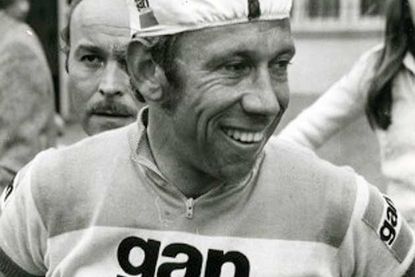 Get The Leadout Newsletter
The latest race content, interviews, features, reviews and expert buying guides, direct to your inbox!
Thank you for signing up to The Pick. You will receive a verification email shortly.
There was a problem. Please refresh the page and try again.
Barry Hoban won eight stages in the Tour de France, and is second to Mark Cavendish in the all-time British stage winner list.
Hoban was also the first British rider to win a mountain stage of the Tour de France. He won the classic single-day race Ghent-Wevelgem, the only British racer to have done that.
All told, Hoban won 32 top class professional races during his career, and and he had top three placings in many more, including two of the monuments of cycling; Paris-Roubaix and Liege-Bastogne-Liege.
Here we present an extract from Hoban's autobiography, Vas-y-Barry (French for 'Go on Barry!) on his experience in the 1972 edition of Paris-Roubaix.
Barry Hoban: Paris-Roubaix 1972
One thing with Gan-Mercier is we didn't have designated leaders, which worked out fine a lot of the time because we had a lot of good riders who could win, so it kept the opposition guessing. But it didn't work out for me in the 1972 Paris-Roubaix. The other things was, we didn't have support motorbikes carrying wheels for the cobbled sections in those days, so in places like the Arenberg Forest the team cars could be miles behind us. You had a long wait if you punctured, and in 1972 I punctured in the Arenberg Forest.
I was right at the front with Eddy Merckx, Roger De Vlaeminck and Walter Godefroot, the best riders in the race, but halfway through the Arenberg Forest, shushushushushush….. I punctured. I pulled over to one side, and the team car was nowhere to be seen. Eventually my team-mate Jacques Cadiou came along, saw me, stopped and gave me his back wheel. Gan riders had already passed me before Jacques got to me, and they could have given me a wheel, but like I said we didn't have dedicated leaders, and that time it backfired.
I changed the wheel, got back on my bike and I was quickly back up to speed, really steam-rollering along the Arenberg cobbles. Now, this was a time when Italians didn't often come to Roubaix. A lot of the races weren't as international as they are today, and a lot of Italians didn't like the cobbles.
>>> Cycling Weekly's all-time list of British pro winners
So I was going the best way to go on the cobbles, riding right along the crown; right down the centre of the road. You don't often puncture on the crown, you puncture when you're in the dirt and the rubbish at the side. Or when your tyre hits the edge of a stone and the tyre cuts and splits.
So I was hammering down the road, passing riders like they were stood still, and suddenly I saw these two Italians from the same team ahead of me, riding side by side along the middle of the road, exactly where I wanted to be. I was going twice as fast as they were, so I thought; do I pass them on the right or do I pass them on the left? Neither, I went straight through the middle of them.
Well you can imagine, these two Italians were riding along thinking; what are we doing here, we could be at home with mama eating pasta and drinking vino rosso. Back then Italians weren't brought up with images of a Francesco Moser or a Franco Ballerini or an Andrea Tafi hammering across the cobbles.
Italian cycling meant blue skies and summer sun. Then Hoban comes up behind them like an express train, and I went straight between the two of them. I touched them both, glanced them really, one on the right and one on the left, and they shot off the cobbles and into the ditches on either side of the road. To this day I bet they've no idea what hit them.
So I got out of Arenberg and I was flying down the road, then I saw the Merckx group ahead, and slowly but surely I got up to them. Great, a small break had gone ahead, but the guys that mattered were still together, so that was fine. I was experienced enough to know by then that one of this group would win. Then I realized I had another problem.
I'd taken all sorts of risks on the cobbles, and the back wheel Cadiou gave me was wobbling all over the place. It was so bad that it probably would have collapsed if I'd hit more bad cobbles on it. So I looked behind and saw that the team cars were catching us. I waited for a smooth, straight piece of road, put my arm in the air and Caput drove up alongside me. I stopped, jumped off, pulled the knackered back wheel out, the mechanic put the good one in and gave me a good running shove down the road.
>>> Brits in the Tours: From Robinson to Froome
But now I had to make my way back to the front by myself again. Poulidor was in the front group. Poulidor didn't have a cat in hell's chance of winning Paris Roubaix, but there was never any thought of him dropping back for me. Other teams used to do it, I mean, how many races did anyone from Eddy Merckx's team who wasn't Eddy Merckx win? Not many.
But I chased and I got back, only to find that De Vlaeminck had attacked and gone ahead while I was chasing. The other breakaway group, the one that had been just ahead of the Merckx group, had been caught apart from one guy, Willy Van Maldergem, and he was just hanging on in front of us. But I couldn't do anything about chasing De Vlaeminck at that moment, not when I'd just caught the group. The chase had been hard and I needed a breather, but while I was catching my breath, and there was only about 30 kilometres to go now, Andre Dierickx attacked and went off the front.
This was bad. If I'd have been there when De Vlaeminck had gone, I'd have gone with him, I was strong enough. If I'd not just fought my way back when Dierickx went, I'd have gone with him too. And I knew those guys inside out, I would have been with them in a sprint. Instead I had to wait until I'd recovered from chasing. Then I went.
The Merckx group weren't gaining on De Vlaeminck or Dierickx, so I had to try to go after them. I decided to go as we were coming into Hem, where the last cobbles were. I knew Hem from racing there as an independent. You come into Hem and the race turns right, and there's a nasty drag, and when you've got 250 kilometres of Paris-Roubaix in your legs that drag is a real hill.
I dropped off the back of the group as we approached the drag, then I attacked up the inside on the left, almost in the gutter where there was just enough space. All the group were looking to their right, so no one saw me go until it was too late, and I'd gone.
There was only about five kilometres to go after the drag, and although I was catching Dierickx and De Vlaeminck, I wasn't catching them fast enough. I caught Willy Van Maldegem, though. Poor Willy, he'd been away for most of the race and I caught him on the Boulevard outside of the track, where they've put that little ceremonial cobbled section today. I blew right past him and he was almost stood still. Then I entered the Velodrome in third spot and I crossed the line in third place too.
Watch: Road cycling show - Barry Hoban
The punctures and problems were a bit ironic, because I rode Paris Roubaix I think thirteen times and I know I finished nine times, and I rarely punctured. But that day, the day when I was going so well, I had a puncture at the worst possible moment, and I had to stop and change my wheel again after that. Still, I got on the podium, although there wasn't actually podium to stand on in those days, and I don't think you got a cobble stone for winning in those days either.
Would I have won Paris-Roubaix if not for the puncture and the second wheel change? Nobody knows. I do know that Roger De Vlaeminck and Andre Dierickx never once beat me in a sprint. They never did, so if I'd got to the Roubaix track with them I would have been very confident. And I was strong enough that day to have gone with them.
I would have gone with them but for all the chasing I did. I rode away from the chasing group in the end, but it was too late to catch the guys in front. So I finished third in Paris-Roubaix behind Roger De Vlaeminck and a very under-rated Andre Dierickx, but look at who was behind me. Eddy Merckx, Walter Godefroot, and Roger Rosiers, all Paris-Roubaix winners, they were all behind me. It was a good day's work.
Vas-y-Barry is available from the Cycling Weekly online shop priced £16.95.
Thank you for reading 20 articles this month* Join now for unlimited access
Enjoy your first month for just £1 / $1 / €1
*Read 5 free articles per month without a subscription
Join now for unlimited access
Try first month for just £1 / $1 / €1
Get The Leadout Newsletter
The latest race content, interviews, features, reviews and expert buying guides, direct to your inbox!
Founded in 1891, Cycling Weekly and its team of expert journalists brings cyclists in-depth reviews, extensive coverage of both professional and domestic racing, as well as fitness advice and 'brew a cuppa and put your feet up' features. Cycling Weekly serves its audience across a range of platforms, from good old-fashioned print to online journalism, and video.