The all-time list of British pro winners
Who are Britain's most successful male road riders?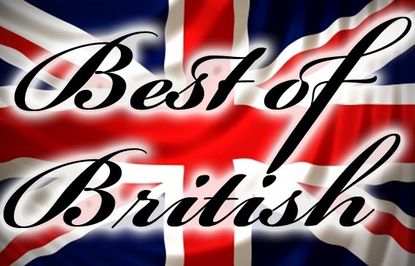 It's a question that sparks heated debate whenever it is asked. Who is Britain's greatest male professional road racer of all time?
For some it's a no-brainer: Chris Froome has won the Tour de France on four occasions, stages of the Tour and Vuelta, and also claimed the Critérium du Dauphiné, Paris-Nice and Tour de Romandie.
Or perhaps Bradley Wiggins? Britain's first Tour champion and winner of Paris-Nice, Criterium du Dauphine, Tour de Romandie and stages of the Tour and Giro d'Italia.
But in terms of the number of wins, Mark Cavendish has a watertight case. When the Manxman won stage two of the 2009 Tour de France, he jumped past Chris Boardman in our table, with an incredible tally of wins since turning professional in 2007.
Cavendish is, in terms of wins, Britain's most successful pro rider in history.
>>> See Cycling Weekly's all-time ranking of British pro riders
CYCLING WEEKLY'S BEST OF BRITISH
Who are the most prolific British male professional riders of all time? Here's our league table of the most successful riders, based purely on the number of wins in top international professional races.
What we have included
All international one-day and stage races, including overall classifications - including races that no longer exist. The Kellogg's Tour, PruTour and Tour of Britain
What we have not included
Minor European races
Pro-am races, such as the Milk Race and Peace Race
Criteriums, kermesse races or exhibition races
Team time trials or two-up time trials
Domestic events in the USA
Other classifications, such as king of the mountains or points competition titles
Where's Max Sciandri? Surely he won enough races?
The Derby-born rider rode much of his career as an Italian. He declared for Great Britain in 1995, in order to ride the Olympic Games in Atlanta the following year. However, he did not win 10 professional races in his years as a British rider
1 MARK CAVENDISH
144 professional wins, 2007 to date
2007 - 11
Scheldeprijs Vlaanderen
Two Four Days of Dunkirk stages
Two Tour of Catalonia stages
Ster Elektrotoer stage
Tour of Denmark stage
ENECO Tour stage
Tour of Britain prologue
Tour of Britain stage
Circuit Franco Belge stage
2008 - 17
Two Three Days of De Panne stages
Scheldeprijs Vlaanderen
Tour of Romandy prologue
Two Giro d'Italia stages
Ster Elektrotoer stage
Four Tour de France stages
Three Tour of Ireland stages
Three Tour of Missouri stages
2009 - 23
Two Tour of Qatar stages
Two Tour of California stages
Tirreno-Adriatico stage
Milan-San Remo
Two Three Days of De Panne stages
Three Giro d'Italia stages
Two Tour of Switzerland stages
Six Tour de France stages
Sparkasse Giro
Tour of Ireland stage
Two Tour of Missouri stages
2010 - 11
Tour of Catalonia stage
Tour of Romandy stage
Tour of California stage
Five Tour de France stages
Three Vuelta a Espana stages
2011 - 12
Tour of Oman stage
Scheldeprijs Vlaanderen
Two Giro d'Italia stages
Five Tour de France stages
Two Tour of Britain stages
World Champion, road race
(NB: Also won London Surrey Cycle Classic Olympic test event, not counted here as only ranked UCI 1.2)
2012 - 15
Two Tour of Qatar stages
Kuurne-Brussels-Kuurne
Tirreno-Adriatico stage
Three Giro d'Italia stages
Ster ZLM Toer overall
Three Tour de France stages
Tour of Denmark stage
Three Tour of Britain stages
2013 - 19
Tour de San Luis stage
Four Tour of Qatar stages and overall
Three Days of De Panne stage
Five Giro d'Italia stages
Two Tour de France stages
National championship road race
Tour of Denmark stage
Three Tour of Britain stages
2014 - 11
Tour of the Algarve stage
Tirreno-Adriatico stage
Four Tour of Turkey stages
Two Tour of California stages
Tour de Suisse stage
Two Tour du Poitou Charentes stages
2015 - 14
Tour de San Luis stage
Two Dubai tour stages and overall
Clasica de Almeria
Kuurne-Brussels-Kuurne
Three Tour of Turkey stages
Four Tour of California stages
Tour de France stage
2016 - 10
Tour of Qatar stage and overall
Tour of Croatia stage
Tour of California stage
Four Tour de France stages
Two Abu Dhabi Tour stages
2017 - 1
Abu Dhabi Tour stage
2= CHRIS BOARDMAN
41 professional wins, 1993 to 1999
1993 - 2
Chrono des Herbiers
GP Eddy Merckx
1994 - 8
Tour of Murcia prologue
Tour or Murcia stage
Dauphine Libere prologue
Two Dauphine Libere stages
Tour of Switzerland stage
Tour de France prologue
World Championship time trial
1995 - 4
Tour de l'Oise stage
Four Days of Dunkirk stage
Dauphine Libere stage
Midi Libre stage
1996 - 8
Paris-Nice stage
Criterium International overall
Four Days of Dunkirk stage
Route du Sud stage
GP des Nations
GP Eddy Merckx
Chrono des Herbiers
Josef Vogeli Memorial
1997 - 7
Tour of Valencia stage
Tour of Romandy prologue
Tour of Romandy stage
Two Tour of Catalonia stages
Dauphine Libere stage
Tour de France prologue
1998 - 8
PruTour prologue
PruTour stage one
Two Tour of Catalonia stages
Dauphine Libere prologue
Dauphine Libere stage
Tour de France prologue
Tour de l'Ain stage
1999 - 4
Paris-Nice stage
Criterium International stage
PruTour stage
Josef Vogeli Memorial
2= CHRIS FROOME
41 professional wins, 2007 to date
2011 - 1
Vuelta a Espana stage
2012 - 1
Tour de France stage
2013 - 13
Tour of Oman stage and overall
Tirreno-Adriatico stage
Criterium International stage and overall
Tour de Romandie stage and overall
Criterium du Dauphine stage and overall
Three Tour de France stages and overall
2014 - 6
Tour of Oman stage and overall
Tour of Romandie stage and overall
Two Criterium du Dauphine stages
2015 - 7
Ruta del Sol stage and overall
Two Criterium du Dauphine stages and overall
Tour de France stage and overall
2016 - 10
Herald Sun Tour stage and overall
Tour de Romandie stage
Criterium du Dauphine stage and overall
Two Tour de France stages and overall
Two Vuelta a España stages
2017 - 3
Tour de France overall
Two Vuelta a España stages
4 BRADLEY WIGGINS
33 professional wins, 2003 to 2016
2003 - 1
Tour de l'Avenir stage
2005 - 2
Circuit de Lorraine stage
Tour de l'Avenir stage
2007 - 3
Four Days of Dunkirk stage
Dauphiné Libéré prologue
Tour du Poitou-Charentes stage
2009 - 4
Three Days of De Panne stage
British National Time Trial Championships
Herald Sun Tour stage and overall
2010 - 2
Giro d'Italia stage
British National Time Trial Championships
2011 - 3
Bayern Rundfahrt stage
Criterium du Dauphine overall
British National Road Race Championships
2012 - 10
Tour of the Algarve stage
Paris-Nice stage
Paris-Nice overall
Two Tour de Romandie stages
Tour de Romandie overall
Criterium du Dauphine stage
Criterium du Dauphine overall
Two Tour de France stages
Tour de France overall
2013 - 3
Tour of Poland stage
Tour of Britain stage and overall
2014 - 3
Tour of California stage and overall
Tour of Britain stage
2015 - 1
Three Days of De Panne stage
5= MALCOLM ELLIOTT
31 professional wins, 1987 to 95
1987 - 3
Three Nissan Classic stages
1988 - 5
Vuelta a Espana stage
Tour of Aragon stage
Kellogg's Tour of Britain prologue
Kellogg's Tour of Britain stage
Kellogg's Tour of Britain overall
1989 - 9
Three Semaine Catalan stages
Two Vuelta a Espana stages
Two Castilla y Leon stages
Tour of Galicia stage
Kellogg's Tour of Britain prologue
1990 - 9
Three Tour of the Americas stages
Two Tour of Cantabria stages
Two Tour of Catalonia stages
Kellogg's Tour of Britain stage
Tour of the Basque Country stage
1991 - 1
Trofeo Masferrer
1992 - 1
Tour of the Mining Valleys stage
1993 - 2
National road race
Tour DuPont stage
1995 - 1
Tour DuPont stage
5= DAVID MILLAR
31 professional wins, 1997 to 2014
1997 - 1
Tour de l'Avenir prologue
1998 - 3
Three Days of De Panne stage
Tour de l'Avenir prologue
Tour de l'Avenir stage
2000 - 2
Route du Sud stage
Tour de France stage
2001 - 8
Two Circuit de la Sarthe stages
Circuit de la Sarthe overall
Euzkal Bizicleta stage
Tour of Denmark stage
Tour of Denmark overall
Vuelta a Espana prologue
Vuelta a Espana stage
2002 - 1
Tour de France stage
2003 - 5
Three Days of West Flanders prologue
Tour of Picardie overall
Tour of Burgos stage
Tour de France stage
Vuelta a Espana stage
2006 - 1
Vuelta a Espana stage
2007 - 3
Paris-Nice prologue
National Championship road race
National Championship time trial
2009 - 1
Vuelta a Espana stage
2010 - 4
Criterium International stage
Three Days of De Panne stage
Three Days of De Panne overall
Chrono des Herbiers
2011 - 1
Giro d'Italia stage
2012 - 1
Tour de France stage
7 TOM SIMPSON
24 professional wins, 1959 to 1967
1959 - 5
Rennes-Fougeres-Rennes time trial
Tour de l'Essor Breton stage
Two Tour de l'Ouest stages
Route de France stage
1960 - 3
Course Mont Faron
Tour du Sud-Est overall
Polymultipliee
1961 - 2
Tour of Flanders
GP d'Eibar stage
1963 - 3
Tour du Var stage
Bordeaux-Paris
Circuit du Provencal stage
1964 - 2
Milan-San Remo
Circuit du Provencal stage
1965 - 4
World Championship road race
Tour of Lombardy
Harelbeke-Antwerp-Harelbeke
Criterium des As
1966 - 1
Criterium des As
1967 - 4
Paris-Nice overall
Two Vuelta a Espana stages
Tour of Sardinia stage
8= BARRY HOBAN
21 professional wins, 1964 to 1978

1964 - 3
Two Vuelta a Espana stages
Midi Libre stage
1966 - 1
Rund um den Henninger Turm
1967 - 1
Tour de France stage
1968 - 1
Tour de France stage
1969 - 3
Two Tour de France stages
Four Days of Dunkirk stage
1970 - 1
Four Days of Dunkirk stage
1971 - 1
GP Fourmies
1973 - 2
Two Tour de France stages
1974 - 6
Ghent-Wevelgem
Two Midi Libre stages
Tour de France stage
Paris-Bourges
Tour d'Indre-et-Loire stage
1975 - 1
Tour de France stage
1978 - 1
Four Days of Dunkirk stage
8= MICHAEL WRIGHT
21 professional wins, 1962 to 1973
1962 - 1
GP Brabant
1964 - 4
Tour du Condroz
GP Denain
Brussels-Nandrin
Tour du Nord stage
1965 - 2
Hoeilaart-Diest-Hoeilaart
Tour de France stage
1966 - 1
Brussels-Verviers
1967 - 1
Tour de France stage
1968 - 4
Fleche Hesbignonne
Tour of Luxembourg stage
Two Vuelta a Espana stages
1969 - 7
Tour du Condroz
Two Vuelta a Espana stages
Tour of the Basque Country stage
Two Tour du Nord stages
Tour of Catalonia stage
1973 - 1
Tour de France stage
8= JEREMY HUNT
21 professional wins, 1997 to 2012
1997 - 8
Circuit de Getxo
GP Minho stage
Two Tour de l'Avenir stages
Circuit de la Sarthe stage
Tour of Aragon stage
Tour of Rioja stage
National Championship road race
1998 - 3
Tour of Majorca stage
Two Tour of Portugal stages
2000 - 2
Australian National Championship road race
Tour of the Mediterranean stage
2001 - 2
Tour of the Somme stage
Circuit Franco-Belge stage
2002 - 1
GP Ouest France Plouay
2003 - 1
Tour of Picardie stage
2005 - 1
Tour de la Region Wallonne stage
2007 - 1
GP d'Ouverture La Marseillaise
2008 - 1
Tour of Langkawi stage
2009 - 1
Tour of Denmark stage
11 GERAINT THOMAS
17 professional wins, 2006 to present
2006 - 2
Fleche du Sud stage and overall
2010 - 1
National road champion
2011 - 1
Bayern-Rundfahrt overall
2012 - 1
Tour de Romandie stage
2013 - 1
Tour Down Under stage
2014 - 2
Bayern-Rundfahrt stage and overall
2015 - 3
Volta ao Algarve stage and overall
E3 Harelbeke
2016 - 2
Volta ao Algarve overall
Paris-Nice overall
2017 - 4
Tour of the Alps stage and overall
Tour de France stage
Tirreno-Adriatico stage
12 ROBERT MILLAR
16 professional wins, 1983 to 1995
1983 - 1
Tour de France stage
1984 - 3
Tour of Romandy stage
Midi Libre stage
Tour de France stage
1985 - 1
Tour of Catalonia overall
1986 - 1
Vuelta a Espana stage
1987 - 2
Tour of the Mediterranean stage
Giro d'Italia stage
1989 - 4
Tour of Romandy stage
Dauphine Libere stage
Tour de France stage
Kellogg's Tour of Britain overall
1990 - 2
Tour of Romandy stage
Dauphine Libere overall
1991 - 1
Tour of Switzerland stage
1995 - 1
National Championship road race
13 SEAN YATES
14 professional wins, 1984 to 1994
1984 - 1
Four Days of Dunkirk prologue
1988 - 4
Paris-Nice stage
Vuelta a Espana stage
Midi Libre stage
Tour de France stage
1989 - 5
GP Eddy Merckx
Tour of Holland prologue
Two Tour of Belgium stages
Tour of Belgium overall
1991 - 2
Dauphine Libere stage
Nissan Classic stage
1992 - 1
National Championship road race
1994 - 1
USPro Champs
14 BEN SWIFT
13 professional wins, 2009 to date
2009 - 1
Tour of Britain stage
2010 - 2
Tour de Picardie stage and overall
2011 - 5
Two Tour Down Under stages
Vuelta a Castilla y Leon stage
Tour de Romandie stage
Tour of California stage
2012 - 2
Two Tour of Poland stages
2014 - 2
Tour of the Basque Country stage
Settimana Coppi e Bartali stage
2015 - 1
Settimana Coppi e Bartali stage
15 = BRIAN ROBINSON
11 professional wins, 1954 to 1961
1954 - 1
Tour d'Europe stage
1957 - 2
GP Fortreuse
GP Nice
1958 - 2
Tour du Sud-Est stage
Tour de France stage
1959 - 1
Tour de France stage
1960 - 2
Tour de l'Aude stage
Midi Libre stage
1961 - 3
Dauphine Libere stage
Dauphine Libere overall
Monts d'Auvergne stage
15 = ROGER HAMMOND
11 professional wins, 1996 to 2011
2000 - 2
Guldensporentweedaagse stage
GP Bodson
2002 - 2
GP Mei Prijs Hoboken
Tour Beneden-Maas
2003 - 3
Uniqa Classic Tour overall
Uniqa Classic stage
National Championship road race
2004 - 1
National Championship road race
2005 - 1
Tour of Britain stage
2006 - 1
Tour of Britain stage
2009 - 1
Tour of Qatar stage
Thank you for reading 20 articles this month* Join now for unlimited access
Enjoy your first month for just £1 / $1 / €1
*Read 5 free articles per month without a subscription
Join now for unlimited access
Try first month for just £1 / $1 / €1