Icons of cycling: Tom Simpson's Peugeot chequered jersey
The word 'chequer' is derived from the Persian 'shah' or king, so it's entirely appropriate that the Peugeot jersey was worn by cycling royalty in its 23-year existence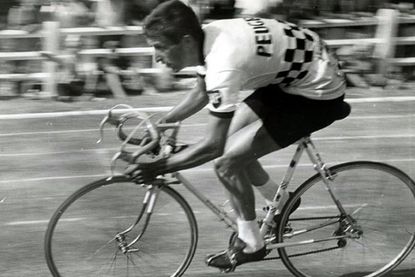 Tom Simpson is the rider most cycling fans associate with the iconic chequerboard pattern, and indeed Simpson joined the Peugeot team in 1963, the year the jersey was launched (teams sponsored by Peugeot had existed since 1901).
>>> Tom Simpson: a life in pictures
Ask anyone for the image that comes to mind when they hear the word 'Peugeot' and they'll probably describe a black-and-white-clad Simpson in his familiar hunched position, head to one side, eyes burning holes in the road against an awe-inspiring backdrop of high Alps.
Simpson blazed a trail for future British and English-speaking riders to wear the jersey of this most French of teams. Robert Millar turned pro with Peugeot in 1980, as did Stephen Roche the following year and Sean Yates the year after that.
Australians Phil Anderson and Allan Peiper also started their professional cycling careers with Peugeot. All four were graduates of Athletic Club de Boulogne-Billancourt (ACBB), Peugeot's amateur feeder team, whose ambitious international riders were known as the Foreign Legion.
Steady, Eddy
Considerable though the anglophone accomplishments in the chequered jersey are, let's not forget the greatest cyclist who ever lived, Eddy Merckx, wore it for two seasons at the beginning of his career, too — the 1966 and 1967 seasons when Simpson was team leader.
Merckx turned pro with the Belgian Solo-Superia team in 1965 but following an unhappy year under team leader Rik Van Looy he moved to Peugeot.
Merckx told our sister magazine Cycle Sport in 2004: "The atmosphere at Peugeot was totally different. All I got from Van Looy and his cronies was ridicule, not one piece of help or advice. They were very unfair. I was still just a naive young boy really. With Peugeot, and especially with Tom, it was different. 'Step by step Eddy,' he used to keep saying to me. I was so anxious to improve. Most of all, though, he taught me bravery."
The two team-mates briefly fell out at the 1967 Paris-Nice when Merckx took an early lead. Once they'd made up Simpson won, helped by Merckx in an epic stage that the Belgian took, giving the Briton the final leader's jersey.
Merckx of course won all five of his Tours de France once he'd left Peugeot, but ironically it was Frenchman Bernard Thévenet who ended Merckx's run by winning the Tour de France in 1975 — for Peugeot. Thévenet won a second Tour in the chequered Peugeot jersey in 1977, the team's last Tour win.
Peugeot became Vêtements Z-Peugeot in 1987 and the classic jersey was replaced with the pop art-inspired blue, yellow and pink design that would become the battledress of Greg LeMond.
This article first appeared in the June 4 edition of Cycling Weekly
Thank you for reading 10 articles this month* Join now for unlimited access
Enjoy your first month for just £1 / $1 / €1
*Read 5 free articles per month without a subscription
Join now for unlimited access
Try first month for just £1 / $1 / €1
Simon Smythe is a hugely experienced cycling tech writer, who has been writing for Cycling Weekly since 2003. Until recently he was our senior tech writer. In his cycling career Simon has mostly focused on time trialling with a national medal, a few open wins and his club's 30-mile record in his palmares. These days he spends most of his time testing road bikes, or on a tandem doing the school run with his younger son.