If we want clean sport then someone's got to pay – but it's not Bradley Wiggins or Team Sky
The DCMS report highlights the woeful lack of funding for anti-doping organisations and this must change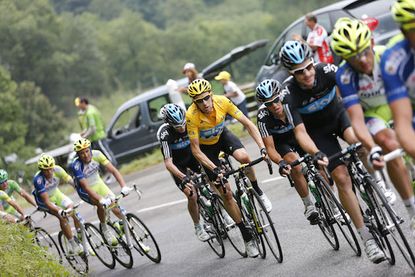 (Image credit: Yuzuru SUNADA)
The release of the Combatting Doping in Sport report produced by the UK parliament's Digital, Culture, Media and Sport Committee ensured that Team Sky managed to hog the headlines despite the failure of its riders to contend in the Strade Bianche, the biggest racing encounter of the weekend.
"WIGGO DOPING SHOCK" shouted The Sun's front page, the tabloid highlighting in simplified terms the principal allegation of the 52-page DMCS report. "Wiggins and Sky abused doping rules to win Tour" The Guardian stated a little more soberly.
Much of the cycling-focused section of the report was devoted to summarising previously highlighted systemic failings in the keeping of medical records by the team's doctors and dissecting the specifics of "Jiffygate".
Yet, the report did highlight new details, notably with its suggestion that the use of triamcinolone, administered under a therapeutic use exemption (TUE) to team leader Bradley Wiggins on three occasions between 2011 and 2013, may have been more widespread.
>>> UK Anti-Doping says 'jiffy bag' case will remain closed unless 'new information comes to light'
According to an allegation from a "confidential material from a well-placed and respected source", Wiggins and what is described as "a smaller group of riders" trained separately from the rest of the team and "were all using corticosteroids out of competition to lean down in preparation for the major races that [2012] season. This same source also states that Bradley Wiggins was using these drugs beyond the requirement for any TUE."
While Wiggins has said that he "never crossed an ethical line" and described the allegations as a "malicious" smear attempt, and Sky have refuted the allegations and expressed its disappointment that "the Committee has chosen to present an anonymous and potentially malicious claim in this way," there is little doubt that they will further tarnish a team whose current leader is attempting to explain an adverse analytical finding that could result in him facing a doping ban.
Worryingly, the overriding impression that DCMS report ultimately delivers is that the next "Jiffygate" or similar saga will inevitably arrive because of the lack of support and funding given to UK Anti-Doping and, on the global scale, the World Anti-Doping Agency. The report describes UKAD as being "severely underfunded".
The organisation's CEO, Nicole Sapstead, reveals that it employs just a single investigator to cover 47 sports, and that channelling resources towards one sport has the consequence of withdrawing them from others, often resulting in no testing taking place in the neglected sport.
Since 2010, and the implementation of austerity policies by the British government, UKAD's budget has fallen from £6.5m to £5.9m in 2017. This covers not only testing, but also education programmes for athletes related to anti-doping and investment in research into new tests and procedures.
Although the Government has committed to boost this funding by 50 per cent over the next two years, the organisation will remain almost criminally underfunded given the millions poured into sport from the national lottery and the billions received from TV and sponsorship revenues.
WADA is also attempting to do too much with too little. Contributions to its budget in 2017 amounted to almost $30m, laughably low given the scale of the task it faces in policing sport across the globe.
>>> 12 amazing photos from a brutal edition of Strade Bianche
While praising the efforts of both organisations, the DCMS committee report highlights that, "It is important that both WADA and UKAD are adequately funded to deal with the huge problem of doping in sport. These important anti-doping bodies cannot fulfill their mandate with insufficient funding."
The solution, it suggests, is that sports that benefit from their activities, and particularly wealthier ones such as football and athletics, should contribute a fixed percentage of their income.
If we want to believe the sport we are watching is clean and to avoid more Jiffygates, funding these agencies much more substantially has to be the way forwards. As the DCMS report makes clear, teams and ruling bodies have repeatedly shown they are beset by a balancing act when setting ethical concerns against performance targets, with the balance too often going the wrong way.
Giving independent agencies the proper ability to handle this dilemma is vital if sport is to regain and retain its credibility.
Thank you for reading 10 articles this month* Join now for unlimited access
Enjoy your first month for just £1 / $1 / €1
*Read 5 free articles per month without a subscription
Join now for unlimited access
Try first month for just £1 / $1 / €1
Peter Cossins has been writing about professional cycling since 1993, with his reporting appearing in numerous publications and websites including Cycling Weekly, Cycle Sport and Procycling - which he edited from 2006 to 2009. Peter is the author of several books on cycling - The Monuments, his history of cycling's five greatest one-day Classic races, was published in 2014, followed in 2015 by Alpe d'Huez, an appraisal of cycling's greatest climb. Yellow Jersey - his celebration of the iconic Tour de France winner's jersey won the 2020 Telegraph Sports Book Awards Cycling Book of the Year Award.