Inflatable bike helmet reduces crash impact by 'six times that of traditional helmet'
Researchers from Stanford University found that an 'airbag' bicycle helmet performed far better in impact tests than a traditional polystyrene helmet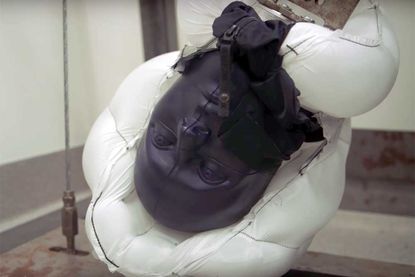 New research undertaken by Stanford University in California, USA, has shown that an airbag-style inflatable bike helmet is up to six times more effective at reducing impacts than a standard bike helmet.
Currently, the vast majority of bike helmets use a polystyrene inner covered by a hard plastic shell. New helmets are emerging on the market that use an entirely different system to protect the rider's head based on airbag technology.
One such helmet is available from Swedish company Hövding, and consists of a collar from which an inflatable helmet emerges when it detects movement associated with a crash.
"Foam [polystyrene] bike helmets can and have been proven to reduce the likelihood of skull fracture and other, more severe brain injury," said David Camarillo, an assistant professor of bioengineering at Stanford.
"But, I think many falsely believe that a bike helmet is there to protect against a concussion. That's not true."
Camarillo and his team set up impact testing in their lab, which consisted of drop-testing various helmet designs on a dummy human head equipped with sensors to detect acceleration and impact.
Drops were made at several heights, and the head was place in several positions to recreate hits from different angles. The same test is currently used for standard bicycle helmets.
>>> Watch: Airbag helmet inflates as cyclist puts on his jacket
"We conducted drop tests, which are typical federal tests to assess bicycle helmets, and we found that air bag helmets, with the right initial pressure, can reduce head accelerations five to six times compared to a traditional bicycle helmet," reported researcher Mehmet Kurt.
However, although helmets such as that from Hövding are designed to inflate just prior to impact, the Stanford researchers pre-inflated the airbag in order to test its performance at different pressures. They admit this had a bearing on the results.
Watch: Cycling Weekly puts the Hövding Airbag helmet to the test
Kurt reports: "As our paper suggests, although air bag helmets have the potential to reduce the acceleration levels that you experience during a bicycle accident, it also suggests that the initial pressure that your air bag helmet has is very critical in reducing these acceleration levels."
Stanford researchers are continuing their tests on bicycle helmets to determine performance in rotational impacts.
Thank you for reading 5 articles this month* Join now for unlimited access
Enjoy your first month for just £1 / $1 / €1
*Read 5 free articles per month without a subscription
Join now for unlimited access
Try first month for just £1 / $1 / €1