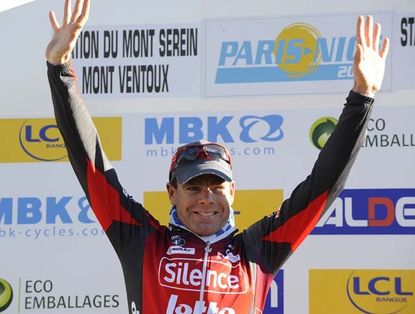 (Image credit: LUC CLAESSEN)
Are we seeing the birth of a new, aggressive, focussed Cadel Evans for 2008?
The Silence-Lotto has had a mixed Paris-Nice. He took a beating in the stage one crosswinds, and also lost time on the Col de la Croix de Chaubouret on the stage to St Etienne. But then he bounced back with a stage win at Mont Serein.
Evans isn't the easiest of riders to talk to. His instinctive answer to an interview request is 'can't talk now, mate', and then he'll grudgingly compromise on a two-minute chat. Cycling Weekly secured the two minutes this morning in Sisteron, but Evans' body language was bordering on the uncommunicative – he turned his chair so that it was more than 90 degrees from his interviewer.
And he either misheard our first question or he took it far too literally. We suggested to him that it was pretty cool to have won on Mont Ventoux.
"Er, ah, yes, it was pretty cold up there," he answered. Bless.
But while his body language and attitude were earnestly defensive, there was an undertone of ruthlessness. He's had to develop a thick skin against the criticism he's had for his defensive riding style, but now he's winning races, he's channelling this into focussed resolve.
"It's still the start of the season, and I'm only going to get better. The Ventoux was the first big test of the year, and I hope there are going to be more wins for me. The team is fully concentrated behind me. We're already ready for July," he said.
"I know that I've got them behind me, and we're getting results."
But Silence-Lotto have a quiet power struggle going on behind the scenes. Evans wants to win the Tour. His team mate Robbie McEwen wants to win stages, and has been vocal about the lack of support he will have in the sprints. Will the team be able to multi-task at the Tour?
"Let's cross that bridge when we come to it," Evans answered.
It's unthinkable that Silence will leave McEwen out of the Tour team. But you can be sure that if Evans feels that he needs it, he'll ask for the support of every rider in the team. And if that means McEwen will be on his own, or even dropped from the Tour, Evans won't think twice about doing it.
Thank you for reading 20 articles this month* Join now for unlimited access
Enjoy your first month for just £1 / $1 / €1
*Read 5 free articles per month without a subscription
Join now for unlimited access
Try first month for just £1 / $1 / €1