Is this the end of the front derailleur? (video)
Mountain bikers have moved away from front derailleurs, but could the death of the humble front mech happen in some aspects of road cycling too? Plus more of the best cycling videos from around the internet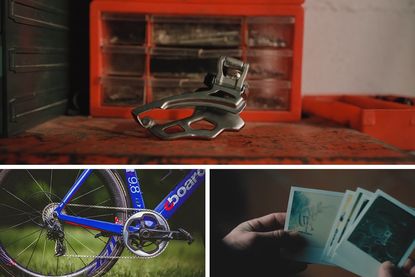 SRAM are announcing the end of the front derailleur in mountain biking. The 1x drivetrains on offer from several manufacturers coupled with the range of gears on offer from an 11 speed cassette have rendered the front mech obsolete.
>>> Do we need 12-speed gears?
With SRAM now offering a 1x option for road bikes - seen in crits and triathlons - this raises the question of whether front mechs will be phased out in all but the hilliest stages of big races.
The demands in a road race are obviously very different to those in a mountain bike race, but for events like the Cobbled Classics, and in particular the releatively flat parcours of Paris-Roubaix, there must surely be scope for removing the front mech.
Michal Kwiatkowski's Poggio descent
https://youtu.be/K_1ElpizGJY?t=1m40s
Former world champion Michal Kwiatkowski fancied his chances of victory at last weekend's Milan-San Remo with this downhill attack on the descent of the Poggio. Watch his crouch and pedal technique.
According to his Strava activity, the Team Sky rider hit 66km/h on the way down, and averaged 54.7km/h for the 3km segment.
It wasn't enough though, and the race ended in a sprint which was won by Arnaud Démare.
Bike football
https://www.youtube.com/watch?v=MeWTbDSn68c
This video isn't new, but has found a new audience on YouTube this week, and it's definitely worth a look. The bike handling skills are incredible.
Mini-flipping around the world
https://www.youtube.com/watch?v=9EPAZw-vMjk
I dread to think what this rider's carbob footprint was for the trip, but he takes on a challenge and beats it.
Watch how Brett Rheeder takes his little ramp and his bike on a mini-flipping world tour. Also note how much the ramp moves when he launches from it.
Dwars Door Vlaanderen 2015: WorldTour riders left wanting
https://www.youtube.com/watch?v=mpOb85SNwd8
The 2016 Dwars Door Vlaanderen takes place today, Wednesday March 23. Last year's race proved one of the most entertaining of the Classics season, and it was great to see a smaller team come out on top, so here's a look back the 2015 highlights.
Conquer Sa Calobra
In this Cycling Weekly video we show you how to climb the iconic Mallorcan climb of Sa Calobra, and ascent that has been referred to as cycling's perfect climb. What do you think?
Thank you for reading 20 articles this month* Join now for unlimited access
Enjoy your first month for just £1 / $1 / €1
*Read 5 free articles per month without a subscription
Join now for unlimited access
Try first month for just £1 / $1 / €1