Jasmijn Muller rides 433.2 miles to win 24 Hour World Championships, but just misses out on record
Muller covered distance 49 seconds slower than Seana Hogan in 2016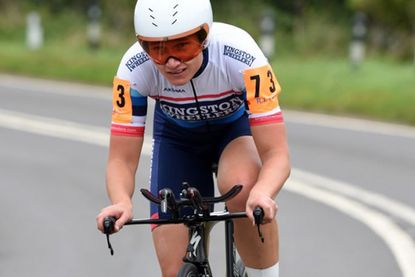 Ultra-endurance cyclist Jasmijn Muller took victory in the 24 Hour World Championships in Borrego Springs, California, matching the world record distance of 433.2 miles in the process.
The Kingston Wheelers member, who has previously won the UK 12 Hour and 24 Hour Championships, rode at an average speed of more than 18mph for the race on Friday and Saturday, winning by 19.2 miles over American rider Kim Froeschner.
Muller's official mark of 433.2 miles set on the rolling course in southern California equalled the distance set by Seana Hogan in 2016. However, with the distance set at the riders' last crossing of the finish line on the 4.8 mile finishing circuit, Hogan's record will stand as she crossed the line for the final time in 23 hours, 56 minutes and 33 seconds, while Muller crossed 49 seconds slower, in 23 hours, 57 minutes, and 22 seconds.
>>> Between a clock and a far place: The golden era of long-distance record breaking
However despite missing out on the record, Muller seemed in good spirits as she chatted with Hogan on a Facebook post by event organisers, writing "So close! Just as well: gives me a reason to come back again", to which Hogan responded "You are an awesome racer Jasmijn! We will go head-to-head, I hope I can stay with you!"
Her 2017 World Championship victory will be especially sweet after Muller missed out in hot conditions in 2016. 12 months ago, Muller had suffered in temperatures that hit 35ºC towards the end of the race, having initially been in the lead.
On that occasion, Muller pulled out of the race having ridden 360 miles in 19 hours, a ride that was enough to give her victory in her age group, but meant that she finished third overall.
>>> British cyclists break record for most number of countries visited by bike in seven days
Muller's victory is her fourth 24 hour win of the year, having won the UK National Championships in July, the Revolve 24 around Brands Hatch in September, and the Cycling Zandvoort event in the Netherlands in June.
However Muller's year has not been without disappointment, having to abandon an attempt to break the Lands End-John O'Groats and 1000-mile records after suffering from illness 370 miles into her ride.
In the men's race, victory went to German rider Martin Bendszus, who clocked 514.8 miles at an average speed of more than 21mph, finishing 9.6 miles clear of Frenchman Jean Luc Perez.
Thank you for reading 20 articles this month* Join now for unlimited access
Enjoy your first month for just £1 / $1 / €1
*Read 5 free articles per month without a subscription
Join now for unlimited access
Try first month for just £1 / $1 / €1