British cyclists break record for most number of countries visited by bike in seven days
Aaron Rolph and Paul Guest cycle in 14 countries in a seven-day period, setting a new Guinness World Record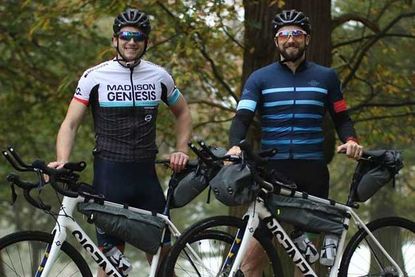 Two cyclists have just broken the world record for the number of countries visited by bike by a team in a seven-day period, travelling to 14 sovereign nations from October 28 to November 3.
Adventurers Aaron Rolph and Paul Guest broke the previous record of 13 countries by starting in Poland and then visiting the Czech Republic, Slovakia, Austria, Hungary, Slovenia, Croatia, Bosnia & Herzegovina, Serbia, Montenegro, Kosovo, Albania, Macedonia, Bulgaria and completed the journey in Greece.
The full route can be viewed on Map My Tracks. Guest and Rolph also uploaded each day's ride on their Strava accounts.
The British duo completed the journey on Friday, November 3, having ridden more that 1800 kilometres and ascending more that 13,000 metres.
The attempt meant that they had to ride for 15 hours per day and in order to fulfill the requirements of the Guinness World Record rules, they also had to be completely self sufficient.
>>> Watch: Phil Gaimon chases a monstrous 4,350m hill climb record, but things don't quite go to plan
In a brief statement posted on the British Adventure Collective Facebook page, Rolph and Guest said "We did it! 14 countries in under 7 days. It's been an intense and crazy week but all so worth it.
"We'd like to thank the incredible people we've met in all parts of Europe. Neither of us are usually ones for sentiment - but the generosity of complete strangers has taken us aback. Just good bloody people everywhere.
"Now... time for a beer!"
The duo's data is now being presented to Guinness World Records to be officially ratified.
Thank you for reading 20 articles this month* Join now for unlimited access
Enjoy your first month for just £1 / $1 / €1
*Read 5 free articles per month without a subscription
Join now for unlimited access
Try first month for just £1 / $1 / €1