Can Jason Kenny become the most successful British Olympian of all time?
Jason Kenny discusses his quest to become Britain's most successful Olympian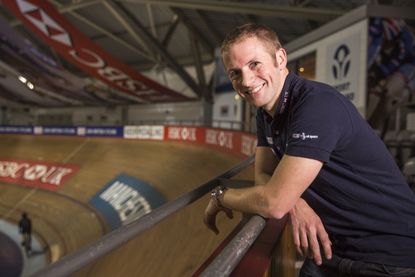 (Image credit: Sportsbeat/Roberto Payne)
Already having booked his place among the pantheon of British sporting greats, Jason Kenny is within touching distance of history and becoming the most successful British Olympian of all time if he continues his run of success at Tokyo 2020.
But the Bolton sprinter is not about to let a quest for records get in the way of things as he makes his return to the track.
Jason Kenny announced last week that his post-Rio racing return will come at the Manchester leg of this winter's Revolution Series and while he admitted further Olympic success at Tokyo 2020 is the end goal, records are not the be all and end all for the 29-year-old.
Needing just one more gold to surpass Sir Chris Hoy at the top of the British leaderboard, and two more medals in total to leapfrog Sir Bradley Wiggins as the most decorated British Olympian of all time, Kenny was keen to stress the value of an Olympic medal.
"When you start talking about numbers like six gold medals, it makes one more sound quite straightforward," said Kenny, whose fellow Olympic champion wife Laura recently gave birth to their first child, Albert.
"But in reality it's not. People can work for a whole career and only have one gold medal and feel very happy with that, feel like it's their lifetime goal – that's certainly how I felt when I won my first gold medal.
"So I'm taking nothing for granted. Anything that comes in the future will be massively hard fought for, and massively difficult in its own right.
"When I started in British Cycling, around the time Steve Peters started, we were always taught that if you look after your own performance then the outcome will take care of itself.
"That's always been my attitude and that's what I'm trying to do now. I'll be as fast as I possibly can be, with all the new challenges that are going to be thrown our way with a young family."
Jason Kenny's name is rightly mentioned in the same breath as Hoy, Wiggins and Sirs Steve Redgrave, Matthew Pinsent and Ben Ainslie.
And it is this company, along with wife Laura and Sir Mo Farah – Britain's most successful Olympians – that Kenny values more than potentially stepping above them all as the most decorated.
"For me, just getting on the top ten list was really special," he added.
"You recognise pretty much every name on there and there are some proper legends, people I've looked up to all my life.
"Sir Steve Redgrave was winning his last gold medal when I was a youth coming through. And Chris [Hoy] was obviously already there and we were friends when he won his last medals.
"So just to see my name on that list was really special.
"Moving up the list almost wasn't as special, it was just being there and being amongst them, people I have got a lot of respect for, that meant a lot – I feel very lucky to be there."
See the world's best road teams take on the champions of the track in the Revolution Track Cycling Series. Tickets now on sale here.
Round 1 starts in London on Saturday 25th November
Thank you for reading 20 articles this month* Join now for unlimited access
Enjoy your first month for just £1 / $1 / €1
*Read 5 free articles per month without a subscription
Join now for unlimited access
Try first month for just £1 / $1 / €1