Shane Sutton full of praise for Jason Kenny at Track World Cup
Great Britain technical director Shane Sutton applauded the inspirational performance of Kenny at the Track World Cup in Mexico.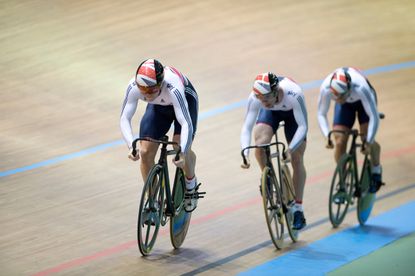 (Image credit: Casey B Gibson)
Great Britain rider Jason Kenny has been applauded for his inspirational performance at the first round of the UCI Track Cycling World Cup in Guadalajara, Mexico.
"You need your big players and when you see someone like Kenny step up you'll see the whole team step up. It reverberates through the whole squad," GB technical director Shane Sutton said.
He also praised the work of his team in getting four medals in the first round, including two gold medals in the women's team pursuit and in the men's team sprint (opens in new tab).
"It's really pleasing to see where we're at now. It's nice but there's still a lot of work to be done," Sutton said.
"You've got Phil [Hindes] who's one of the top starters in the world and Kenny, who's no doubt about it, the best man two in the world on form, then Callum held it up well at man three," he added.
Sutton was also pleased with the performance of the two new faces in the women's team pursuit line-up.
"The two new girls in there, Ciara and Amy in that final… the depth we've got at our availability, it's all encouraging signs."
The team was without Olympic team pursuit champion Joanna Rowsell (opens in new tab), who had opted to stay in Britain and focus on her long-term form, but still managed to beat Canada in the final to claim the gold.
The second round of the UCI Track Cycling World Cup heads to London on December 5-7 .
Jason Kenny added to his team sprint gold medal on an otherwise quiet final day for Great Britain at the
Success for GB men team sprinters and women team pursuiters on second day of Track World Cup in Mexico
Team GB's women qualify fastest in team pursuit, as both men's team sprint and pursuit squads qualify second fastest in
Thank you for reading 5 articles this month* Join now for unlimited access
Enjoy your first month for just £1 / $1 / €1
*Read 5 free articles per month without a subscription
Join now for unlimited access
Try first month for just £1 / $1 / €1