Jenkinson wins National 12 Hour Championship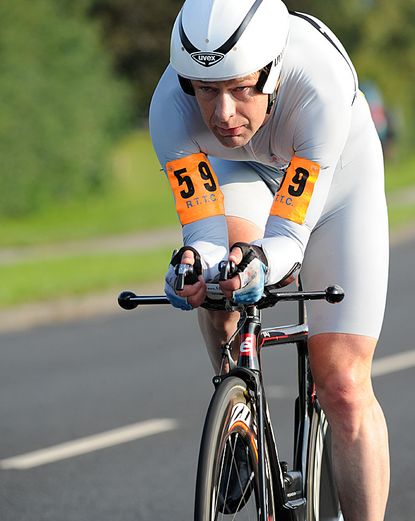 Winning by less than two miles, Julian Jenkinson (UTAG Yamaha.com) was crowned the 2010 National 12-Hour Champion after a thrilling title race in Lancashire on Sunday.
The 43-year-old stepped up from third last year to the top of the podium after covering 292.49 miles - around ten miles more than in 2009 and enough for victory over Andy Bason (Team Pedal Revolution.co.uk) by just 1.82 miles.
Bason led in the early stages as his quicker start came through, but Jenkinson held him off and clawed back what was a two and a half minute deficit at the 100-mile mark.
"It was always going to be a two-horse race," said Jenkinson. "But it was a little closer than I would've liked. I thought 290 plus would comfortably be enough, but I had to turn the screws a bit towards the end."
Conditions were good for the race which used mainly minor roads around the headquarters at Garstang, with a dry and calm start giving way to slight winds as the day progressed.
While Jenkinson and Bason battled for the win, there were close battles throughout the top few placings, with Derek Parkinson (Cleveleys RC) holding off Mark Arnold (Pedal Revolution.co.uk) for third by just 0.7 miles.
And Team Swift's Carl Ruebotham took fifth by just 0.04 miles from Nik Bowdler (Team Pedal Revolution.co.uk).
While disappointed not to have Bason on the top of the podium, Team Pedal Revolution.co.uk's consistent performers gave them the team prize, while top woman was again Christine McLean of Shetland Wheelers, whose distance of 236.81 miles was almost 30 miles better than her nearest female rival.
National 12-Hour Championships (Garstang, Lancashire)
1 Julian Jenkinson (UTAG Yamaha.com) 292.49 miles
2 Andy Bason (Team Pedal Revolution.co.uk) 290.67
3 Derek Parkinson (Cleveleys Road Club) 275.01
4 Mark Arnold (Team Pedal Revolution.co.uk) 274.31
5 Carl Ruebotham (Team Swift) 271.25
6 Nik Bowdler (Team Pedal Revolution.co.uk) 271.21
7 John Morgan (Preston Wheelers) 266.34
8 Carlos Riise (Shetland Wheelers) 265.46
9 Dean Lubin (PCA CIclos Uno) 262.76
10 Matt Stell (Preston Wheelers) 259.04
Women
Christine McLean (Shetland Wheelers) 236.81 miles


National 12 Hour Champion Julian Jenkinson (UTAG Yamaha.com)




National 12 Hour Championship 2nd Andy Bason (Team Pedal Revolution.co.uk)
National 12 Hour Championship 3rd Derek Parkinson (Cleveleys Road Club)






National 12 Hour Championship 4th Mark Arnold (Team Pedal Revolution.co.uk)






National 12 Hour Championship 5th Carl Ruebotham (Team Swift)




National 12 Hour Championship 6th Nik Bowdler (Team Pedal Revolution.co.uk)




National 12 Hour Championship 1st Woman Christine McLean (Shetland Wheelers)






Thank you for reading 20 articles this month* Join now for unlimited access
Enjoy your first month for just £1 / $1 / €1
*Read 5 free articles per month without a subscription
Join now for unlimited access
Try first month for just £1 / $1 / €1