Jens Voigt reduces his prediction for Wiggins Hour Record to 54km
Former Hour Record holder Jens Voigt talks to Cycling Weekly about Bradley Wiggins's chances in his attempt in June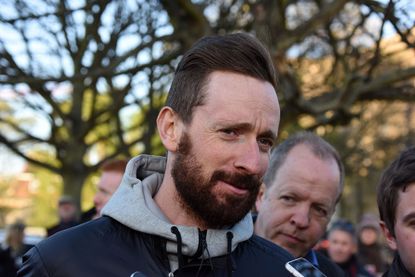 (Image credit: Andy Jones)
Former Hour Record holder Jens Voigt has scaled back his summation of Bradley Wiggins's highly-anticipated attempt next month.
Voigt was the first professional following the UCI rule revision to contest and break the record in September, which he held for six weeks. The title has changed hands three times since with barely enough space between each to profit from commercial promotion.
Wiggins will be the seventh rider and oldest since Voigt to challenge for the record on June 7. The 35-year-old is bullish about beating the new 52.937km benchmark burgeoning compatriot Alex Dowsett set last week.
>>> Alex Dowsett sets new UCI Hour Record
Voigt believes experience will prevail and Olympic time trial champion Wiggins will meet his reported target of 54km, but not surpass it.
"Two months ago I said he's going to do 54.5km to 55km. Now after seeing what the others did, they gain little by little but it's not that somebody goes like that now," said Voigt, gesturing quickly upwards. "Looking at Bradley in Flanders and Roubaix I reduced that. I think he's going to do 54 exactly."
Voigt said he rode too conservatively in his own 51.115km attempt that culminated a long road career.
The 43-year-old German said Wiggins's illustrious record on the track will put him in good stead.
"He has so much background that he has no problem with staying on the ideal black line, he will have no problem finding the right gears for him because he was an Olympic champion and world champion on the track so he knows how to do that," Voigt said.
"What you want to do is to be not in the green, not in the red level but in the dark orange, so just on your anaerobic threshold, and stay there.
"The body works most efficient if you keep the effort stable so I think that's what you aim for. It is a time trial so what hurts the body more is the ups and downs. If you go easy for a moment, harder, easy, that becomes intervals and it makes the body work harder than it should. I think he knows about that."
Voigt purported the benefits of a metronomic approach that Australian Rohan Dennis and Hour Record successor Dowsett both adopted. Wiggins is set to be as rigid in his lead-up and execution.
"I split it up in three 20-minute parts and I was too conservative in the middle," Voigt said.
"I knew if I had two minutes to my own timetable I had three laps to the old record so I felt safe. I'm 43 years old so I knew I wasn't going to have the record forever. I just wanted to break it and retire so I eased up in the middle 20 minutes, to play it safe, as I remember how Eddy Merckx said it was the hardest thing he'd ever done and he would never do it again.
"I went back in the lap times to the original plan. Instead of 17.6 seconds I went to 18 seconds, which doesn't sound much but you feel it. It's like 20 watts less, 10 heartbeats less, it's huge. There I lost maybe two laps.
"I think I could have been close to [Matthias] Brändle but I could never beat Rohan Dennis or Alex Dowsett, no. Maybe 10 years ago yes of course but not any more. I think I did well for not being a track specialist and 43."
Immediate recovery has been a massive point of difference between each attempt. Dennis and Dowsett both lifted their bikes in celebration whereas the defeated Australian Jack Bobridge after his erratic try was almost manic.
>>> The most amazing thing about Dowsett's Hour? He could have gone faster
"He definitely has far more potential than he could show on that day," Voigt said. "He should have controlled himself better and his support team should have told him to ease. I don't think he had the best advice. Now he's going to be so scared about the pain he's never going to go back and try that again.
"I couldn't walk stairs for three days after," he continued. "Everything hurts; your elbows from the position, your shoulders and your neck from keeping the head down, your legs burn, your lungs are screaming, your heart beats as if it's going to burst out of your chest. It is hard on the whole body, even your feet burn.
"Contrary to a road time trial there is no downhills, no roundabouts, traffic lights where you could coast a little. It's a fixed gear you've got to keep pedalling so there's no chance of any sort of recovery. That's why it is important to have the right gear and right timing for the effort."
There is faint sentiment that Wiggins, if successful, will hold the record for a longer time than previous winners with no other attempt as yet publicly scheduled after his run in London.
Voigt was in Australia this week for one of several philanthropic projects he has dedicated time to since retiring from the sport.
Twitter: @SophieSmith86
Thank you for reading 20 articles this month* Join now for unlimited access
Enjoy your first month for just £1 / $1 / €1
*Read 5 free articles per month without a subscription
Join now for unlimited access
Try first month for just £1 / $1 / €1