Jonathan Vaughters reveals the bold decisions made to save Cannondale-Drapac team
Cannondale-Drapac boss Jonathan Vaughters reflects on one of the toughest summers of his life and how his team is moving forward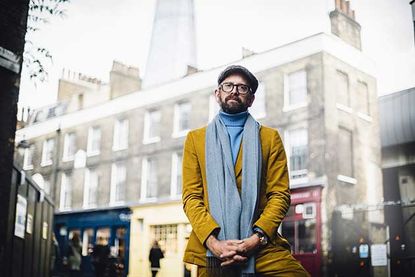 (Image credit: Daniel Gould)
The lunchtime drinkers at the Wheatsheaf pub adjacent to London's Borough Market are wondering who Jonathan Vaughters is. "Is he the director of the Tate Modern," one asks our photographer.
No he's a cyclist, a cycling manager now. "Why isn't he wearing Lycra then?" the punter asks. It's difficult to know if that would turn more heads than the corduroy mustard suit and blue roll-neck combo Vaughters is sporting.
It's a bold choice, but Vaughters has been making a lot of bold choices over the last year as he repeatedly rolled the dice in an effort to land the sponsorship deal he needed to save Cannondale-Drapac, the team he's been running since 2007.
"I'm sorry I'm wearing mustard," he sheepishly tells his wife Ashley when she stops by with her parents to get lunch at one of the renowned food stalls across the road. "But I had to do something fun for the magazine."
She doesn't seem put out at all and bats away his apology. She's been through a lot worse lately.
By his own admission, Vaughters has not been a great person to be married to since he received a phone call early in the morning of August 25 telling him the sponsorship deal he had thought was going to fill the $7m hole he had in his budget for 2018 was off.
"You know when you get the phone call when a close relative has died or someone has been in an accident? It was that feeling," he says, describing the body blow and visibly slumping in his seat.
After he got off the phone he immediately called longstanding chair of the team Doug Ellis to discuss what to do.
From this point on his family relationships were pushed to the side. "It was a crazy morning. My son runs cross-country and I had to go to this cross-country meet and I was on the phone and texting, I felt like the biggest d**khead dad of the year… I don't know what his time was, I know he finished and I said hello to him," he recalls.
Ashley didn't fair much better: "I was a total nightmare. It's like I didn't know she was there for a couple of months…. I was a really sh***y human being. It wasn't good, but there was no other way to get it done other than to be that person for a month or a couple of months."
>>> EF Education First – Drapac unveil 2018 kit… and it's bold
He eventually did get it done and the team will race on with the moniker of 'EF Education First-Drapac powered by Cannondale' in 2018 and beyond. But how he got to that point through a very public cry for help became the story of pro cycling's summer.
In truth Cannondale-Drapac's problems stretch back much further than that frantic summer rush. For several years Vaughters had been ending the season with a $3m hole in his budget, in the knowledge he could use the mandatory UCI bank guarantee to cover salaries if he didn't find sponsorship.
He knew he had a serious hole to fill, on top of the usual deficit, to make it to the start line in 2018, and even at the beginning of the year he and Ellis suspected there might come a point where they had to raise a public call for help that they went on to do on August 26.
Street smart
Vaughters points to an interview he and Ellis gave to the Wall Street Journal in May headlined 'America's cycling team chases more green' as an example of his conscious effort to fly a flag and attract the interest of a new backer.
Vaughters says: "People don't give it credence [that you might fold] so they see these guys are looking for sponsorship and they see it as these guys are getting greedy, not that they're trying to survive. For instance, with the Wall Street Journal article, we didn't get any traction with that because people just see it as 'Oh, they're looking for more money — aren't we all?'"
Vaughters continued to project a positive outlook. From the outside things looked to be going well, the team announced a new sponsorship deal with media company Oath in the final week of the Tour de France (though this deal would later collapse); Vaughters re-signed star rider and 2017 Tour runner-up Rigoberto Urán two days later, knowing he didn't necessarily have the money to complete on the deal. It was another bold choice.
The former American racer was living a difficult life keeping the secret that the team was very close to implosion from everyone. It's not the first time Vaughters has had to keep secrets.
For a large chunk of his racing career, in the 1990s and 2000s he was, in his words, "turbo charged". CW wonders if the feeling was the same? Vaughters thinks long and hard about the answer: "There was always reason for optimism all through the process so I was just having to put forward my sense of optimism not draw on my sense of negativity, while doping is an outright lie.
"People ask: 'have you doped?' And you say no. Whereas this was people asking whether I was confident that the team was secure for next year. And I'd say yes, we had half the budget and just needed this last piece. I never outright lied to anyone on the topic but I did steer around it and display confidence. I never said everything is great."
Win drought
Talk to those familiar with the team and some say Vaughters, as manager, should have had a deal signed sooner. And the team's two-year long WorldTour winless streak from Davide Formolo's stage win in the Giro d'Italia in 2015 to Andrew Talansky's stage win at the Tour of California this year didn't help.
But Vaughters argues the biggest problem is most marketing executives in the digital age can trace very concretely how what they spend money on helps their company make money — team sponsorship doesn't work like that.
"With sponsorship you can't ever say spend this, get this. But there is an emotional connection, it's something to route for and something to believe in, it's a human story and there's suffering and accomplishment and all those things we can play off of, but it's not great for you if you're a marketing executive to prove to your boss that you're doing your job," he says.
"The second biggest issue is we in cycling like to say our sport is inexpensive. Well, hold on, yes it's very true that football teams have much larger overall budgets but 80 per cent of those budgets are TV rights, ticket sales, merchandising, and so forth… the sponsorship costs are actually very similar," he adds.
Then when the fateful August 25 phone call came, Vaughters took another bold decision: to go public with the team's budget problem with the hope that it might "shake something loose".
He released riders from their contracts — taking the very real risk that he wouldn't have a team to sponsor — some left, including the very promising Dylan Van Baarle, while a potential deal to sign up-coming American Neilson Powless fell through.
A few days later the team started a crowdfunding campaign, in part to attract attention, which raised $250,000 in 24 hours and eventually raised $566,620.
Vaughters was working pretty long hours by now. When CW casually asks him about making calls at 7.00am he says: "Seven? Are you kidding me?! Try four, because I had to make sure I covered the European angle.
"It was amazing; you spend two years pitching and maybe get through the door of a dozen companies, and then when you declare that you're screwed you go through a dozen companies every two days," he says.
Fortune favours...
One of the many messages he got was from EF Education First and at the end of August he flew to meet the company's co-chair Philip Hult in Boston. He found reason for optimism, which he shared with the team, and within days he had a one-year sponsorship deal on the table. Then he took another bold decision.
Vaughters didn't want to go through this again so he asked for a longer-term deal. He's quite clear that this is bad business advice — if you've got a deal take it — don't risk screwing it up, he says. But EF agreed on the condition of owning the team — buying the asset from Ellis.
>>> 'No stress' over EF Education First-Drapac future as major sponsor pulls out ahead of 2018 season
Vaughters now found himself holed up in a New York hotel room for days unable to be offline long enough to fly home to Denver as negotiations got "hot and heavy". "I've never had to deal with anything like that before," he says.
Then another bold decision. "I was continually having these very philosophical conversations with the chairman and his brother Eddie," he says.
"And at one point I just texted him this all-in statement like, 'Are we doing this or not?' I was in that hotel in New York and I gave my phone and my key to reception and I went out for this really long run across the Williamsburg Bridge and into Brooklyn.
"I don't want to know what the answer to that question is because that's it or not. When I come back I'm going to pick up my phone from reception and if the tone is positive then I'll know it will work and if it is negative I'll know I've screwed it up by trying to extend it out.
"For an hour of running I kept stopping and walking because I was thinking what if this doesn't work? What am I going to do? How am I going to explain it to people? And not being able to focus on anything else. I get back to the hotel — it was warm and fuzzy."
Did he learn anything from the experience? Vaughters admits that it's cliché but says, "Perseverance and absolute absurd obsession does pay off. But there were so many moments when I thought this is ridiculous. There were moments when we could have honourably walked away.
"So many times I had to actively make the decision to take the risk and be like 'I'm screwed if this doesn't work out, now I'm really screwed if it doesn't work out, now I'm really, really screwed'… don't give up, just keep clawing at this last little inch."
In the pink
Appropriately the revitalised team will take on the 2018 season with a bold hot pink and green kit — complete with hot pink helmets — a colour scheme that prompted one team rider to look to the gods and exclaim "Bloody hell!" when CW broke the news to them.
The downsized team will be "25 or 26" riders, Vaughters predicts, and there have been some cuts to backroom staff — all partly due to the cut by the UCI to the numbers of riders allowed in each race.
EF Education First will have their own goals for the team, but Vaughters is keen to emphasise that they supported the squad because they liked how they raced and what they stood for.
"It's a new chapter but it's the same book," he says. We're willing to bet the cover of that book is pretty bold.
The original version of this article appeared in the November 16 2017 issue of Cycling Weekly magazine.
Thank you for reading 20 articles this month* Join now for unlimited access
Enjoy your first month for just £1 / $1 / €1
*Read 5 free articles per month without a subscription
Join now for unlimited access
Try first month for just £1 / $1 / €1