Kennaugh proud of gutsy fourth place performance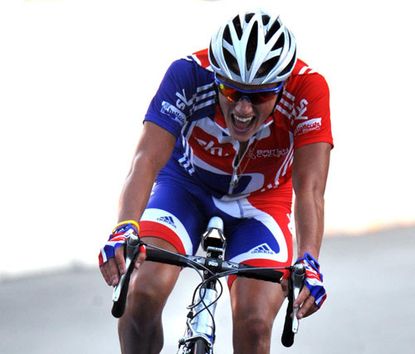 Pete Kennaugh slumped to the ground after finishing the world championships under 23 men's road race. He had raced his heart out in the final laps, chasing moves, going on the attack and racing against riders who were older and who had several team mates.
Fourth place is a difficult result to take. Only three riders climb onto podium. Italy's Paolo Bettini was in tears when he finished fourth in Lugano in 1996 but Kennaugh was rightly proud of his ride. He was perhaps disappointed with the result because he's a winner but he was happy with how he had performed.
"I'm disappointed in missing out on a medal but pleased because I've targeted this race and came here with good form," he said.
"I stuck to the plan that me and Max had, that we've been working on all season. Being young and tough it's quite hard to hold back because you get so excited and just want to attack from the start. I've been working on being patient and sitting in. It's all about discipline and that's what I did today."
One little mistake
Kennaugh admitted that perhaps his only mistake had been on the final lap when a select chase group went clear near the pits. Unfortunately it perhaps cost him a medal.
"I'm a bit disappointed that I wasn't in the break that formed along here (after the finishing straight) because I had to use a lot of energy getting across on the climb. If I'd been in that break or split, or whatever it was, I reckon it could have been a medal. I had to use so much energy on that climb to get across."
The two climbs per lap made a tough race with the best riders in the world emerging to fight out the finish. Kennaugh liked it because he is one of the best in the world, despite only being 20.
"You had to be going well on the climbs, which I was," he said.
"I think if you felt good it was an awesome course. You could take in your stride while others were struggling. If you weren't on a good day it'd be a horrible, horrible race but the climbs really suited me and I kept thinking 'little gear' and 'eating and drinking' in my head. I didn't go one lap where I didn't eat something and I think that was important. It was a war of attrition out there. People were going out of the back one by one."
Thanks Max
Max Sciandri was the first to meet Kennaugh after the finish. Kennaugh made a special effort to thank him for his support and advice.
"I think it's really important that British Cycling continue to perform at the world championships, it proves everything's working. It shows what a good job Max has done," he said.
"Rod did an awesome job with the Academy and Max has stepped in. H's got experience and I've learnt a lot from him this year. I'd like to really thank Max for the way he's worked with me. He's treated me like an adult, has given me a lot of responsibilities and respected me from the word go. I've got to thank Max for that."
Team Sky
The world championships was Kennaugh last road race as an amateur under 23 rider. He will ride for Team Sky as professional in 2010 and wanted to go out on a high.
"I had that in the back of my mind for the whole race. I wanted to be in the race, and whatever result I got was how it was."
Thank you for reading 20 articles this month* Join now for unlimited access
Enjoy your first month for just £1 / $1 / €1
*Read 5 free articles per month without a subscription
Join now for unlimited access
Try first month for just £1 / $1 / €1