You know you're a cyclist when...
What marks you out as part of the cycling fraternity? We suggest the qualifying criteria. Which apply to you?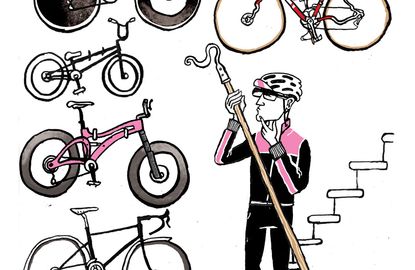 The rituals, foibles, opinions and general peculiarities of the cyclist might seem outlandish — or just downright weird — to the casual observer. But these are the things that unite us.
Who hasn't absent-mindedly nodded at a fellow rider while driving their car? And who among us can honestly claim they've never been caught checking their tanlines in the mirror?
Yes, we're a bit strange, but we wouldn't have it any other way. Cycling Weekly presents a celebration of our collective idiosyncrasies, with invaluable input from both readers and pro cyclists on what it is that make us uniquely, well, similar.
What the pros say...
You walk into a cafe, your face barely visible for all the mud, and somebody asks you: "good day?"
Chris Boardman, Olympian and Tour de France legend
You constantly criticise other riders' saddle heights, even when you're driving the car, and your other half has to hide her razors from you.
Matt Stephens, cycling commentator and ex-pro
When spending just a week without riding your bike makes you twitchy.
Oli Beckingsale, Olympic, Commonwealth and British racing stalwart
You think nothing of taking a leak anywhere, getting changed in front of strangers feels normal and when you do your pre-race or sportive shopping, the checkout girl asks you if it's for a kids' party…
Steve Lampier, British domestic pro

You realise that all your close friends are also cyclists, and that you've known most of them for decades!
Chris Walker, 1991 Milk Race winner for Raleigh Banana
The results are in...
From the Cycling Weekly office
The first time you shave your legs, you struggle to know exactly how far up you should go, and when to stop… and before you know it you've gone way too far.
Rob Hoyles, sub editor
You spend more time on Strava, Garmin Connect and Training Peaks than you do with your family.
Hannah Reynolds, Cycling Active editor
You vow to put all your clean, piled-up clothes back in the wardrobe, only to remember the reason they're in the utility room to start with — your wardrobe's completely full of cycling kit, colour-coded and hung according to weather conditions.
Sarah Auld, designer
You know your way around your Garmin better than you do your mobile phone (with the exception of the fitness and cycling apps).
Louise Mahé, writer
You've fallen off your bike at a standstill — even if it was just the once — when you forgot you were clipped in at a set of traffic lights. It's OK, we're sure nobody saw you…
Ben Smith, designer
You read training manuals instead of novels and diarise data rather than life events.
David Bradford, Cycling Fitness editor
You take a photo of your legs after a ride, and flex your quads for better definition. You take nine photos of this before you find one you're happy with. Not that us cyclists are vain or anything…
Callum Tomsett, designer
You get up while it's still dark on a miserable, wet Sunday morning so you can get a few hours of riding in before the family wakes up… and you're still downstairs looking out of the window, drinking coffee when the kids trot downstairs at 10am.
James Shrubsall, chief sub editor
You not only have defined tan lines on your quads, lower calves and upper arms, but far from being embarrassed, you consider them a badge of honour. (Just ignore those sideways glances at the public swimming pool when you're wearing your speedos — they just don't understand how hardcore this makes you.)
Simon Richardson, Cycling Weekly editor
You sport an unsightly mark on the inside of your right calf that looks suspiciously like the oily outline of your big chainring. Don't panic, everybody's been there at some point. Just don't line up for a race with this 'fourth-cat tattoo' unless you fancy being the butt of everyone's jokes for the next hour.
Kev Sharpe, designer
Get your bike ready for the colder months
Readers say
You can confidently reply to the accusation that: "Cyclists don't pay road tax" with, "Actually, road tax was abolished in 1937."
Adam Tasker
You have to look at the weather forecast five times to plan your free time.
Nancy Baumann
You reach for food in your jersey pocket… while you're sitting at your desk at work.
Mark McKinsey
You start to think that one of the seven days of the week is actually called Restday.
Alan Miles
You have more water bottles than cups in the kitchen.
Phil Rush
You put your arm out before turning the trolley in Tesco without thinking.
Pete Cowan
You start looking for a suitable road bike for your seven-year-old child just so they can go riding with you.
Neil Sharp
Keep the weight off this winter
Readers on: domestic disharmony
When you need twice as much wardrobe space as your husband just to accommodate all your cycling kit!
Chloe Smith
You get in trouble with your girlfriend for checking out other girls when you were actually just looking at their bikes.
Rich Seabrook
When your housemate complains about tripping over your bike for the hundredth time and can't understand why it doesn't live outside.
Rebecca Charlton, Cycling Active deputy ed
You're bending over to fasten your shoes in your gear and your missus says, "That reminds me, we must order the turkey for Christmas…"
Chris Maynard
You bring your best bike in from the shed because the nights are getting colder; your wife says, "It's me or the bikes", and you have to think about it…
Shaun Harris
You have a secret credit card that your wife knows nothing about.
Ed Gallagher
Your boyfriend moans you never let him steal your food, saying his exes used to let him eat their chips. Well, they probably didn't ride 250 miles a week! Touch my food and you're out the door!
Sarah-Louise Hopkins
You buy a new set of wheels on your credit card, even though your other half said 'no'. Because you really, really wanted them…
Tim Badger
Don't make mistakes in the rain
Readers on: riding vs driving
We spend so much time clocking up miles on the road that sometimes it's easy to forget we're not riding when we get behind the wheel…
You nod at another cyclist when you're driving your car.
Samantha Dean Howard
When you pull away from a junction, you look both ways and shout: "Clear! Clear!" before you remember you're driving your car.
Paul Le Bihan
When you consider selling your car to buy a better bike.
Krispy Hilda
You are driving up an unfamiliar hill and in your head you're working out the points at which you would change gear, get out of the saddle and places where you'd recover. Three days later, you're pedalling up it.
Claire Davies
You call out to warn of holes and gravel even though you are driving your car.
Scott Bargoil
Readers say
You have a cheaper bike permanently fitted with mudguards especially for winter riding. (As well as a time trial bike, race bike, retro bike, mountain bike, track bike and BMX.)
Dave Allen
Your bikes have their own room in the house instead of having to stay in the shed.
Mark J Nix
Your bike is worth more money than your car.
Steven Teague
Your bike does more miles than your car. You own more Lycra than proper clothes and you perv more at bikes than at the members of the opposite sex riding them.
Victoria Sintes
You have a lifetime's supply of mini bags of Haribo.
John Backhouse
You rarely wash your car but your bikes are spotless.
Robert Mcleod
You weigh yourself both before and after you go to the toilet.
Mick Finn

Read more about winter cycling
Don't make excuses, make improvements to your winter cycling
It's a tough time of year, but these eight types of winter cyclists are always out on the roads
You ride 30 miles to ride 30 miles with your mates before riding home 30 miles, and you check the weather at night for wind speed, gust, direction and possibility of rain.
Martin Murtagh
You're stuck in traffic in your car and you turn to your wife and say, "You know I could get there quicker on my road bike…"
Andrew Brew
Someone says, "It's a nice day", and you reply, "Yeah, a bit windy, though."
Duana Bridger
You shout at football players when they fall over!
Matt Wyatt-Grainge
You see a male cyclist with what you would have previously assumed was a bra strap under his jersey.
Rob Williams
You eat for the whole hour-long lunch break at work, and you're still thinner than all of your workmates.
Richard Kelly
Cut the calories, not the fun
You spend 51 weeks of the year looking forward to and planning for a one-week cycle trip abroad.
David Blagg
You open the larder and all you can see is energy powder, gels and shakes.
Pippa Smalley
Your Facebook profile picture includes a bike and/or yourself in Lycra.
Grant Stevens
You carry a tin of WD40 in your handbag.
Annmarie Rice
You swallow a fly and instantly think, 'protein'.
Stephen Snowball
When there's a car driving close behind you and you flick your elbow for it to come through.
Rob Hamill
You swear at a headwind.
Robert Tracey
You lie awake in bed every night thinking about and planning your next ride.
Jeanna Hedman Fedak
The only satellite channel you watch is Eurosport.
Fionn O'Dwyer
When talking to friends, you describe how to get to your house by using inclines and elevation gains.
Randy Hazaert
You go looking for hills to conquer on your way to work, get knocked off, yet insist you're still cycling home later that day.
Wendy Friend
When you don't care about partying anymore because you want to ride your bike the next morning.
Punny Chavez
Thinking of upgrading?
Readers on: sacrifices
Some things are worth the pain, aren't they? Especially if they enrich your cycling life or give you the upper hand on the next club run…
You look outside to see it hammering with rain or snow and a smile creeps across your face as you know that you're getting in an extra day's riding against your summer, fair weather riding buddies.
Scott Church
You choose not to go on dates because it'd take valuable quality time away from your bike.
Jan Cesnek
You stay up all night to watch the Tour de France, Giro or Vuelta… Then suffer for all of the next day at work.
Gloria Rogerson
You have a sore area behind your 'gentleman's equipment' — which you can't even feel anymore.
Andrew Collins
You go to bed at 9pm on a Friday night because you want to ride the next morning.
Jean-Pascal Cloutier
You get up at 5am to do interval training before going to work… and enjoy it!
Emma Bradbury
Readers on: how's my bike?!
Sometimes we crash, sometimes we get knocked off, but more often than not, we're more concerned about the state of our bike and kit than ourselves…
You crash, get back up and complete the ride, ride for six more days, accumulating another 200-plus miles before finally going to the doctor. At which point you find out you've broken a bone in your hand.
Paul Bush
You can't wait to get off your crutches and back on the bike…
Nick Owen
You get knocked off your bike, are out of it for hours and still pick a fight with the trauma surgeon who is trying to cut your new jersey off so he can see if you've broken anything!
Matt Hodgson
You come off your bike, knees pouring with blood and all you can think is "No! I hope I haven't scratched my bike."
Lee Sutton
Original article by Marc Abbott for Cycling Weekly
Thank you for reading 20 articles this month* Join now for unlimited access
Enjoy your first month for just £1 / $1 / €1
*Read 5 free articles per month without a subscription
Join now for unlimited access
Try first month for just £1 / $1 / €1