LAMPRE RIDERS RISK BAN AFTER MIDNIGHT TESTS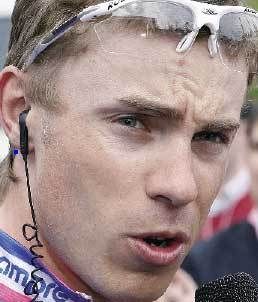 Italy?s Damiano Cunego, Alessandro Ballan and five other Lampre riders are at the centre of a doping investigation following specially requested anti-doping tests carried out by the Italian Olympic Committee at midnight on Monday.
According to reports in the Gazzetta dello Sport newspaper on Thursday, the Lampre riders went out for dinner on Monday night without notifying the Italian Olympic Committee of their movements and so where initially unavailable for testing when the doctors arrived at their hotel.
Gazzetta claims the riders could face a ban of between three months and a year for being absent when the testers arrived to collect urine and blood samples.
The tests were eventually done between 11:20pm and 3:40am but the timing angered the Lampre team and sparked an official protest from the Italian Association of Professional Cyclists.
However, in an interview in Gazzetta, Ettore Torri ? head of the anti-doping investigating Procura - reveals that the ?out of competition? tests were specifically ordered for after 11pm on January 28 by an investigating judge and the Italian NAS, the special drugs squad who have lead other drug raids in recent years.
Ballan and Cunego (pictured) are part of the pool of riders who face extra testing by the Italian Olympic Committee because they could be selected for the Olympic Games but there has so far been no specific explanation why all the Lampre riders were tested and Torri refused to explain why the tests were requested.
According to Gazzetta, the WADA anti-doping documents say tests carried out late at night can help detect riders taking micro-doses of EPO or other hormones.
The tests could just be part of a routine series of tests but the refusal of directeur sportive Maurizio Pivani to say the name of the restaurant where the riders went for dinner has sparked further headlines and raised further suspicions about where the riders were so late at night after training for 210km that morning.
Thank you for reading 20 articles this month* Join now for unlimited access
Enjoy your first month for just £1 / $1 / €1
*Read 5 free articles per month without a subscription
Join now for unlimited access
Try first month for just £1 / $1 / €1