Lance Armstrong helps poker player in $600,000 cycling bet (video)
Armstrong helps gambler Dan Bilzerian get ready for 278-mile, 48-hour bike ride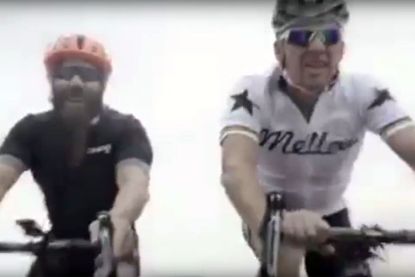 Lance Armstrong has volunteered to help American professional gambler and self-styled playboy Dan Bilzerian to prepare for a 278-mile cycle ride in order for him to win a bet.
Bilzerian has entered a wager of $600,000 with hedge fund manager Bill Perkins that he can cycle from his home in Los Angeles to Las Vegas in a 48-hour period, 139 miles per day.
Former pro Armstrong, currently serving a life ban from cycling due to doping, joined Bilzerian for some training rides to help him get ready for the long-distance ride.
Along the way, Bilzerian showed Armstrong around his home and the two had time to stop off in the desert and fire some of Bilzerian's vast collection of guns.
According to Bilzerian – who is known as much for his brushes with the law and lewd photos on Instagram as he is for his gambling success – it's the first time that he has ridden a bike in 18 years.
>>> Lance Armstrong: It's not like we just showed up to the Tour de France and won
Bilzerian has until May 31, 2016 to undertake the ride.
Reportedly, when Perkins heard that Armstrong had got involved he offered the Texan a wager of $200,000 if he could do the same ride in 15 hours. Apparently, Armstrong has not yet replied.
Thank you for reading 20 articles this month* Join now for unlimited access
Enjoy your first month for just £1 / $1 / €1
*Read 5 free articles per month without a subscription
Join now for unlimited access
Try first month for just £1 / $1 / €1