Lawyers will have to green light any Jess Varnish return to Great Britain track team
British Cycling performance director Stephen Park says he and Jess Varnish have had a 'great positive conversation' about a potential return for the track sprinter - Lawyers representing British Cycling, UK Sport and Varnish would have to clear any return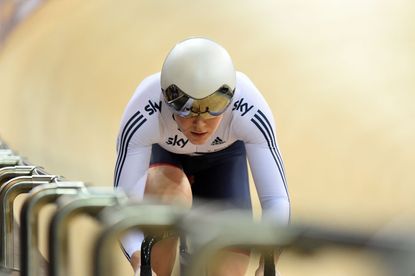 Lawyers retained by British Cycling, UK Sport and former track sprinter Jess Varnish will have to green light any return to the track, Cycling Weekly can reveal.
Varnish is suing both British Cycling and UK Sport for unfair dismissal, sexual discrimination, detriment from whistleblowing and victimisation.
But she has also met with performance director Stephen Park and has been set a host of performance targets for her to hit if she is to rejoin the programme, which CW understands the 26-year-old is keen to do.
Speaking to CW at the Track World Cup in Manchester, Park said that while he was just concerned with assessing Varnish's performance and potential, he would need to approval of lawyers before she is able to rejoin British Cycling.
>>> Jess Varnish: Way clear for former Olympic sprinter to sue British Cycling and UK Sport
British Cycling performance director Stephen Park said: "There are a number of things that are ongoing between the respective representatives and I don't want to find myself in a situation where I'm getting in the middle of that.
"From the performance part side once legal representatives are happy for her to test then we're happy to test her. So far she's not requested a test but we had a great positive conversation with her.
"The legal case might need to be resolved, but that's not my part of the deal. It depends on how the legal representative decide to solve to that problem. They might decide it does require that the case is settled, they might decide it doesn't. That's not a decision for me."
Watch: Five turbo trainer mistakes
Park said he and the other coaching staff had provided Varnish with a variety of different targets and timelines some of which were in-competition targets and some of which were out-of-competition ones. However, he said he wasn't able to disclose what these were.
"We have had a conversation with her about performance targets and the specific of those targets and she is reported as saying she felt they were achievable," he said.
Varnish claimed that she had been subjected to discrimination and had been told by former technical director Shane Sutton to "go and have a baby" following being dropped from the British Cycling podium programme in March 2016. Sutton resigned from his post in April 2016 and denied the allegations.
However, an internal investigation upheld one of her complaints.
She sued British Cycling and UK Sport over her treatment at British Cycling in September this year. Last month a preliminary court hearing ruled her case should be heard in April 2018.
Meanwhile, Sutton has been making his first appearance at the National Cycling Centre since he resigned.
Now employed as the head coach of the China team, he said he was "enjoying" his return to the place where he spent many years of his career.
"The reception I've had has been amazing that's the thing that really has overwhelmed me everyone is so glad to see me back in the business. I've been having fun," he said.
>>> Shane Sutton: 'I was loved by the staff' at British Cycling
When asked about how GB would fare without his expertise or that of recently dismissed highly decorated endurance coach Salzwedel, he said: "I don't even think about GB really I'm just thinking about making my riders the best we can be."
He added: "The one thing you've got there is a massive talent pool. You need leadership, which I don't think is that great at the moment with the loss of the likes of Bob Howden [from the position of chair] and the loss of [former chief executive] Ian Drake.
"I don't think they have a big cycling board anymore so from a leadership point of view I think its quite poor at the moment. They've got great coaches and talent - they've got those in bundles - so hopefully they just bypass the leadership let the coaches get on with the job and they'll succeed."
Thank you for reading 10 articles this month* Join now for unlimited access
Enjoy your first month for just £1 / $1 / €1
*Read 5 free articles per month without a subscription
Join now for unlimited access
Try first month for just £1 / $1 / €1
Having trained as a journalist at Cardiff University I spent eight years working as a business journalist covering everything from social care, to construction to the legal profession and riding my bike at the weekends and evenings. When a friend told me Cycling Weekly was looking for a news editor, I didn't give myself much chance of landing the role, but I did and joined the publication in 2016. Since then I've covered Tours de France, World Championships, hour records, spring classics and races in the Middle East. On top of that, since becoming features editor in 2017 I've also been lucky enough to get myself sent to ride my bike for magazine pieces in Portugal and across the UK. They've all been fun but I have an enduring passion for covering the national track championships. It might not be the most glamorous but it's got a real community feeling to it.