Leeds cycle couriers changing the way packages are delivered in the city
Last Mile Leeds boasts logistics giants DHL as one of their clients, delivering parcels and packages by bike in Leeds city centre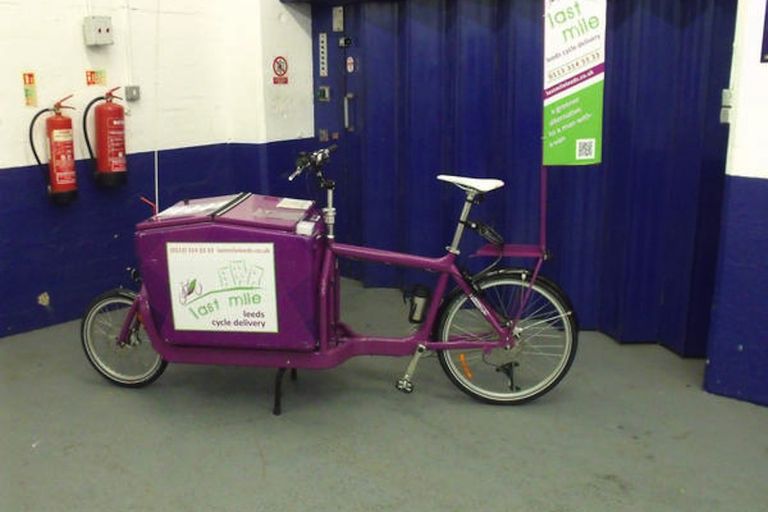 Cycling couriers are by no means a new thing, but their deliveries are often confined to letters and small packages.
Now, a Leeds company is offering parcel delivery within the Yorkshire city, with one of the world's largest couriers signing up to the service.
'Last Mile Leeds' was set up by Ian Brocklebank and delivers everything from magazines to large parcels on its adapted bikes, according to the Yorkshire Evening Post.
The company allows couriers to drop its parcels at a depot, with bicycles completing the 'last mile' of the journey within the city centre.
Brocklebank, 46, told YEP's Clementine Binks that larger firms are signing up to use Last Mile Leeds because of the relative ease of cycling round the city.
"We've got at least the productivity of a van, and we can do it cheaper and in the congestion of the city centre we are certainly quicker," he said.
"A cargo bike can go places a van can't. Virtually all of the roads around Leeds are accessible to us, even the pedestrianised areas. Plus, a van will have to find a safe place to park for each delivery whereas the bike stops at the door and is straight in and out."
>>> La Marqueta: an illegal alley cat race for cycle couriers through New York City (video)
International courier DHL has already signed up use Last Mile Leeds, who delivered up to 140 packages a day around the Christmas period.
Previously, DHL would have to send two vans into the city to deliver their packages, but now Brocklebank's bikes do it all for them.
He added: "It's a paradigm shift and while I'm all for using bicycles and presenting a greener alternative, that's not the main reason companies are buying into it - they're buying into it because it's cost effective."
Source: Yorkshire Evening Post