Lizzie Armitstead reflects on her brilliant year
Cycling Weekly catches up with the Commonwealth Games gold medallist Lizzie Armitstead to talk about her successful season, how she can develop in 2015, and that disappointment at the Worlds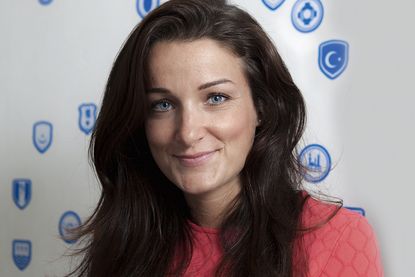 (Image credit: Daniel Gould)
For Lizzie Armitstead, 2014 was the year she cemented her place at the very top of women's cycling. The just-turned 26-year-old won the Commonwealth Games road race, the season-long women's road World Cup and finished in the top 10 of a remarkable 38 of her 47 UCI level races. Despite this success, the one title she coveted was that of world champion.
The Olympic silver medallist finished seventh in Ponferrada, after being part of a four-strong escape which couldn't work together and was caught 500 metres from the line. Those that watched her post-race TV interview saw a forlorn expression which told the story of a frustrating race.
"It's difficult to get over," Armitstead tells CW three weeks later. "Normally if you have a bad World Championships it's a physical thing, you think, 'Right, I need to work harder.' But I trained harder than the race was. I was in the best shape at the end of a long season, so that's good. But it's difficult."
Even as the race played out, questions were being asked about the four escapees' tactics. There were two moments where Armitstead feels she may have got away — early on the final climb, and during a lull with 1,500 metres to go. Neither of these options guaranteed success, especially as the rest of the favourites were clearly wary of helping her to the line.
"I was marked out of it, yeah, but I just wish the race was harder," she says. "I feel I had the legs to break the girls, like on that final climb. If it was 200 metres longer they would've cracked and I would've been on my own.
"Going into the Worlds the one word every single person said to me was 'patience' and in the end that was my undoing, I think.
"It's about getting the right balance between instinct and advice, I suppose."
As it was, Armitstead found herself boxed in, unable to sprint for the win. "It's an awful feeling to finish a World Championships and not feel like you've really sprinted. But what could I have done differently? I don't know. Probably the hardest thing is having to explain myself to those who don't get it. I'm probably just as guilty, sat there watching the men's race, but everyone's an expert until you're in it."
One of the biggest controversies before the race was the omission of climbing domestique Sharon Laws from the British team. "She could have made it harder on the climbs," says Armitstead, "but it would have been Sharon against the world, because no other team committed to making a hard race."
Other than Lucy Garner's unfortunate crash, the inexperienced team performed admirably. "I was really impressed," says Armitstead. "Being in a young, enthusiastic group at a World Championships is quite a powerful thing. Anna Christian, was phenomenal, to be a first-year senior and be able to attack in the final laps of the Worlds is impressive."
Back on track
Much of Armitstead's early career was on the track, where she won the 2009 team pursuit world title with Wendy Houvenaghel and Joanna Rowsell. Road success had always been bubbling under, and 2011 saw her win her first British national road race after finishing second the previous two years.
Armitstead's Olympic silver medal, behind Marianne Vos in a London downpour, was Britain's first at the Games and brought her national acclaim. Two years on, however, that success is something the Yorkshire-born rider is yet to come to terms with.
"I still haven't understood that I'm an Olympic medallist. When I was at school, and coming 10th in the Leeds 800 metres, it was so hard. I was thinking, 'To be an Olympic medallist, wow, that's incredible,' so it's really bizarre that I'm an Olympic medallist, I'm still getting my head around it.
"I still look at other people and think gold medals are for them, but that's a stupid mentality," she continues. "You're not training day in, day out to be a silver medallist, it's about winning races, not about getting better all the time. I'm maturing into somebody who's more competitive."
It was this shift in attitude and the confidence born from building form which set up Armitstead's 2014 season. After finishing 23rd overall at the Ladies Tour of Qatar, she finished on the podium of her next eight races. This dominant run included her win in the World Cup race at the Ronde van Drenthe in the Netherlands, a victory that saw her lead the World Cup competition from the start to the finish in August.
"I look back at 2014 with confidence and satisfaction," she says. "I was consistently good from the start of the season all the way through. I had three goals, which is hard work — Tour of Flanders, Commonwealths and Worlds — and at each goal I had form. So it was pretty successful.
"The Commonwealth Games was obvious; it's a home event and I wanted to win. Flanders is just one of the races I want to win; it's a dream of mine, that iconic thing in cycling. Maybe that means more to me than the Commonwealth Games, which is more a public thing than a traditional cycling goal. The World Championships is the same as Flanders."
Though she only won one of those races, Armitstead has no regrets about Flanders. She cites it as one of the highlights of her year, despite finishing second behind team-mate Ellen van Dijk.
"I was genuinely really happy for Ellen and I was happy to come second. She worked so hard for me at Drenthe, I wouldn't have won without her. I think we're a good combination.
"In a team there's going to be overlapping goals and Flanders was one of those. I didn't consciously sit there in the team meeting and think that's my chance gone, it was one
of the tactics, but it worked.
But what a team result for Boels-Dolmans! We'd come from a season where we had hardly any wins and then we were first and second in Flanders. That's pretty amazing."
Not part of the plan
Despite the World Cup being arguably Armitstead's most notable achievement of the year, winning it wasn't an ambition, more something which developed organically as the season progressed. "It started when the girls were laughing with one of the sponsors, saying we want to go cross-country skiing as our team bonding," she explains.
"Last year we went on some kind of survival thing in Belgium and it was awful. The sponsor said it depended on what we've won. When I asked what if I win the World Cup, he said yes. Eventually everyone said I was going to win it, so I thought I better go and do it!"
One win and three second places in the first four races saw her accrue a healthy lead in the standings. Regardless of missing the next two races — the Tour of Chongming Island to avoid the lengthy travel and the Sparkassen Giro as it clashed with the Commonwealth Games — she still won the competition with one race to go.
Despite Armitstead's success, her inability to close out a sprint cost her more than one win this year. Speed isn't the issue; more timing. "That's something to work on this winter," she explains. "If it's a small group and you have a clear run at the line, then great, I know I'm fast. Otherwise I'm thinking, 'Oh no, it's a sprint.' I think that's what my rivals have over me. I don't think there's anyone other than Marianne [Vos] in the peloton that's consistently faster than me."
One example of this was at the National Championships in Abergavenny, where she finished third behind Laura Trott and Dani King. "That was really annoying, because you're representing Great Britain in Europe in every race you do. Obviously Laura's an incredible athlete, but she doesn't race in Europe, and I want to be out there showing if off. The British stripes to me are similar to the rainbow stripes; it's a real pride thing, a real cycling tradition."
Plans for 2015
So what of next year? Armitstead is signed to Boels-Dolmans until after the 2016 Rio Olympics, allowing stability and the chance to develop. "It's simple things: your winter is settled, you're on the same equipment, which is a massive thing, you're on the same bike, you don't have to learn your mechanic, learn your soigneur, it's all in place," she says. "So it's very simple for me to keep doing what I'm doing without being unsettled."
The Dutch team have made two significant signings in Chantal Blaak and Evelyn Stevens, both joining from team time trial world champions Specialized-Lululemon. "The main goal is to be team time trial champions and to manage that pressure was too much for me and Ellen to carry this year," Armitstead says.
"We need more engines in the team. It means I won't resent going to a TTT training camp in the middle of the season. This season it wasn't productive; I could train better at home. Now I can feel like we're working towards a goal that's attainable. Having Evie Stevens for the stage races is going to be huge. She and Megan [Guarnier] are going to be a great combination. It means I can go to a stage race and do a job which is nice, I want to be able to have down time."
Unbeatable Vos
One major barrier to winning in women's racing is the prolific Marianne Vos, though Armitstead believes she is closing the gap. "I've always maintained she's beatable. When she used to attack it was impossible to stay on her wheel, but now I can do it. I think I've definitely improved a lot. I think we'll have a lot of battles."
So with the pieces in place, it's down to Armitstead herself. Her 2014 form was largely based on consistent winter training, and this year will be no different: "I'll keep it simple, just keep suffering on the bike. It's the little things that make the big difference, like nutrition and rest. I know my body and how to get the best out of it. I've learnt that this season.
"Confidence wise, mentally, that's something I'm going to think about. I'm saying that I'm confident, but I'm not 100 per cent behind it. I think to be a champion, to be somebody like Cav [Mark Cavendish] who's won everything, you need to be seriously confident, and I'm not at that place yet."
This apparent lack of confidence may be surprising, though it's clear Armitstead is realising her potential. "I feel like 2014 is a kind of coming of age. As a track rider I rapidly became one of the best in the world, and it takes so much longer on the road. There's so much competition, it takes years to get that sort of strength in your legs and some experience under your belt. Now I feel like I'm one of the top five best road riders in the world and I never thought I'd be able to say that. I thought I might get lucky a couple of times, get the results, but that's my place now."
At 26 Armitstead has, arguably, not blossomed as young as some of her competition, but this year her physical prowess has allowed her to shine for the entire season. Finding the self-belief she feels she lacks could well be the final piece in the jigsaw.
We finish where we began — just how much would that World Championships win mean? Which of her career successes would she trade for a rainbow jersey?
"Everything but my Olympic medal," she says.
Thank you for reading 10 articles this month* Join now for unlimited access
Enjoy your first month for just £1 / $1 / €1
*Read 5 free articles per month without a subscription
Join now for unlimited access
Try first month for just £1 / $1 / €1
Owen Rogers is an experienced journalist, covering professional cycling and specialising in women's road racing. He has followed races such as the Women's Tour and Giro d'Italia Donne, live-tweeting from Women's WorldTour events as well as providing race reports, interviews, analysis and news stories. He has also worked for race teams, to provide post race reports and communications.