London Superhighways launch to mixed acclaim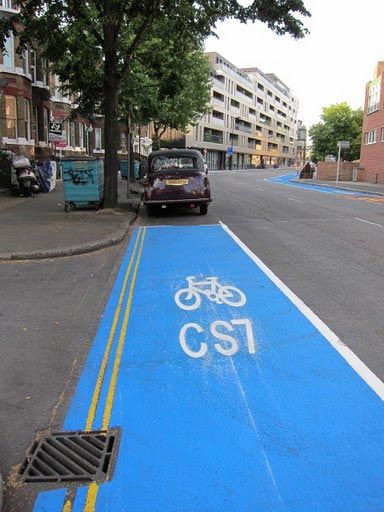 Get The Leadout Newsletter
The latest race content, interviews, features, reviews and expert buying guides, direct to your inbox!
Thank you for signing up to The Pick. You will receive a verification email shortly.
There was a problem. Please refresh the page and try again.
Not by any stretch of the imagination can we call them "Cycling Superhighways", whatever Mayor of London Boris Johnson likes to claim. He did so again with great fervour at the launch, on Clapham Common, at the launch of the first two pilot routes to open in London this morning at a cost of £22 million.
They are CS7 from Merton to the City and CS3 from Barking to Tower Gateway. But they are, despite two particularly serious hazardous junctions, a welcome development and an improvement on the bog standard cycle lanes they have replaced.
No one doubts the Mayor's love of cycling and his flair for promoting pedal power over horse power. We salute his Sky cycling events on closed roads, and all the marvellous pro cycling sound bites from the spin doctors in Transport for London.
But the title Superhighway is fanciful, a rod on the Mayor's back. Because it fails to meet the high standards set by the Mayor himself, of continuous routes to give the cyclist confidence and safety.
These are distinctive cycle lanes, their vivid holiday brochure blue a happy contrast to black tarmac. But they routinely disappear under vehicles in wave after wave of parking bays, under trucks unloading at shops, and at two major junctions at least, they disappear entirely just when the rider needs it.
Nevertheless, what we've got is a useful upgrade on major radial routes. They are notably wider, 1.5 metres minimum, according to David Brown, MD of Surface Transport at Transport for London.
Boris on the 'magnificence' of his Superhighway


"I want you to know I cycled here this morning at the speed of an elderly French onion seller," said Mayor Boris to the enthusiastic crowd of guests, launching into a performance to rival the best stand-ups!
"I set off from my home in the wilds of North London. And I want you to know I obeyed every single rule of the road...anyone here following me: Media pack?
"I stopped like a pillar of salt at every single traffic light. I nearly broke into a sweat. I'd like to know I got here in 35 minutes.
"I caught up this young chap in an over the top flash Peugeot, leaving him stuck in traffic...all that carbon...he overtook me, I overtook him. I told him, he should have been on a bike on a beautiful morning like this.
"I beat him because I was conveyed on the magnificent, blue Cycle Superhighways CS7, which took me in every possible comfort and style.
"On the run up to the Olympics it is part of our vision of a keener, greener, safer city, where you have a cycling revolution. Because we want to make London a more attractive place to attract investment.
"London I think will acquire an ever greater reputation as the best big city on earth to live in. That is what the cycle revolution is all about."
Riding Superhighway 7
I sampled CS7 for myself, picking it up at Colliers Wood at 6.30am, the roads still empty. But in half-an-hour, that would change. This is the A24, nine miles to Central London. It's all shops and housing through Tooting, Clapham, Balham, and teeming with cars, buses, vans, trucks, people - and these days 5,000 commuting cyclists in the rush hour.
Ahead of me the vivid blue lane looked enticing, on both sides of the road, like a magic carpet. Wider than most, almost a car width in some places.
But there were vehicles parked on it are regular intervals. And also, at regular intervals, huge white letters, CS7 and the usual bike symbol painted on the blue lane. And here's a good thing, in the other lanes, at regular intervals, huge blue squares with the letters CS7 and the bike image, to remind drivers they are on a major cycle route.
Cyclists I meet on my way had nothing but praise for the new look lane.
But I noticed that in places there are no white lines bordering the blue.
That's the best thing about cycle lanes, for me. Drivers follow the line, keep out of the cycle lane.
Take away the line, and the traffic fills the space. This happened on CS7 whenever the white line ended, traffic spilled over onto the blue, blocking the way.
At Clapham North tube station, a big road junction, the blue continues straight across. Good. But why not at all junctions?
"Stupidhighway" - the CTC called it


At the huge gathering on Clapham Common, waiting for the Mayor to arrive by bike, stood Roger Geffen, the CTC's Campaigns and Policy Manager. Geffen recently, and famously, renamed the scheme, "Stupid Highway", after discovering the CS7 running into the back of black cab, standing in a parking bay.
He gave me an update, looked at the pros and cons of this new cycle facility.
"Well, now I discover they have put one of those CS7 logos outside the parked car, and actually, it does work perfectly well," conceded Geffen.
"It does what the Superhighway needs to do if you going to take that approach to on-road cycle planning. It's still a parking bay, but now there is a sign for drivers to expect a cyclist to pull out into the road at the point where the parking bay begins."
There is the same arrangement similarly at bus stops.
"It's a perfectly sensible solution to the problem. We're calling them safety mats."
"But the trouble is" says Geffen, "there are a lot of places where they haven't used the 'safety mat' where it would have perfectly sensible to do so.
Particularly through the section from Colliers Wood to Tooting Bec where a lot of the blue paint, nearly 1.5 metres wide, is going to be under parked cars for 18 hours of the day, and there is really nothing there to help the cyclist through those very heavily trafficked, quite narrow streets.
It is at these points, says Geffen, that the Superhighway is no better, no worse than a regular cycle facility. Blue logos out in the traffic would help.
But the two real disappointments for Geffen, are going northbound through Stockwell Junction and through Kennington Junction.
"At these junctions there are substantial flows of motor vehicles turning left, forking left at both those places and there is nothing to help the cyclist pull out to the right.
"Those are the two places you really need it (blue paint) and it's not there. And that is a disappointment.
"Couple of safety mats on the approach, but you really need the something to tell drivers.
"Actually, the message being given out is, 'no, sorry cyclists, you are on your own. The traffic turning left is more important than you are.'
"This is a shame" he says. On the other hand he really does hope that this works. "For all of the infrastructure ain't terribly super, I do hope that the visibility of this stuff works in spite of my reservations. Because all of us need this to work inspite of its shortcomings.
"The sort of sums of money they are spending on this are huge in terms of cycle planning.
"These two Cycling Superhighways are costing £22 million. Remember when Cycling England's total budget was £5m!"
"This is serious money being spent for the first time ever on cycling in Britain" says Geffen. "That's why is it is important that despite it not being terribly super, it is actually very important that it does work.
"Because otherwise politicians are going to get cold feet about spending thls sort of money on cycling and cycling deserves this sort of money.
"You know, for all it means in cycling terms it's still peanuts in terms of the level of mobility it provides in terms of road building, compared with tube upgrades even compared with bus subsidies.
This is still very good value for money even though it doesn't look to me like money well spent!"
Good and bad, says London Cycling Campaign.
Oliver Schick, chair of LCC's Policy Committee says, "We're pleased to see high-level championing and investment in cycling, and an opportunity for solutions to the biggest problems for new cyclists. We welcome the increased cycle parking along Superhighway routes, clear marking of routes, provision of cycle training, and workplace initiatives associated with the programme.
"However, we are disappointed at the lack of progress on the barriers presented by large junctions and one-way systems such as Stockwell, Kennington and Tower Gateway. London is heavily distorted by these legacies of a less-enlightened past transport policy, and it needs to be returned to its natural cycling-friendly form."
Thank you for reading 20 articles this month* Join now for unlimited access
Enjoy your first month for just £1 / $1 / €1
*Read 5 free articles per month without a subscription
Join now for unlimited access
Try first month for just £1 / $1 / €1
Get The Leadout Newsletter
The latest race content, interviews, features, reviews and expert buying guides, direct to your inbox!
Keith Bingham joined the Cycling Weekly team in the summer of 1971, and retired in 2011. During his time, he covered numerous Tours de France, Milk Races and everything in-between. He was well known for his long-running 'Bikewatch' column, and played a pivotal role in fighting for the future of once at-threat cycling venues such as Hog Hill and Herne Hill Velodrome.