Luke Rowe column: 'I'm not going to let numbers rule my career'
Team Sky's Luke Rowe writes about his opinion on the use of power meters in racing and for training in his latest column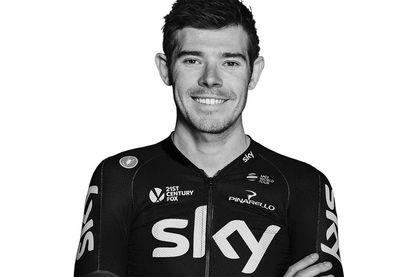 Get The Leadout Newsletter
The latest race content, interviews, features, reviews and expert buying guides, direct to your inbox!
Thank you for signing up to The Pick. You will receive a verification email shortly.
There was a problem. Please refresh the page and try again.
Welshman Luke Rowe is Team Sky's Classics specialist and often the team's road captain, and he writes exclusively each week for Cycling Weekly. He's also a huge Cardiff Devils ice hockey fan
The first power meter I ever had was when I joined Team Sky; before that when I was an amateur I never used one, I never used a heart-rate monitor either, I just rode on how I felt.
In racing I don't think power meters have really got much of a use, but in training there's quite a strong advantage to using one — they're a massive benefit. When you're fatigued and you've got to do a certain effort to sustain certain wattage, if you didn't have one you'd ride under or over because you'd ride on feel not on numbers.
In racing you might as well take it off my bike — I never look at it! I use the Garmin head unit in a race for the maps so I know exactly what's coming up and also have the distance, but that's pretty much all.
>>> Power meters – Everything you need to know
I like to feel it, if I'm going up a climb you know how hard you're working because how much your legs are hurting, how hard you're breathing, how much you're sweating. I don't want to lose those sensations of riding a bike and racing a bike, it's a nice feeling to go out and be at one with the bike and know what to expect of your body. I'm not going to let numbers rule my career.
Within the team I'm the one who relies on power meters less in races, but I do think it's been overhyped about how Sky rely on power. When you see us in a line controlling a race we never say, "400 watts," we say, "Ride at a solid pace." If someone attacks we say, "Up it a bit," not, "Increase it by 30 watts."
Certainly for the Classics I'm not going to hit the Kwaremont and look to hold certain wattage.
In general people are getting more and more absorbed by figures. I'll finish a race and go on a local ride and someone will say: "You looked strong there, what watts were you doing?" and I'll say, "I haven't got a bloody, clue mate."
>>> Luke Rowe column: Here's why the cobbled Classics are nuts
Sometimes I'll go back to that old-school type of riding — I turn my cranks off, leave my Garmin at home and just ride my bike. I know I've roughly been out of the house for four or five hours, and I know when I hit a climb I've gone pretty hard.
I don't think it can be underestimated.
Thank you for reading 20 articles this month* Join now for unlimited access
Enjoy your first month for just £1 / $1 / €1
*Read 5 free articles per month without a subscription
Join now for unlimited access
Try first month for just £1 / $1 / €1
Get The Leadout Newsletter
The latest race content, interviews, features, reviews and expert buying guides, direct to your inbox!