'Lycra louts not welcome here' proclaims sign in Biggin Hill
Public sign calls against plastic arrows being put up in the area, saying that cyclists are not welcome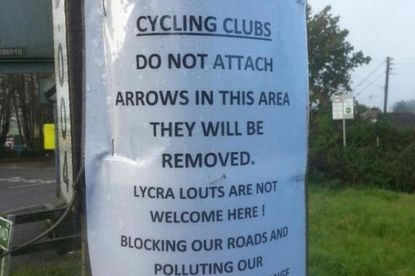 A sign put up in Biggin Hill village, last week has protested against cyclists in the area, saying that "lycra louts are not welcome here."
The notice's main point is against plastic sportive direction signs being put up in the area, but vehemently railed against cyclists in the area claiming that they "block our roads."
The sign, which was put up near an Indian restaurant in the area, reads: "Cycling clubs: Do not attach arrows in this area they will be removed. Lycra louts are not welcome here! Blocking our roads and polluting our countryside with orange plastic signs."
The sign was discovered by a rider, who later posted it to Twitter under the name @trivers1985, saying: "Come across this [sic] while out #cycling in #bigginhill this morning while out on a #cycling did make me laugh."
A number of sportives operate in the Biggin area, including Evans Cycles' RideIt! Biggin Hill sportive and the London Cycle Sportive, which is already scheduled to revisit the area in 2015.
There has yet to be any word on where the sign initially came from.
Thank you for reading 5 articles this month* Join now for unlimited access
Enjoy your first month for just £1 / $1 / €1
*Read 5 free articles per month without a subscription
Join now for unlimited access
Try first month for just £1 / $1 / €1