Madison close Tour Series gap in Woking as Eileen Roe wins Matrix GP Series
Tom Stewart leads the way for Roger Hammond's team in Surrey as series enters final week.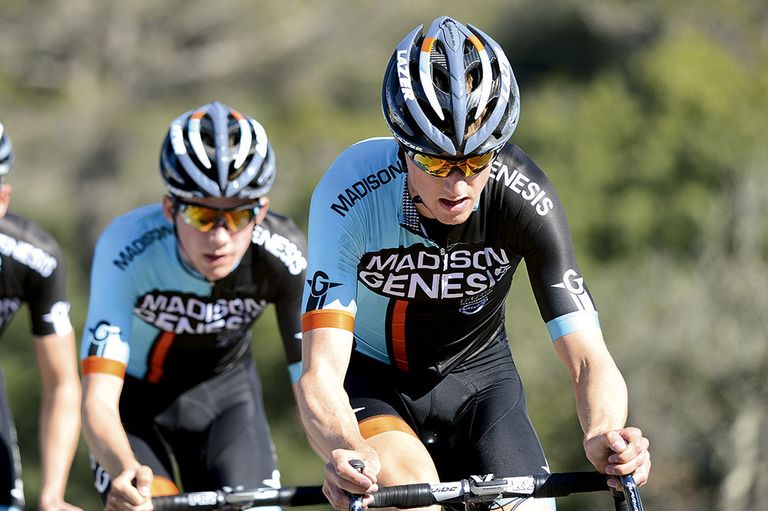 (Image credit: Andy Jones)
Yorkshireman Tom Stewart led the way as Madison Genesis closed the gap on Rapha Condor JLT in round 10 of the Pearl Izumi Tour Series in Woking last night.
Stewart broke clear from a small group late on, having been active throughout the race, to solo to victory.
George Harper (Node4 Velosure) outsprinted Adam Blythe (NFTO) for second, but Canary Wharf individual winner Tobyn Horton and Andy Tennant placed fourth and sixth to ensure Madison took the team prize on the night.
However, series leaders Rapha placed second to ensure that they go into Friday's double-header in Jersey with a 16-point advantage, with a maximum of 20 points to be won. It would be the biggest surprise if they do not become the first team to win the event for the second time.
One of their former riders and part of their successful 2011 team, Dean Downing, was also commemorated last night on his last-ever Tour Series start. Downing, now at NFTO, will retire at the end of the season.
In the final round of the Matrix GP Series, Eileen Roe took the individual honours to take the overall victory.
Scottish rider Roe (Starley Primal) outsprinted Amy Roberts (Wiggle-Honda) and Grace Garner - younger sister of Giant-Shimano's Lucy - to finish 13 points ahead of compatriot and best friend Charline Joiner.
Roe, who led the standings since round two in Peterborough, will represent her country at this year's Commonwealth Games in Glasgow.
Results
Pearl Izumi Tour Series 2014, round 10: Woking
1. Madison Genesis
2. Rapha Condor JLT
3. Node4 Velosure
4. NFTO Pro Cycling
5. Team Raleigh
6. Starley Primal Pro Cycling
7. Pedal Heaven Colbornes
8. Metaltek Kuota
9. Great Britain
Round 10 individual result
1. Tom Stewart (GBR, Madison Genesis
2. George Harper (GBR, Node4 Velosure
3. Adam Blythe (GBR, NFTO Pro Cycling
4. Tobyn Horton (GBR, Madison Genesis
5. Graham Briggs (GBR, Rapha Condor JLT
6. Andy Tennant (GBR, Madison Genesis
7. Matthieu Boulo (Fra) Team Raleigh
8. Chris Opie (GBR) Rapha Condor JLT
9. Morgan Kniesky (Fra) Team Raleigh
10. Dean Downing (GBR) NFTO Pro Cycling
Round 10 Costa Express Fastest Lap: Graham Briggs, Rapha Condor JLT, 1-43.298
Round 10 sprint winner: Jon Mould, NFTO
Overall Team Standings after round 10
1. Rapha Condor JLT, 106pts
2. Madison Genesis, 90pts
3. Team Raleigh, 82pts
4. NFTO Pro Cycling, 73pts
5. Node4 Velosure, 61pts
6. Metaltek Kuota, 45pts
7. Starley Primal Pro Cycling, 39pts
8. Pedal Heaven Colbornes, 38pts
9. Great Britain, 36pts
Overall Sprint Standings
1. Jon Mould, NFTO, 69pts
Matrix Fitness Grand Prix Series
1. Eileen Roe (GBR) Starley Primal Pro Cycling
2. Amy Roberts (GBR) Wiggle Honda
3. Grace Garner (GBR) RST Racing Team
4. Katie Curtis (GBR) Starley Primal Pro Cycling
5. Clemence Copie (GBR) Team MuleBar Girl - Sigma Sport
6. Charline Joiner (GBR) Pearl Izumi Sports Tours International
7. Gabriella Shaw (GBR) Pearl Izumi Sports Tours International
8. Laura Greenhalgh (GBR) Twickenham CC
9. Lydia Boylan (GBR) Velosport - Pasta Montegrappa
10. Jo Tindley (GBR) Matrix Fitness - Vulpine
Round Five Sprint Winner: Helen Wyman, Matrix Fitness - Vulpine
Round Five Team Winner: Starley Primal Pro Cycling
Final Overall Standings
1. Eileen Roe (GBR) Starley Primal Pro Cycling, 104pts
2. Charline Joiner (GBR) Pearl Izumi Sports Tours International, 91pts
3. Amy Roberts (GBR)Wiggle Honda, 69pts
4. Katie Curtis (GBR) Starley Primal Pro Cycling, 69pts
5. Helen Wyman (GBR) Matrix Fitness - Vulpine, 69pts
Final Overall Sprint Standings, post-Round Five
1. Helen Wyman, GBR, Matrix Fitness - Vulpine, 30pts
Final Overall Team Standings, post-Round Five
1. Pearl Izumi Sports Tours International, 227pts