Making hi-vis clothing compulsory for cyclists does not reduce number of crashes, study finds
No evidence for reduction in number or frequency of crashes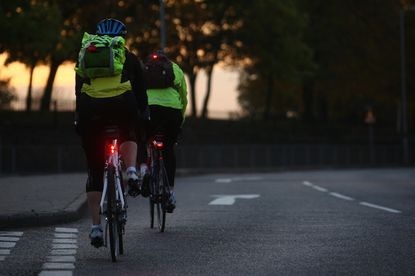 (Image credit: Cycling Weekly/IPC)
You might think of hi-vis clothing as a good way to improve your visibility and make you safer on the road, but a recent study has found that wearing such bright clothing has no impact on reducing the number of crashes involving cyclists.
A study by a psychologist at the University of Bologna, and published in the March edition of the Journal of Transport & Health, looked at legislation making hi-vis clothing mandatory for cyclists and compared this with accident statistics over a 15 year period between 2001 and 2015.
The findings by professor Gabriele Prati were conclusive, with his study finding "the implementation of legislation imposing high-visibility clothing for cyclist did not influence the number of bicycles involved in road crashes as well as its proportion in the total vehicles involved in road crashes."
>>> What is the evidence that wearing hi-vis clothing makes you a safer cyclist?
The study also found that there was no impact on the number of crashes whether you looked at the period immediately after the legislation was introduced, or in the longer term.
This is the latest in a number of studies to cast doubt on the idea that making cyclists wear hi-vis clothing has an impact on making cyclists safer, even if there is more evidence that wearing hi-vis or reflective clothing makes cyclists more visible to drivers.
Watch: What lights do I need?
"The research suggests that it may help drivers to spot pedestrians and cyclists more readily," said Cherry Allan, campaigns and policy coordinator at British organisation Cycling UK.
"But there was no evidence by how much and it was impossible to say whether that made them safer, as spotting them was one thing and driving safely around them another."
>>> Daytime running lights: should you be using them?
However there is greater evidence that cyclists using lights, even during the daytime, can help to reduce the number of collisions, with a 2013 Danish study finding that riders using flashing lights during the daytime were 47 per cent less likely to be involved in collisions with vehicles.
Thank you for reading 20 articles this month* Join now for unlimited access
Enjoy your first month for just £1 / $1 / €1
*Read 5 free articles per month without a subscription
Join now for unlimited access
Try first month for just £1 / $1 / €1