Mark Cavendish: Exclusive interview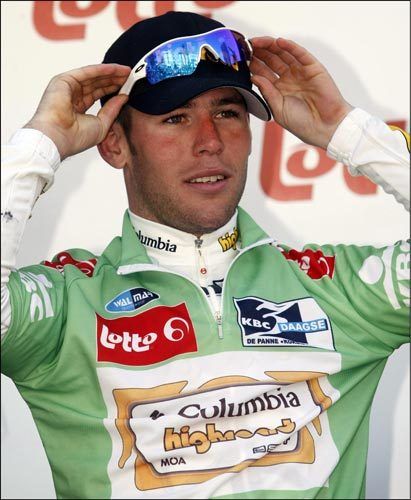 Mark Cavendish became only the second British rider to win Milan-San Remo, 45 years after Tom Simpson won the race.
The 23-year-old from the Isle of Man had played down his chances of winning the Italian Classic, partly to lure his rivals into a false sense of security by making them believe he couldn't cope with the hills. But as Cavendish explains, that was all part of his strategy.
He talks to Cycling Weekly about how he plotted to win Milan-San Remo, why he returned to the track, the perception that he's arrogant, and what he has in store next.
CW: Before Milan-San Remo, you were playing down your chances, but you clearly felt you could win it. After all, you don't go and check out the last 120k of a Classic looking for the place you're going to get dropped.
MC: I knew I had a chance to win, but I had to see what sort of chance. I knew I could win Milan-San Remo in my career, but it's not as easy as that and I didn't know if it could be this year. I'd never even done the race before. It took Mario Cipollini 13 years. It could have taken me 13 years.
CW: Did you play down your chances to keep the pressure off?
MC: It wasn't about pressure. There's always pressure. The biggest pressure is the pressure I put on myself. But everything I did and said in the weeks leading up to Milan-San Remo was deliberately designed to tip the balance a bit in my favour.
CW: For example?
MC: I got dropped in Eroica with a couple of team-mates around me and the TV cameras on me. I wanted it to look like I couldn't cope with the hills.
CW: Journalists in Italy noted how well you were climbing at the Eroica.
MC: I was. I was climbing really well, but everyone thinks I can't get over a railway bridge, and I wanted them to keep thinking that.
CW: Was that the same strategy at Tirreno-Adriatico?
MC: Yes. On the first day I genuinely did have a mechanical. My chain jumped off the jockey wheels on the rear mech and got caught in the cage, so I had to stop and swap bikes. On the climb near the finish, I was coming past people who were dropped and I knew I was climbing well. But people look at the results and see I lost however many minutes and they think 'Ah, he's not going well'. It's not always like that. The results sheet doesn't tell the whole story.
CW: So you were playing mind games?
MC: To an extent, but the thing is, you can't go to Tirreno and give it everything if you really want to win Milan-San Remo. Two years ago, Tirreno was the biggest race I did, now it's part of the preparation for a bigger goal. It's amazing how quickly it's changed but people expect me to win every race I do, so when I don't win, it's because I'm going badly. You have to measure your effort more if you want to win the biggest races.
CW: Tyler Farrar beat you when you did have a go in the sprint. How did you take that?
MC: I misjudged it a bit, but fair play to him, he won it. It was the first time I'd gone head-to-head with [Alessandro] Petacchi, and when he went I wasn't sure if I should go with him. I went too early. It was a headwind and I faded. I beat all the biggest sprinters but got beaten myself.
CW: You won the final stage though, was that a reminder?
MC: Partly, yes. I wanted to show that I was the fastest. I wanted people to see that if I got to the finish of San Remo, I was going to beat them.
Winning Milan-San Remo
CW: Some perceive you as arrogant. Are you? Do you think you come across like that?
MC: I know I'm perceived as arrogant by people who don't know me and haven't even met me. But if you look at what I say, I don't say I'm going to do things I can't do. I am confident in what I can do, but I don't say 'I'm going to win the Tour de France'. I didn't say I was going to win Milan-San Remo. I said I could win it, and I knew I could. Thing is, if I say I'm going to win something and then I do, I'm called cocky, so what can you do?
CW: Perhaps it's the way you've been seen reacting at the finish?
MC: I know, I know! People see that and must think 'He's a right little so-and-so' but cycling is the only sport where you cross the line and they come and stick a microphone in your face. That's when you've just won or lost a bike race. I do lash out, I do have a go at people in the heat of the moment, sometimes it's not even their fault, they haven't even done anything, but I can't change it. The thing is, people don't see me when I go to apologise to people afterwards when I've calmed down.
CW: When you went to check out Milan-San Remo, what did you learn?
MC: La Manie is a proper climb. That scared me. It scared all the sprinters. We rode the last 120k and Erik [Zabel] was telling me it'd be easier in the bunch, but I was still scared by it. But I knew if I got over it in good shape, I could win it. To me, that was the critical part of the race.
"Everyone thinks I can't get over a railway bridge, and I wanted them to keep thinking that"
CW: Why are you climbing so well?
MC: I'm lighter. I am 69kg. I'm lighter now than I was at the Tour last year. We were worried I'd lose a bit of power but I haven't much. I mean, I've maybe lost a bit of top end from my sprint, but I've improved as a bike rider. People think Milan-San Remo is just a sprinters' race and all you have to do is get to the finish, but they keep putting these hills in. You have to look at the work the sprinters do to change themselves so they can get over the hills and get to the finish. They lose weight, they actually change. Milan-San Remo is not just a sprinters race.
CW: How did you feel before the race?
MC: Nervous. Really nervous. I only really get that nervous at the Tour on the days I knew I could win. But I was so nervous. Bernie [Bernhard Eisel, his team-mate and room-mate] was trying to calm me down.
I actually crashed in training the day before Milan-San Remo. We were out doing a couple of hours and Edvald [Boasson Hagen] took a drink and hit one of those bumps in the road you don't see. He went down and I went into him. When I was in the air I thought I was going to break a collarbone, it was one of those kind of crashes. Whether it made any difference or not, I tried to do a bit of a roll to protect my collarbone. I ended up banging my knee. I put ice on it in the afternoon, and it was okay the following morning. Maybe it was a good thing because the day before I was worrying about my knee, not the race, and on the morning I was thinking about the race not my knee.
CW: What was the team's strategy on the day?
MC: No decision was made until after La Manie. I just had to see how I was after that point, then we'd decide as a team. When I got over that and felt good, then I started to think about it. My team did an incredible job. Everyone played their part at different times in the race. Without them I wouldn't have won it, no doubt about it.
CW: What did you think when Heinrich Haussler got that gap?
MC: I thought the chance had gone. When he went, I was actually a bit boxed in by JD [Julian Dean]. I knew it was too early to react, but I knew that if I waited any longer Haussler had it anyway. That line was coming up so fast. I was sprinting absolutely full gas, which I don't usually do. I knew I had it on the line, because he [Haussler] went 'uuuugh'. Even when it looks close, you know if you've won or lost. Bennati beat me by 1.5cm at the Giro, and I knew it.
CW: What was your immediate reaction?
MC: I just didn't know what to do. I just burst into tears. The emotions were pretty overwhelming, you know?
CW: You mentioned Erik Zabel and his role in helping you win Milan-San Remo. A couple of years ago Erik and your two other team managers, Rolf Aldag and Brian Holm, admitted using EPO in their careers. Some people may look at a 23-year-old rider achieving what you're achieving and ask questions about how it's being done.
MC: I know people say things like that but I know myself what I'm doing. I do all my [anti-doping] tests and Melissa [Cavendish's girlfriend] says 'I'm so glad we don't have anything to worry about'. The thing about Erik and Rolf and Brian is that they made choices based on how cycling was. In a way, I'm lucky they've been through that so I don't have to. I remember what they went through two years ago, and I never want to go through a second of what they went through. There's one way to ensure you don't have to.
CW: People were surprised when you were named in the Great Britain team for the World Track Championships. You said after Beijing the track had nothing left to offer you and that you wouldn't be riding it again. What changed?
MC: I did say that. I definitely said it. And I felt it. I really felt it. Obviously Beijing was disappointing because I wanted to win. But track racing is part of what I do. I grew up doing it and I still love it.
The team were talking about me doing Harelbeke and Brabantse Pijl in Belgium after Milan-San Remo, to prepare for Ghent-Wevelgem, saying they wanted me to have an easier weekend. I said sort of joking, 'If you want me to have an easier weekend, I might as well do the track'.
I'd been on the track at Manchester and I knew that I could be in the team. But with Milan-San Remo coming up I didn't want to spend two weeks answering questions about the track and why I was coming back. But it's nothing to do with putting Beijing behind me. That's well behind me. Anyway, the decision was made pretty late and it could have changed depending on how Milan-San Remo went, so I didn't want to make a big fuss about it.
I can't hear you!
CW: What's your next goal on the road?
MC: Ghent-Wevelgem. I really want to win that race. I have to win that race. Last year, I lost because of a mistake near the finish and that made me change my whole approach to sprints. From then on I wasn't scared to go earlier from the front and keep out of the way of people who can block your progress.
This year, if we can keep the race together, I really want to win it. I couldn't sleep properly for days after last year's race. People say I'm cocky or arrogant when I win, but they don't see the deep self-loathing when I lose a race I think I should have won. It really hurts me, you know.
After Wevelgem, I want to ride Roubaix. I'm on the list at the moment, but we'll make a decision after Wevelgem. [updated on Tuesday: the latest is Cavendish will not ride Roubaix] It's one of the few races I can do where I can help the team and repay a little of the work they've done for me. In future I want to win Roubaix, so I'd like to go and experience it as well. Then I've got a little break before the Tour of Romandy and the Giro.
CW: What's the plan for the Giro d'Italia?
MC: To do 10 to 14 days. It'll be a hard 10 to 14 days. There's a lot of mountains in the first week. Stage 10 is very hard [250km from Cuneo to Pinerolo, with five mountain passes]. Stage 12 is the long time trial and that's going to be difficult. Ideally I'd like to go to Florence [stage 13] and win there. It's not far from my new apartment.
CW: What's your build-up to the Tour?
MC: The team wanted me to go to Ster Elektrotoer [a short stage race in Holland in June] but we've agreed I'll do Suisse [Tour of Switzerland]. At Ster Elektrotoer, I get a bit dragged in to riding for the GC whereas in Switzerland I can just ride to get ready for the Tour. In Switzerland it's harder and I can eat less on the bike and in the evenings and lose any weight I need to lose because I'm not there to try to win anything.
CW: Everyone's talking about you going for the green jersey, but will you be chasing points or stage wins?
MC: I'm going to try to win as many stages as I possibly can, and if I do well, the green jersey should, hopefully, look after itself. If you win a few stages, you're going to be in there, but I won't be going for intermediate sprints, at least not in the first half of the race.
RELATED LINKS
Mark Cavendish: Rider Profile
The Big Preview: Ghent-Wevelgem 2009
Cavendish wins again in De Panne
Cavendish wins Milan-San Remo
The all-time list of British pro winners
Follow Cycling Weekly on Twitter>>
Thank you for reading 20 articles this month* Join now for unlimited access
Enjoy your first month for just £1 / $1 / €1
*Read 5 free articles per month without a subscription
Join now for unlimited access
Try first month for just £1 / $1 / €1