Mauro Santambrogio: 'testosterone positive was due to fertility and erectile treatment'
Mauro Santambrogio says that his testosterone test failure was due to erectile dysfunction treatment in the summer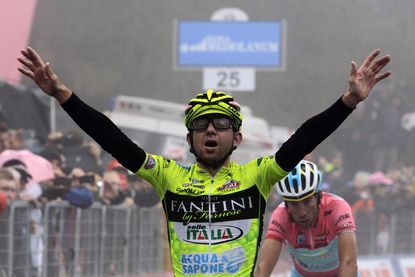 (Image credit: Graham Watson)
Mauro Santambrogio has blamed his positive testosterone test on fertility and erectile treatment he took this summer. The UCI announced yesterday that the Italian from Como failed an anti-doping test on October 22, near the end of an existing ban for EPO use at the 2013 Giro d'Italia.
"This time, I have a clear conscience. I'll tell you how things are, and then everyone is free to think how he wants," Santambrogio told Tutto Bici website.
"I was suspended, I didn't know if I'd race again, so I decided to tackle a delicate physical problem. I went to an urologist on July 7. For my erection problem, he wrote me a prescription for Andriol, 40mg for three months, plus Aprosten for 60 days. Also, I had fertility problems and was being tested because I want to start a family.
Andriol is a brand name for testosterone and Aprosten is used to help prevent prostate problems. Andriol could help with erectile problems but one of its possible side effects include reduced sperm counts.
The World Anti-Doping Agency (WADA) bans the use of Andriol at any level. An athlete may not apply for a therapeutic use exemption (TUE) to use the drug.
"On October 22, when the testers came, I told them that I was being treated. I showed them the documents. They took photographs of them and tested me. The same day, I called UCI's Doctor Mario Zorzoli to explain the situation.
"Why would I cheat? I didn't even know I would be returning until October 28 because all the teams had been flatly denying me."
Santambrogio said that he would not request an analysis of the B sample because he said that the result will be obvious. When Cycling Weekly called him for this article, he did not respond.
His problems go further back. He raced with teams Lampre and BMC, but in Vini Fantini's neon yellow he reached his highest and lowest points. He won the Bardonecchia stage and placed ninth overall in the 2013 Giro d'Italia. Just one week later, the UCI announced he failed a test for blood booster EPO.
He saw his ban reduced from four years to 18 months for cooperating with the Cycling Independent Reform Commission (CIRC). The ban ended on November 2, freeing him to sign with third division team Amore & Vita.
Thank you for reading 20 articles this month* Join now for unlimited access
Enjoy your first month for just £1 / $1 / €1
*Read 5 free articles per month without a subscription
Join now for unlimited access
Try first month for just £1 / $1 / €1