Mayor launches London's £111 million cycling revolution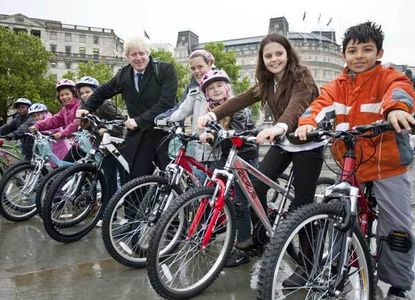 Get The Leadout Newsletter
The latest race content, interviews, features, reviews and expert buying guides, direct to your inbox!
Thank you for signing up to The Pick. You will receive a verification email shortly.
There was a problem. Please refresh the page and try again.
This morning, only a day after he narrowly avoided being killed by a lorry, Mayor of London Boris Johnson chirpily launched a ?cycling revolution in London? at a press call in Trafalgar Square.
Johnson had been cycling with a group of Transport for London officials researching possible cycle routes when a truck overtook them and a rear door flew open, smashing into a parked car, which it dragged into the road.
(See news).
Notwithstanding statistics which show that more is safer - a 91 per cent increase in cycling journeys in the capital has been matched by a 33 per cent decrease in accidents - this incident drew sober reflection from the Mayor. He told the Daily Mail: "This incident reinforces the need for us to make London?s roads safer for cyclists, which I am determined to do and to make London the best city for cyclists in Europe."
And so, cue for this morning?s launch of a 'cycling revolution'. The Mayor was joined by a big group of school children all eagerly being kitted out with Raleigh bikes off-loaded from a truck, and customised for each of them by Doctor Bike.
Then the chattering, excited bunch joined the Mayor cycling around the fountains for the benefit of press photographers and TV.
For good measure, and to give the event more of a swing, Olympic rowing gold medallist turned bike rider James Cracknell also joined in. This was to kick-start London?s Summer of Cycling events and, typically, it was pouring with the rain.
It won?t have escaped anyone?s notice that the children were confined to the pedestrianised Square and were not exposed to the traffic. The Mayor was candid about the risks facing young cyclists and said that the launch today was just one project in a long job to make the roads safer.
Johnson, his blonde mop hidden underneath a cycling helmet adorned with Oyster logos - advertising the capital?s electronic travel ticket - wasn?t going to let the rain bother him.
He insisted the launch went ahead when wimps had suggested he call it off.
Johnson also rubbished London Assembly Green Party member Jenny Jones when told she claims his cycling budget neglects the outer boroughs in favour of promoting the Paris-style cycle hire scheme, set to open next year, and the Super Cycling Highways.
Mayor of London Boris Johnson braves the rain with former Olympic rower James Cracknell
It?s good to cycle, but I wouldn't put my children on Central London roads by themselves.
Boris Johnson talks to Cycling Weekly in Trafalgar Square.
"Do you know what they said to me this morning. They called me and said you?ve got to call this off, it?s raining!"
"Absolutely true. They rang me at seven o?clock and said it?s too rainy, all those poor kids, we can?t have it."
?I said, ?Nonsense?. I said, we need to prove the point that the bike will always get through. And it doesn?t matter what the weather, it?s always good to cycle in. Particularly in weather like this, when the traffic does stop a lot. Everyone brakes in wet weather. And if you?re in a car you are even more crazy in wet weather to be driving in London. So I was determined to go ahead with it.?
Asked how safe is it for children to cycle in London, Johnson gave a candid reply. ?You need to work really hard on that.
Speaking as a parent and it depends how old the kids are, it depends what their experience is. It depends how confident they are as cyclists. But I have to be honest with you and say I would not put any of my young children on the roads by themselves in Central London. I?d think very carefully about that.?
He said that the spatial awareness that children develop only when they reach a certain age would vary from child to child. "There can?t be any hard and fast rule here. I certainly take my kids cycling with me in a group, so I?ll have them following behind like a row of ducklings. So, I?ll do that."
Asked how conditions can be made safer, he said; "What you need to do is, on certain roads, the critical mass where people understand that cycling is what?s going to happen on this road. And that?s what we?re doing with the cycling super highways scheme."
"Obviously it?s an experimental thing, no one has really tried it before. Some people will criticise it. It?s changing the psychological profile of the road; you?re saying this is a road where you can expect to find cyclists. And I think that will work. It?s a step change."
Jenny Jones, Green Party member on the London Assembly, says you are cutting spending on cycling in the outer boroughs and putting all, or most of the money, in the cycle hire scheme and the cycling highways. She calls you the ?Zone One Cycling Mayor?.?|
?Nonsense. Absolute nonsense. We?re spending far more on cycling than any previous mayoralty and it is a measure of our commitment to the outer boroughs that they are all being invited to join the bike hire scheme, they are all coming in, lots of them are coming in Freewheel schemes (closed road cycling days) in the summer and we?re finding a lot of enthusiasm for cycling in the outer boroughs.?
Why has funding for the London Cycling Network been cut? "I?m determined to go on with the work of the London Cycling Network. It?s my opinion, not just mine, but the opinion of loads of people who care passionately about cycling, that you won?t really make big leap forward if you just complete the LCN.
So what I want is the LCN, plus, plus?you?ve got to go to the highways as well.?
Summer cycling in London
The Mayor is hosting several cycling events in London, combining the sport of bike racing with leisure cycling and incorporating a host of events during National Bike Week in June (13-21).
He is keen to show the rest of the country how to get people out of cars and onto bikes for work, leisure and utility trips. ?The saddle is the ideal place from which to savour London?s iconic architecture, myriad back-street routes and extensive parks. Furthemore, cycling is good for the environment ? helping cut congestion and reducing carbon emissions.?
The Mayor is investing £111 million in cycling, with the two biggest projects being the Paris-style cycle hire scheme and the introduction of up to 20 cycling super highways from the outer boroughs into the West End.
From May 2010 people will be able to pick up one of the 6000 bikes available from 400 cycle stations in central London zip about town.
The cycle highways will on-road cycle lanes distinctly painted blue, and the aim is for these lanes to be afforded the status of Zebra crossings, so that traffic automatically gives way.
This year Transport for London is to spend £2.7 million adding to the 10,000 cycle parking spaces provided last year.
The Summer Cycling Timetable
?June 1 Workplace cycle challenge. www.tfl.gov.uk/cycling
?June 13-14 Open Gardens Squares Weekend. www.opensquares.org
?June 13-21 National Bike Week. www.bikeweek.org.uk
?June 15 School?s Cycle Challenge. www.tfl.gov.uk
?June 20 Smithfield Nocturne (top class bike racing under street lamps) www.smithfieldnocturne.co.uk
?August 9 Local Freewheel (Hounslow). www.londonfreewheel.com
?September 19 Tour of Britain final stage of the pro tour on Whitehall and Embankment. Public ride the course in the morning. www.tourofbritain.co.uk
?September 20 London Freewheel ? ride car free roads. www.londonfreewheel.com
?October 6-11 Velocity 6. (proposed six-day race) www.tfl.gov.uk/cycling
?October 8-11 Earls Court Cycle Show. www.cycleshow.co.uk
RELATED LINKS
Boris Johnson and top officials escape death when cycling in London
London ready to deliver bike hire scheme
London bike hire scheme taking place
Are the wheels falling off the Velib scheme
Thank you for reading 20 articles this month* Join now for unlimited access
Enjoy your first month for just £1 / $1 / €1
*Read 5 free articles per month without a subscription
Join now for unlimited access
Try first month for just £1 / $1 / €1
Get The Leadout Newsletter
The latest race content, interviews, features, reviews and expert buying guides, direct to your inbox!
Keith Bingham joined the Cycling Weekly team in the summer of 1971, and retired in 2011. During his time, he covered numerous Tours de France, Milk Races and everything in-between. He was well known for his long-running 'Bikewatch' column, and played a pivotal role in fighting for the future of once at-threat cycling venues such as Hog Hill and Herne Hill Velodrome.