Mayor's Cycling 'Stupidhighway' blocked by parking bay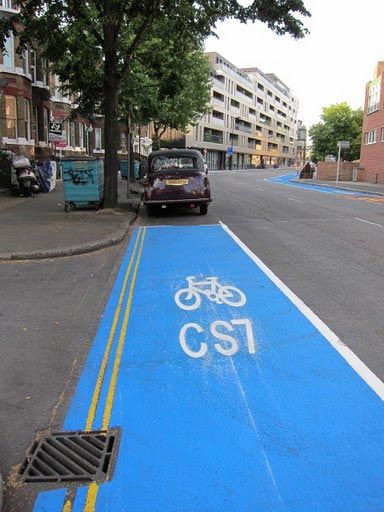 'STUPIDHIGHWAY', that's what the CTC, the national cyclists' organisation, are calling the Mayor of London's much talked about Barclays Cycling Superhighway project - two weeks before the official opening of the first two routes.
Roger Geffen, the CTC's Campaigns and Policy Manager, had returned inspired from an international cycling conference in Copenhagen this week, only to be brought down to the earth at the sight of the latest daft British cycling facility.
He discovered that a section of the much publicised Cycling Superhighway had been painted on the road near his home, and that it runs directly and abruptly into the back of a black cab in a parking bay.
He told Cycling Weekly that to remove parking bays the local council would need to notify local residents of their intentions, but as they hadn't done so, it was clear to him that the parking bay would remain.
Which begs the question what are TfL doing?
Geffen had come home fresh from admiring how wonderfully the Danes provide for huge numbers to cycle - 37 per cent of Copenhagen residents cycle to work and they want 50 per cent to do so by 2015.
Geffen said: "In Copenhagen, cyclists are made to feel gloriously welcome on the city's streets, with wide areas of blue paint to give you clear priority through even the busiest of junctions.
"But back in London, I came home to find the blue paint in London leads you into the back of parked cars and taxis!
"CTC supports the principle of continuous corridor routes for cyclists, but if the Mayor of London is going to call these things 'Superhighways', they really need to be 'super', and not 'stupid' highways."
Thank you for reading 10 articles this month* Join now for unlimited access
Enjoy your first month for just £1 / $1 / €1
*Read 5 free articles per month without a subscription
Join now for unlimited access
Try first month for just £1 / $1 / €1
Keith Bingham joined the Cycling Weekly team in the summer of 1971, and retired in 2011. During his time, he covered numerous Tours de France, Milk Races and everything in-between. He was well known for his long-running 'Bikewatch' column, and played a pivotal role in fighting for the future of once at-threat cycling venues such as Hog Hill and Herne Hill Velodrome.