Meet Britain's next generation of cycling superstars
Over the past 12 months, some of Britain's most talented young riders have been tearing up the cyclo-cross courses of Europe. But as the lure of other disciplines such as road await, what does the future hold for the country's next generation? Words: Giles Belbin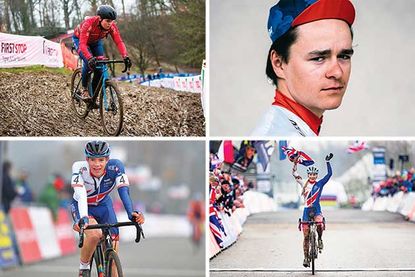 On a Saturday evening in early November 2017, Matt Ellis, British Cycling's cyclo-cross coordinator, was sat in the basement restaurant of a hotel outside Tabor in the Czech Republic.
Ellis was there for the European Championships, an event from which his team would return with two medals: a men's under-23 silver for Tom Pidcock and a bronze for Ben Tulett in the men's junior race.
Those results came in the midst of a successful cyclo-cross period for Britain's youngsters. Both Pidcock and Tulett had won their respective races at Koppenbergcross four days earlier and both would win again in Belgium before the year was out, Pidcock being particularly dominant in World Cup races.
Elsewhere on the Continent under-23 Evie Richards won the elite women's World Cup race in Namur, Sean Flynn claimed a couple of top-five finishes in junior races and Anna Kay and first-year junior Harriet Harnden secured top-20 finishes in elite races among the likes of Sanne Cant and Katie Compton. Then, as the 2017/18 cyclo-cross season neared its end, Tulett and Richards both won rainbow jerseys in Valkenburg.
>>> British riders in the 2018 WorldTour: who they are and who they ride for
With cyclo-cross the poor relation of other cycling disciplines in Britain these are results of real note and offer the hope of a bright future. But the inescapable truth is that the lure of road, track or mountain biking, and the increased availability of funding they offer, is never far away. So why are Britain's youngsters performing so well in cross and where do their futures lie?
Talk to Tom Pidcock, Anna Kay or Harriet Harnden about their start in cyclo-cross and a pattern begins to emerge. All these riders initially viewed cyclo-cross as a way to keep their legs turning during winter before discovering their potential.
"I always did mountain biking and in the winter wanted something to do," says Kay. "To get through the winter I thought I'd do cross and picked it up from there."
Pidcock, meanwhile, tells me that he didn't know much about the sport before he tried it. "It was riding around in fields. I only did it for something else to do in the winter. So I don't know cross really. I only continued it because I was good at it."
Ellis was appointed by British Cycling to the part-time role of cyclo-cross coordinator in September 2017. Over a late-afternoon coffee in Tabor he says he was taken aback when he visited the first National Trophy of the 2017/18 season in Derby.
"I was really surprised by the standard of young riders," he says. "There seemed to be a large amount that had really good physical strength and technical ability. I'd worked with younger riders before and, you're not mothering them exactly, but there is a big welfare aspect. It doesn't feel like that now. It feels like you're taking young bike riders away. I think it's also due to riders coming from the Go-Ride type initiatives."
Having started to work with Britain's best young riders, what has he been particularly impressed by? "They've got really good nutritional knowledge [and] they've all got good knowledge on how to ride the course, looking at lines, things like that," Ellis says.
Later, he will recount a story from earlier in the season that sums up the professional attitude of the young riders: "We had two in a really big crash at Koksijde, bodies everywhere. We were driving back and they all had Instagram pictures of it and they were all analysing what happened themselves. You just think, flippin' heck, this is great."
Ellis also points to the increased connectivity of today's world as a factor in development. "Everyone can watch feeds of races at home now. There used to be all sorts of urban myths… 'Oh the Belgians do this, they do that, it's so amazing.' Now everyone sees it and that's a big key to increasing their level of knowledge."
Helen Wyman, 10-time national cyclo-cross champion, says that good, young British riders have always ridden cross.
"If you look at the start sheet for a National Trophy from 10 years ago you'll see the likes of Adam Blythe and Ian Stannard, riders like that," says Wyman.
"They were obviously talented bike riders but they went into road. We still have talented 16-year-old bike riders that go into road but now what is really exciting is that we have the likes of Anna Kay, Evie Richards, Ben Tulett… riders that are staying inside cross. They like it and they want to do it in the elites, not just because they are told to do it. They want a future in it and that's really exciting."
For a talented, young British rider, cyclo-cross can be a difficult career choice. Out of the major cycling disciplines, it is the only one not an Olympic event, meaning the funding stream and focus from British Cycling is not at the same level.
"Cyclo-cross has always been the poor relative," agrees Ellis. "A lot of people get into it and kids find it really accessible, loads of people do sessions and stuff, but then they will develop into a track rider or they will develop into a mountain biker because they find bigger and easier careers away from cyclo-cross.
"You have to be pretty keen and pretty dedicated to want to make a living out of cross," Ellis continues. "There are easier pathways to do other things in cycling. But you are getting the likes of Tom Pidcock who has a lot of choices… it's obviously giving him something because he is choosing to keep doing it."
Getting exposure to European races is key to fulfilling potential and the realisation that cyclo-cross can be a viable career choice. All the young riders interviewed for this feature talked of the huge differences between riding the domestic trophy series and racing on the Continent. They spoke of more technical courses, the better quality fields, and the larger and more passionate support.
"The courses seem a lot more varied," junior national champion Sean Flynn says.
"Also because the sport is so big over there you've got so many more good riders, so you are always racing someone. You're always being pushed on. I think that's the biggest challenge."
Seeing the size of the sport in Europe also increases its attractiveness to young riders. "I've really taken to loving cross this year after going to Belgium a couple of times," Harriet Harnden says. "As much as I love mountain biking, which I do hope to do in the summer every year as well, I would like to do more cross. It's definitely a great atmosphere at all the races. Everywhere it's amazing."
While Ellis and British Cycling offer some exposure, getting to Europe frequently can be difficult without financial means. Towards the end of 2017 three-time national cyclo-cross champion Nikki Brammeier and her husband, Aqua Blue Sport rider, Matt Brammeier, unveiled MUDIIITA, a project designed to further increase participation in cyclo-cross and help promising young riders fulfil their potential. MUDIIITA will comprise a professional team, an academy and arrange cyclo-cross clinics.
"I think we can get carried away and we can say 'yeah we've got kids winning junior races, under-23 races, elite races,'" says Matt Brammeier. "But when you actually look at it a little bit closer we've only got five or six riders and that's nothing. We could have so much more. There are definitely more Tuletts out there, more Pidcocks out there. It's just making cyclo-cross attractive to them. That's kind of what we are trying to do.
"As it is now, if I was a 14 or 15-year-old kid I would probably be thinking I just want to ride on the road or the track," says Brammeier. "I would want to get on the GB team, I would want to ride the Worlds and get some Lottery funding and be able to actually earn a bit of money. They don't realise how much money they can make within cross. It [can be] very good money."
All conversations on the future of young British riders coming through cyclo-cross tend to return to the theme of the Olympics and the absence of the discipline from the Olympic programme. Although Brammeier says changing that situation has to be the goal, few think it realistic to expect its inclusion any time soon.
>>> ITV to broadcast British Cycling National Road Championships
"It is not an Olympic sport and so it is never going to be funded or done in the same way that mountain bike, road and track is," says Wyman. "You just have to go, 'yeah, that's cool' and move on… It is completely possible to do this on your own. Of course everyone would love to have British Cycling money and help, but, at the same time, it's not going to happen."
Despite their recent successes, surely the lure of other disciplines will be hard to resist for Britain's next generation? Indeed, Tom Pidcock and Anna Kay will both ride on the road in 2018, Pidcock for Team Wiggins and Kay for Storey Racing. Evie Richards meanwhile has spoken of squeezing in some road racing in 2018 and of a clear goal of competing in Tokyo in 2020.
Maybe others will follow. Does it even matter when the likes of Marianne Vos, Pauline Ferrand-Prévot and Zdenek Stybar have all demonstrated it is possible to marry cyclo-cross success with top-level careers in road racing? What is more important is that the nation continues to develop talented riders across all disciplines, offering the opportunity to build on the legacies of the men and women who have gone before.
"I just want to keep racing at a high level in a couple of disciplines to keep my options open and then just see what opportunities come up," Sean Flynn says. "The goal is to ride professionally and whatever discipline that is I'll be happy with. At the end of the day what I want is to be cycling my bike for a living."
Stars of the future? Three British juniors to watch
Ben Tulett
The younger brother of Dan, who won silver at the 2017 junior Worlds, first-year junior Tulett crowned a sensational 2017/18 season by claiming the rainbow jersey in Valkenburg. Tulett says he has been riding cross since he was three and describes it as "the family sport". He has signed to the Belgian team IKO Beobank-Corendon for the 2018/19 season and says that ultimately he sees himself riding road as well as cross. He says a Tour de France stage win "would be incredible, but first I need to do something in cross".
Sean Flynn
Beat Tulett to the junior national title in January, adding to a junior National Trophy win in Abergavenny earlier in the season. Flynn enjoys mixing disciplines and says he wants to keep his options open for the future. "I just enjoy doing lots of different forms of cycling; it keeps it different," he explains. Flynn points to the importance of racing on the Continent for continued development. "Every race I do I'm learning new things," he says. "It is making me a better rider, not just for cross, but, I think, the other disciplines as well."
Harriet Harnden
Came fourth in the women's under-23 race at Valkenburg as a first-year junior. Also took silver at the under-23 Nationals behind Evie Richards and second place in the elite National Trophy at Derby.
Thank you for reading 10 articles this month* Join now for unlimited access
Enjoy your first month for just £1 / $1 / €1
*Read 5 free articles per month without a subscription
Join now for unlimited access
Try first month for just £1 / $1 / €1
Founded in 1891, Cycling Weekly and its team of expert journalists brings cyclists in-depth reviews, extensive coverage of both professional and domestic racing, as well as fitness advice and 'brew a cuppa and put your feet up' features. Cycling Weekly serves its audience across a range of platforms, from good old-fashioned print to online journalism, and video.