MILLAR JOINS TEAM MATES AT SLIPSTREAM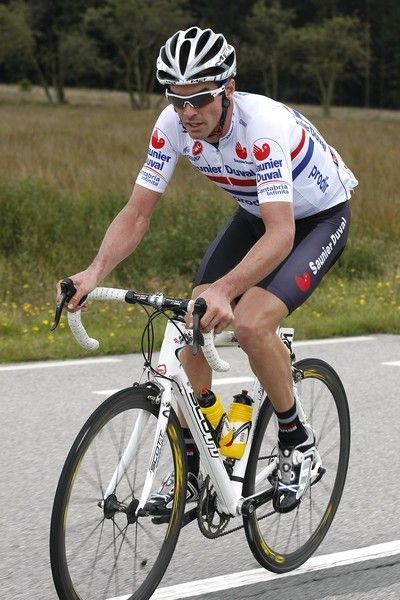 (Image credit: ISOSPORT)
BRITISH road race and time trial champion David Millar is in Boulder, Colorado, for the first training camp of the new-look Team Slipstream. The Scot joined his team mates for a week of bonding, sponsorship meetings, bike fitting and light training which will culminate in the team?s official presentation at the Boulder Theatre next Wednesday.
Millar is one of a series of high profile signings made by team CEO Jonathan Vaughters for 2008 ? Tour de France stage winner David Zabriskie and 2004 Paris-Roubaix champion Magnus Backstedt are also in Colorado, along with ex-CSC rider Christian Vandevelde and Vuelta stage winner Tom Danielson.
Slipstream is being run with a strong anti-doping ethos. The riders are undergoing independent monitoring throughout the season by the Agency for Cycling Ethics (ACE), who will work closely with team management to ensure transparency and credibility. The UCI?s anti-doping chief Anne Gripper also met with Team Slipstream in Colorado.
Tour de France organisers ASO are rumoured to be impressed by Slipstream?s ambition and anti-doping message and the team has been strongly tipped for a Tour de France start in 2008. But Vaughters has refused to confirm that their presence in Brest for the Grand Départ is a done deal.
?ASO haven?t decided who will take part in the Tour yet, and there is a long way to go until then,? he said.
RELATED LINKS
Team Slipstream announce 2008 roster
Thank you for reading 20 articles this month* Join now for unlimited access
Enjoy your first month for just £1 / $1 / €1
*Read 5 free articles per month without a subscription
Join now for unlimited access
Try first month for just £1 / $1 / €1