Mirrors aim to save cyclists from being crushed by lorries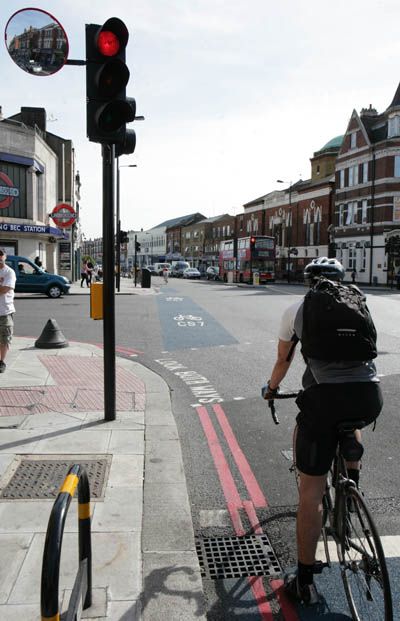 Transport for London (TfL) today announced important initiatives to improve cycle safety around lorries, among them by being the first city in the UK to trial on-street 'Trixi' safety mirrors.
The death of Ninian Donald, 33, occurred when a skip lorry turned left, dragging him under its wheels. The family's case was that lorry driver Bernard Maddern failed to adjust his mirror to check for other road users, before turning left across a cycle and bus lane.
However, Mr Donald's legal team accepted 25 per cent "contributory negligence" after footage showed him undertaking a bus by riding on the pavement before returning to the roadway, close to the lorry as it was turning.
One way such tragedies may be avoided in the future is with extra mirrors on lorries plus this new initiative launched today, the "Trixi" mirror, to be installed at cab height on traffic signals. They are to be fitted at 39 locations on London's roads, for a six-month trial period.
All but two of them will be installed on Barclays Superhighway routes. The first, in Tooting on SC7, went up today, Wednesday 6th July. The Trixi mirrors are intended to give lorry drivers a clear view down the inside of their vehicle, a blind spot for most drivers.
At the same time a poster campaign will warn cyclists never to ride down the inside of lorries at junctions, a manoeuvre which has led to several deaths on London's streets when trucks have turned left over cyclists. A Memorandum of Understanding has also been signed that commits TfL and the Freight Transport Association to work together to improve cycle safety in London.
Mayor of London, Boris Johnson, said: "Safety is the top priority of the cycle revolution that we're bringing to London. That is why we are taking direct action to do everything we can to give cyclists and HGV drivers the tools and information they need to navigate our roads, and each other, safely.
"I am especially pleased that the HGV industry has responded and is ready to act on this issue," said the Mayor. "Their commitment is important for us to be able to make the Capital's roads even safer to cycle on."
Since 2008 freight operators have spent over £75 million retrofitting mirrors to HGVs to improve visibility as well as supporting campaigns to promote the use of Fresnel lenses.
A European Union directive required lorries over 3.5 tons to be fitted with new wide angle mirrors by March 2009. However, the directive only applies to lorries registered since 2000.
According to TfL, the number of cyclists killed or seriously injured on London's roads has fallen by 24 per cent compared with the government's figures from the mid to late 1990s, while the number of cyclists has increased by 117 per cent since 2000. Nevertheless, last year 13 people were killed under lorries in London, 10 of them
women.
Available now is a two-minute animated film on how to cycle safely around the capital on www.youtube.com/user/BarclaysCycle.
It doesn't include a warning about a flaw in the Superhighway system which is the possibility of finding a parking bay blocking the route as we reported last week and which led the CTC, the national cyclists organisation, rechristening them the "Stupidhighways".
Thank you for reading 20 articles this month* Join now for unlimited access
Enjoy your first month for just £1 / $1 / €1
*Read 5 free articles per month without a subscription
Join now for unlimited access
Try first month for just £1 / $1 / €1