Motor doper: 'I'll be made an example of, but I'm not the only one to use a motor'
Cyril Fontayne bagged €500 in prizes at five races in a month using bike with hidden motor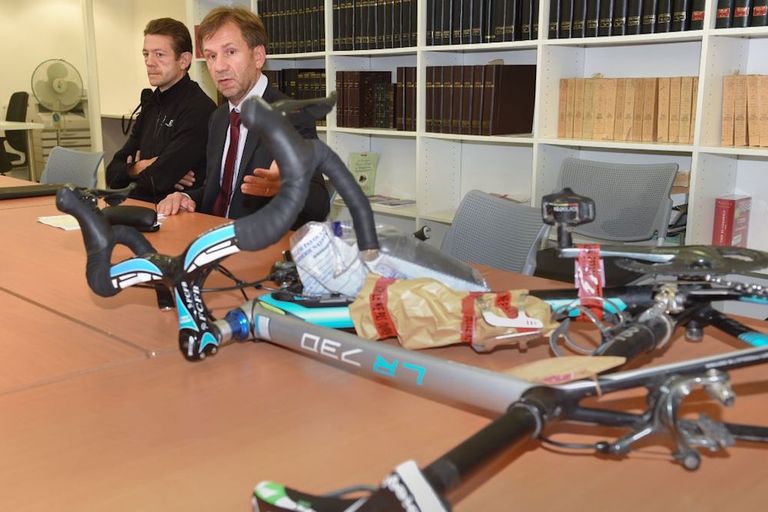 (Image credit: AFP/Getty Images)
Further details have emerged about the case of motor doping fraud that was discovered following a third-category and junior race at Saint-Michel-de-Double in south-west France on October 1.
The rider concerned has been revealed as Cyril Fontayne, a 43-year-old plasterer who is a member of the SA Mussidan club that was organising the event.
>>> Christophe Bassons catches motor doping suspect after car chase
Speaking at a press conference, the public prosecutor in Périgueux, Jean-François Mailhes, revealed that Fontayne had told him that he wanted to "compete on an equal footing" with riders who were, according to Fontayne, using "various methods of doping".
Mailhes also explained that Fontayne had competed with the motor-powered bike on five occasions since 21 August, pocketing 500 euros in prize money.
L'Équipe reported the magistrate as saying that "the frame had been acquired on a Chinese website and the electric motor on a French website" for around 3,000 euros.
Speaking to the France Bleu Périgord radio station, Fontayne said he was using the hidden motor to help relaunch his racing career after injury.
"I suffered a herniated disc in March and couldn't ride my bike for three months. I tried to get back into racing but I struggled because of sciatica. I did it so that I wouldn't struggle so much towards the end of races.'
Fontayne added: "I didn't want to be the champion of Dordogne or win a lot of races. I just did it to feel good again."
He recognised that his fellow competitors would be aggrieved having discovered that he had cheated, but played down the severity of his offence.
"I've not sold drugs or killed a child. I've simply placed a motor in a bike. I will be made an example of, but that's to cycling's benefit as I'm not the only one to do this."
Fontayne's use of a motor-powered bike in a race where just 16 riders participated was uncovered by former pro Christophe Bassons, who is now the regional anti-doping representative for the Nouvelle Aquitaine region.
Bassons revealed he had received a tip-off about Fontayne from within the local racing scene.
The renowned anti-doping campaigner described the motor used by Fontayne as a basic model that's been on sale for some years.
It was produced by Vivax Assist and can, according to the company's website, deliver a 120-watt increase in power for up to an hour and a half's use, depending on the quality of the battery employed.
"I watched him cover 25 laps and, with the naked eye, you couldn't see anything during the race," Bassons told L'Équipe.
Bassons found the device after Fontayne had abandoned the race when leading due to a puncture. Fontayne had then attempted to drive away in his car, only to be stopped and questioned by Bassons and judicial officials.
As well as sporting sanctions, Fontayne is likely to face a charge of fraud or attempted fraud.
Thank you for reading 5 articles this month* Join now for unlimited access
Enjoy your first month for just £1 / $1 / €1
*Read 5 free articles per month without a subscription
Join now for unlimited access
Try first month for just £1 / $1 / €1