Christophe Bassons catches motor doping suspect after car chase
Noticing he was under surveillance, the rider attempted to evade officials wanting to question him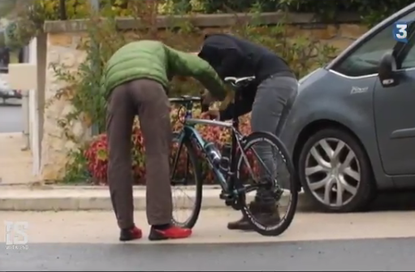 Further details have been revealed about the arrest of a 43-year-old French rider found to have been using a hidden motor at a third-category and junior race in the south-west of the country, including the news that former pro Christophe Bassons pursued the suspect in his car when he attempted to evade detection at a race in Saint-Michel-de-Double, near the city of Périgueux.
Bassons, who now works as in the inter-regional anti-doping representative in that region, received information that the rider was suspected of using a hidden motor at several races over the summer.
Working in conjunction with officials from the Central Office for the Prevention of Damage to the Environment and Public Health (OCLAESP), Bassons attended the race organised by SA Mussidan with the aim of confronting the rider.
The rider, a member of that same club, was in the break with Mathys Fédrigo, nephew of former pro Pierrick Fédrigo, when he noticed Bassons and other officials watching the race. When he punctured with four laps remaining, the rider under suspicion returned to his car and drove off.
Watch: How the UCI tests for hidden motors?
According to L'Équipe, Bassons got into his own car and went off in pursuit. He soon managed to get the suspect to stop, and the two men were joined by two judicial officials from Périgueux.
'I asked him if I could try out his bike,' Bassons told L'Équipe. "He was a bit surprised by that. I then lifted out the water-bottle [in which the battery was hidden] and noticed the electric wire."
The suspect and his bike were taken to Montpon-Ménéstérol to be questioned by the two officials. At the same time, a mechanic stripped down the bike to find the hidden motor.
The 43-year-old rider, so far only identified as Cyril, has won several third-category races in France's south-west this year.
He is reported to have used two bikes when competing, one fitted with a motor and the other without. He is set to be charged with sporting fraud by the magistrate in Périgueux.
Thank you for reading 10 articles this month* Join now for unlimited access
Enjoy your first month for just £1 / $1 / €1
*Read 5 free articles per month without a subscription
Join now for unlimited access
Try first month for just £1 / $1 / €1
Peter Cossins has been writing about professional cycling since 1993, with his reporting appearing in numerous publications and websites including Cycling Weekly, Cycle Sport and Procycling - which he edited from 2006 to 2009. Peter is the author of several books on cycling - The Monuments, his history of cycling's five greatest one-day Classic races, was published in 2014, followed in 2015 by Alpe d'Huez, an appraisal of cycling's greatest climb. Yellow Jersey - his celebration of the iconic Tour de France winner's jersey won the 2020 Telegraph Sports Book Awards Cycling Book of the Year Award.