43-year-old amateur rider reportedly found with a motor in his bike at race in France
Rider likely to face charges of fraud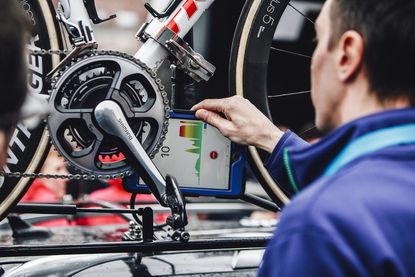 A 43-year-old amateur rider has reportedly been caught using a motor in an amateur race in the Dordogne region of south-west France.
According to Le Télégramme (opens in new tab), the rider was caught as a result of an operation carried out jointly by judicial officials in the city of Périgueux, the French Cycling Federation (FFC) and the French Anti-Doping Agency (AFLD) at a race that took place in St-Michel-de-Double.
>>> Christophe Bassons caught motor doping suspect following car chase
"We were tipped off by someone at the French Anti-Doping Agency that they suspected someone was attempting to cheat using an electrical system, apparently a little motor," said Jean-François Mailhes, a magistrate in Périgueux.
The rider, who is said to be a member of cycling club in Périgueux, is reported to have attracted attention earlier this week due to the ease with which he negotiated climbs at a race in Eyzies.
Watch: How the UCI tests for motors
He had his bike checked at the finish of the race in St-Michel-de-Double on Sunday and, Mailhes added, "admitted using the banned system".
The rider was subsequently questioned by police, partly to establish the amount of prizes he had won using the banned motor. He is likely to face a charge of fraud.
The FFC, whose former president David Lappartient has just been elected to the presidency of the UCI based to an extent on a commitment to crack down on the threat of motorised doping, has said that this is the first case of this kind to be revealed in France.
Belgian rider Femke Van den Driessche was the first rider to be found with a bike fitted with a hidden motor, at the World Cyclocross Championships in January 2016. She received a six-year ban from the UCI.
Thank you for reading 10 articles this month* Join now for unlimited access
Enjoy your first month for just £1 / $1 / €1
*Read 5 free articles per month without a subscription
Join now for unlimited access
Try first month for just £1 / $1 / €1
Peter Cossins has been writing about professional cycling since 1993, with his reporting appearing in numerous publications and websites including Cycling Weekly, Cycle Sport and Procycling - which he edited from 2006 to 2009. Peter is the author of several books on cycling - The Monuments, his history of cycling's five greatest one-day Classic races, was published in 2014, followed in 2015 by Alpe d'Huez, an appraisal of cycling's greatest climb. Yellow Jersey - his celebration of the iconic Tour de France winner's jersey won the 2020 Telegraph Sports Book Awards Cycling Book of the Year Award.