Motorcycling ace cycles to fitness on Majorca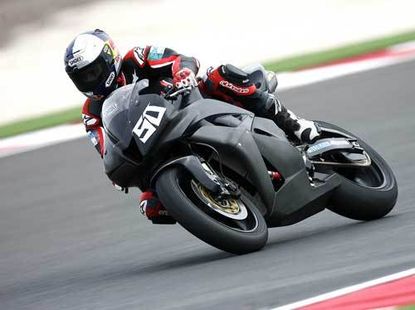 Northern Ireland World Supersport championship motorcyclist Eugene Laverty has temporarily ditched the motor in favour of his pedal-powered bike to go training on the roads of Majorca.
"I arrived in Majorca on February 3 for one week?s cycling before I head off to Australia for the first round of the season," Laverty said last week.
"The Tour of Majorca begins on Sunday so we?ve been seeing a few of the pros out and about on the road this week, just today we saw the Milram team. I don?t think I?m quite ready to grab onto their shirttails just yet though."
"It?s nice to be able to rack up the miles outdoors this week as I?ve been on the turbo trainer all winter. The weather back home is depressing during the winter months so it?ll make a nice change to cycle under sunshine in February.
"Riding here feels like more of a reward for all those winter turbo miles than it does training. I enjoy the flats as much as anything though; I don?t really need to be a climber to ride a CBR600."
Asked what he most enjoys about cycling, Laverty replied "I enjoy the winding picturesque mountain roads, they were amazing in Granada. In professional cycling it?s fascinating how much goes on that we don?t see at home. The guys at the top are analytical; Armstrong and Cavendish are ultimate perfectionists."
EXTERNAL LINK
Eugene Laverty: www.eugenelaverty.com
RELATED LINK
Steegmans wins first stage of Tour of Majorca
Thank you for reading 20 articles this month* Join now for unlimited access
Enjoy your first month for just £1 / $1 / €1
*Read 5 free articles per month without a subscription
Join now for unlimited access
Try first month for just £1 / $1 / €1