Nearly 100 riders killed or seriously injured due to potholes in last two years
Figures from Department of Transport show the human cost of poor road surfaces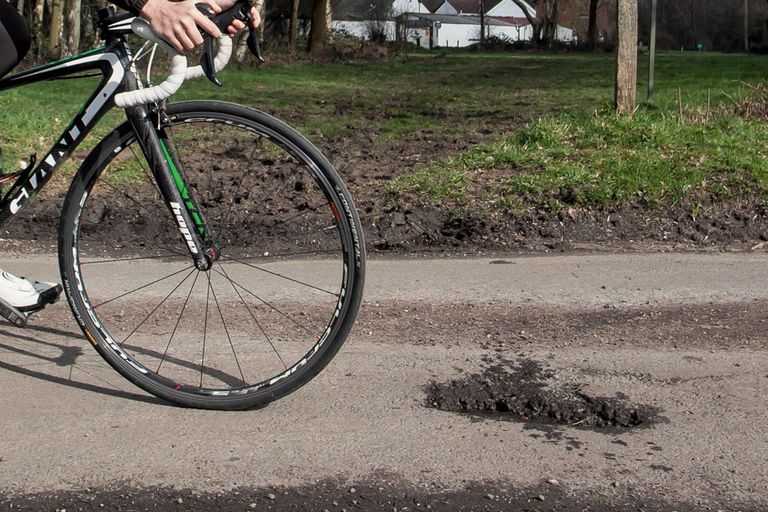 Nearly 100 cyclists have been killed or seriously injured on Britain's road in the last two years due to potholes and other defective surfaces.
Figures from Transport Minister Andrew Jones showed that 99 cyclists were killed or seriously injured in accidents where "poor or defective road surfaces" had been a contributory factor between 2014 and 2015.
The statistics were revealed in a written answer from Mr Jones in response to a question from Liberal Democrat leader Tim Farron, and showed a slight downward trend, with the number of cyclists killed or seriously injured by defective road surfaces falling from 53 in 2014 to 46 in 2015.
>>> Father-of-three dies after hitting unrepaired pothole in Surrey
27 of those accidents took place on A roads, 13 on B roads, and 59 on C roads or unclassified roads. Figures for 2016 will be available in June.
Despite numbers falling between 2015 and 2014, Sam Jones of Cycling UK told the Independent that this was not the wider trend, and called on the government to put more investment into road repairs.
"While the number of KSIs [killed and seriously injured] due to defective road surfacing for 2015 was thankfully down from 2014, the overall trend is on the up, and very worrying.
>>> Cyclists bewware: National Pothole Day highlights rise in number of road defects
"With a pothole problem that is estimated will cost £14bn to fix, the Government's commitment of £6bn is a bit like using a sticking plaster to fix a broken leg.
"Defective road surfaces are particularly worrying for our most vulnerable road users, as it is trips to the hospital not the garage that they potentially face."