NEW CYCLE SPORT ISSUE ON SALE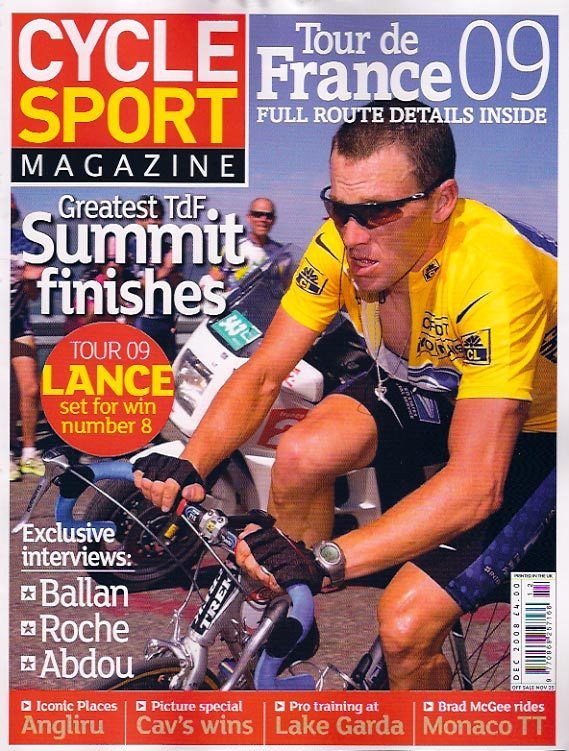 Lance Armstrong features on the cover of the new issue of Cycle Sport magazine, out now.
Comeback man Armstrong is the undisputed king of summit finishes, and this year's Tour de France route seems to play into his hands. Cycle Sport takes an in-depth look at the 2009 Tour route and rates the Texan's chances of success.
Plus, the magazine charts the 56 mountain-top finishes that have shaped the Tour de France in its long history - from Alpe d'Huez to Val Louron. And there's the usual mix of features, interviews, exclusive photos and essential info for every fan of professional road racing.
Cycle Sport December 2008 issue is on sale now at WHSmith, major supermarkets and all good newsagents priced £4.
CYCLE SPORT DECEMBER 2008: FULL CONTENTS LIST
FOCUS
This month in pictures
REVIEW
Our take on the latest news
LETTERS: YOUR SAY
Your views on Nicole Cooke and the late Tour positives
ALESSANDRO BALLAN
We investigate how Italy's unlikely hero is adjusting to being world champion
WHEELS OF FORTUNE
We follow Brad McGee as he shows us around stage one of next year's Tour in glitzy Monaco
INTERVIEW: NICOLAS ROCHE
CS talks to the Irishman who rode brilliantly at the Vuelta
TECH: SHOP WINDOW
The latest must-have products
GRAHAM WATSON: HE SHOOTS, HE WRITES
Graham tries to unpick some baffling tactics at the Worlds in Varese
ICONIC PLACES
The Angliru, Spain, is another fearsome brute for your collection
NOSTALGIA
Tashkent Terror Djamolidine Abdoujaparov spotted in Italy!
RIDES
A saunter around the Italian lakes with Kurt-Asle Arvesen
CHALLENGE
Four classic climbs done and dusted in a weekend
YOUR QUESTIONS
What happened to Paris-Tours, Worlds trivia and more
RESULTS
Autumn pro-scene race results
BROOMWAGON
The angriest journo in cycling