New Dutch bike lock aims to stop cyclists from using their phones while riding
The Netherlands combating cycling accidents where phones are at the heart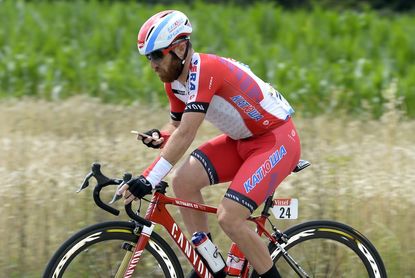 (Image credit: Watson)
A Dutch telephone company has created a bike lock that will stop riders from using their phones.
KPN, a mobile telecom company, has teamed up with the Dutch Traffic Safety Association to find a solution to the number of people who regularly ride through the busy streets while on their phone.
Using an app to open the lock before riding it will also block the KPN network emitted from the phone making it impossible to make calls unless you call emergency services.
>>> Cars, taxis, and lorries banned from major London junction in bid to improve cyclists' safety
The app will unblock the network once the lock is closed again. Riders won't have their music muted though as the app only works to block network signals meaning riders can still in enjoy music should they want to.
Coming out at the end of the year for €100 (£89), the Safe Lock is hoping to prevent younger riders from having accidents as stats show that one in five bicycle accidents involving children is caused by a smartphone.
KPN spokeswoman Victorina de Boer hailed the move as a world first in protecting riders.
"If you want to assure yourself of not being disturbed by ... notifications which can take away your attention from the traffic around you, then this is a good solution," De Boer said.
The initial roll out will allow only KPN users to buy the lock but that could change in future. "Anything to increase the safety of children on their bike in traffic", she added.
Being tested over the summer, developers are also looking into how to migrate the service from its Android beginnings to Apple's mobile software, iOS.
Thank you for reading 20 articles this month* Join now for unlimited access
Enjoy your first month for just £1 / $1 / €1
*Read 5 free articles per month without a subscription
Join now for unlimited access
Try first month for just £1 / $1 / €1