Cyclists rejoice! Three to four cups of coffee per day could make you healthier
Three to four cups of coffee found to give optimum health benefits, but seven cups can still be good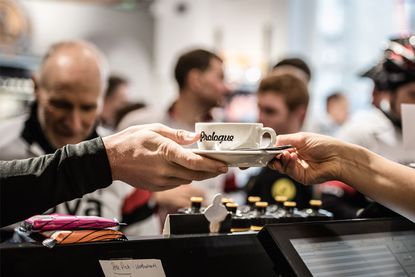 In news that is sure to bring jubilation to cyclists around the country, researchers have concluded that coffee could come with substantial health benefits, with up to seven cups of coffee reducing the chance of an early death.
In a paper published in the British Medical Journal, scientists from the Universities of Southampton and Edinburgh collected data from more than 200 previous studies into the health effects of caffeine, finding that coffee consumption is associated with a range of health benefits which outweigh any negative effects.
The research concludes that three to four cups of coffee per day offered the optimum health benefits, lowering the risk of developing heart problems, diabetes, liver disease, depression, dementia and some cancers, and overall would reduce the chances of an early death by 17 per cent.
>>> The results are in: Drink coffee, ride faster
If you drink more than that then the study also offers some hope, with even consuming seven cups of coffee per day reducing the risk of an early death of 10 per cent.
However the authors of the study also point out that the potential health benefits are not universal, with coffee consumption by pregnant women linked to a higher risk of miscarriage. They also urge coffee drinkers to stick to "healthy coffees", so your Venti Iced Toffee Nut Latte with Hazelnuts and White Chocolate Mocha Sauce might be off the menu.
Watch: Top three nutrition mistakes that amateurs make
"Coffee is one of the most commonly consumed beverages worldwide. As such, even small individual health effects could be important on a population scale," wrote the authors of the study.
"Coffee consumption seems generally safe within usual levels of intake, with summary estimates indicating largest risk reduction for various health outcomes at three to four cups a day, and more likely to benefit health than harm."
>>> Governing body warns against junior cyclists using caffeine supplements following illness
Of course coffee is the beverage of choice for cyclists around the world, with a range of studies showing that caffeine can give a performance benefit especially when exercising at high-intensity.
But most importantly, it tastes great, especially when combined with a healthy dose of carrot cake at a mid-club run cafe stop.
Thank you for reading 20 articles this month* Join now for unlimited access
Enjoy your first month for just £1 / $1 / €1
*Read 5 free articles per month without a subscription
Join now for unlimited access
Try first month for just £1 / $1 / €1