No news is not good news for Contador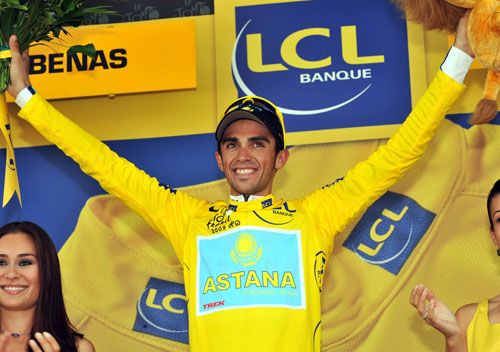 "There's no news, I'm sorry" was Alberto Contador's slighty bizarre opening gambit at his press conference held at the finish of stage 19 of the Tour of Spain. And for Contador, it would be appear that no news is not good news at all.
Contador held the press conference, he said, in order not to have to repeat the same story time and again in different interviews. His future remains completely uncertain and he is unable to say which team he will be racing with in 2010.
"I'd happily race for Astana if I could be certain there were good enough riders there," he said - something far from definite given the large numbers leaving for RadioShack, amongst them Levi Leipheimer and Lance Armstrong.
"But at the moment it's a team without a solid structure for 2010 and that makes me very worried about next year."
"It's not even clear who's directing the team any more, so it's impossible to sit down and negotiate."
He mentioned Caisse d'Epargne, Quick Step and Garmin-Slipstream as possible alternatives. He even brought up the idea of forming his own team.
But given he is under contract with Astana until 2010, these don't appear to be realistic options for the moment.
Asked by one journalist who claimed that Bruyneel and Armstrong will be taking everything - right down to the team bus - with them to Radio Shack, Contador said "the only thing that worries me are the riders. Everything else has a solution."