Paris-Roubaix pills turned over to anti-doping authorities
International cycling news round-up (April 17): Armstrong fixes a flat; Horner leaves hospital; Movistar names Quintana's Giro team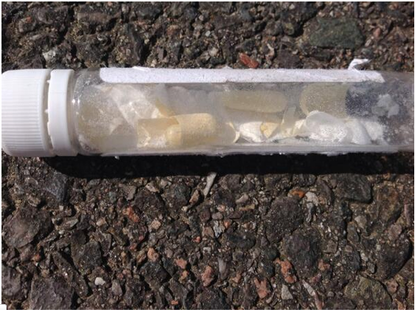 Roadside fan Mike Brampton, who found a vial of pills after a crash in Paris-Roubaix, will hand the pills over to UK Anti-Doping today.
The partially smashed vial marked "test" and with a barcode made headlines after Brampton posted a photograph it on Twitter. Cycling president, Brian Cookson urged Brampton to contact authorities.
Cookson wrote on Twitter, "W'out jumping to conclusions, please pass this to CADF [Cycling Anti-Doping Foundation], AFLD [French anti-doping agency], UKAD or police. Tks."
Brampton has not publically stated when the crash occurred or which rider lost the vial. He said, however, that he knew the rider's name and would give it to UK Anti-Doping
Armstrong appears after testimony
Lance Armstrong appeared in a how-to video one week after he named his doping entourage in publicised testimony. Outside Magazine published the first of a series of videos that showed the former seven-time Tour de France winner repairing a punctured tyre.
Last Wednesday, testimony files from a November court hearing were made public as part of a whistle-blower lawsuit against Armstrong. The files formed part of a separate case Acceptance Insurance has against Armstrong.
According to USA Today, Armstrong named four people who provided him with drugs: trainer Pepi Marti, Dr. Pedro Celaya, Dr. Luis Garcia del Moral and Dr. Michele Ferrari. He said that three people – masseuse Emma O'Reilly, bike mechanic Julien de Vriese and 'Motoman' Philippe Maire – delivered the products to him. He added that long-time team manager, Johan Bruyneel knew of his doping.
Horner leaves hospital after hit and run
Chris Horner left Lecco's hospital yesterday after a hit and run training incident on Lake Como. Cycling's oldest Grand Tour winner suffered a punctured lung and broken ribs and cancelled his Giro d'Italia plans.
"When I came to, I was on the other side of the tunnel," the 42-year-old told La Gazzetta dello Sport newspaper. "Had car been coming from the other direction, I would've been dead."
The driver, identified as a 70-year-old man from Milan, hit Horner with the mirror of his Range Rover. When the incident occurred, Horner was on a six-hour training ride and cycling through a "dark" tunnel north of Lecco, near Varenna. He picked himself up and made his way out of the tunnel so he could use his telephone. He collapsed. Another driver stopped, and called team Lampre's Brent Copeland and the police.
Horner became cycling's oldest Grand Tour winner when he won the Vuelta a España last September at 41. He said that he must bin his Giro d'Italia plans but that he hopes to return for the Tour de France in July.
Movistar names Quintana's Giro long-team
Team Movistar named the cyclists to support Nairo Quintana's Giro d'Italia bid next month. It did not list Brit Alex Dowsett, who won the time trial stage last year and is aiming for a Tour de France spot.
The Spanish team will take eight of the following riders: Igor Antón, Andrey Amador, Eros Capecchi, Jonathan Castroviejo, Gorka Izagirre, José Herrada, Pablo Lastras, Adriano Malori, Fran Ventoso and Sylvester Szmyd.
The 24-year-old Colombian placed second to Chris Froome at the Tour de France last year. He also won a stage, and the mountains and young rider classification.
Thank you for reading 20 articles this month* Join now for unlimited access
Enjoy your first month for just £1 / $1 / €1
*Read 5 free articles per month without a subscription
Join now for unlimited access
Try first month for just £1 / $1 / €1