Paul Smith's five most stylish modern cyclists
British fashion designer Paul Smith picks his five most stylish cyclists from recent times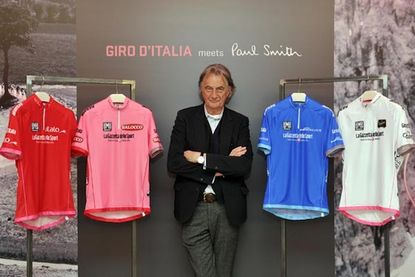 Fashion designer and cycling fan Paul Smith visited the Giro d'Italia in Tuscany on Wednesday to see the battle between Alberto Contador (Tinkoff-Saxo) and Team Sky's Richie Porte – and of course, to talk style.
Smith, while watching the race from the VIP caravan above the finish line, talked mostly about his customers and Brits, but explained what sets them apart from the other riders in the peloton. Below is Smith's top five list of the most stylish modern cyclists.
'Effortless' David Millar (recently retired)
"David's always been a very good customer and very stylish. His style is effortless, he just puts things together that are not contrived, not self-conscious...He just wears clothes well."
'Particular' Bradley Wiggins (Team Wiggins)
"Bradley's always had an interesting fashion since he's been a young guy. He looks good, he enjoys fashion. He just doesn't just wear it, he enjoys it. He has a particular clear view of the clothes he likes. Ten years ago, it was a very English Mod style, and that's one of his nicknames Modster, and he's a big fan of The Jam and Paul Weller. More recently, he's been having suits made especially for him rather than just buying them from ready to wear."
'Casual' Mark Cavendish (Etixx-Quick Step)
"Cavendish wears very casual clothes in a good way. Cavendish's a very laid-back character. Luckily again, he's a very good customer. He wears short zip up jackets and casual shirts instead of a more tailored look."
'Modern' Tyler Farrar (MTN-Qhubeka)
"Tyler Farrar's very fashion aware. He's very modern in the way he dresses, slim shapes, modern fabrics, mixing sportswear with more with what you call smart clothes."
'Easy-going' Ivan Basso (Tinkoff-Saxo)
"Basso buys a lot from our Paul Smith shop in Milan on Via Manzoni. He likes comfortable clothes, a soft Paul Smith suit. We launched a suit called a Suit to Travel in, which suits him well. Mark Cavendish also has one. His style reminds me of Mark's; those guys practice so much sport that when they're off the bike they want very easy-going clothes."
Thank you for reading 20 articles this month* Join now for unlimited access
Enjoy your first month for just £1 / $1 / €1
*Read 5 free articles per month without a subscription
Join now for unlimited access
Try first month for just £1 / $1 / €1