PENDLETON AND READE SCOOP SUNDAY TIMES SPORTSWOMEN OF THE YEAR AWARDS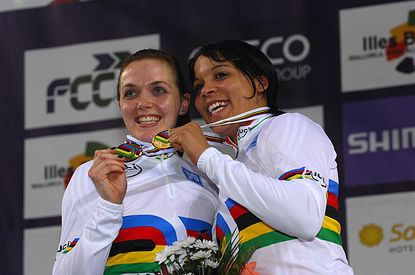 BRITAIN?S Olympic hopefuls Victoria Pendleton and Shanaze Reade were today named Sunday Times Sportswoman of the Year and Young Sportswoman of the Year respectively.
The awards were announced at the 2007 Sportswomen of the Year Awards held at Lord?s Cricket Ground in London. Pendleton's 2007 achievements have already been recognised by the British Olympic Association, who awarded her the trophy for Olympic Athlete of the Year.
The awards were given in recognition of the pairs incredible success this year. Pendleton won three world titles on the track in Palma, Majorca last April, while Reade won a track and BMX world title.
Reade's track world title came when she joined forces with Pendleton to compete in the first ever women's team sprint. It was Reade's first ever track race, but it didn't show as the pair won the two lap race relatively comfortably.
Pendleton then went on to win the sprint and the keirin world titles with a domination not seen since France's Felice Ballanger ruled the women's sprint events in the late 1990's. Pendleton was in such good form that her coaches at British Cycling believed she could also have won the women's 500m time trial had there not been a clash on the program.
Reade's second world title of the year came for her on more familiar ground, when the 19-year-old from Crewe won her first senior BMX world title in Canada this July, beating her nearest rival by over a second.
Reade also won a BMX test event in Beijing this summer, comfortably beating the rest of the field that was made up of the best BMX racers in the world.
Both riders are strongly favoured to win Olympic titles in Beijing next year. Pendleton in the womens individual sprint and Reade in BMX, a new Olympic discipline.
Pendleton is currently in Australia, training ahead of the Sydney and Beijing world cups. If she gains enough qualification points she need to race again before the world Championships in Manchester at the end of March.
RELATED LINKS
www.worldtrackcycling.com
Pendleton takes third gold at track champs
More Gold for Pendleton as Britain Dominates World Cup
Thank you for reading 20 articles this month* Join now for unlimited access
Enjoy your first month for just £1 / $1 / €1
*Read 5 free articles per month without a subscription
Join now for unlimited access
Try first month for just £1 / $1 / €1