'People blame Lance for everything that went wrong in cycling, but I don't agree'
Johann Bruyneel restates that Armstrong should be allowed to keep Tour titles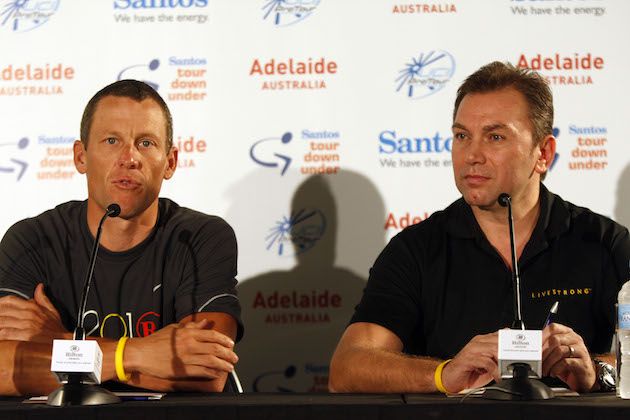 (Image credit: Yuzuru Sunada)
Lance Armstrong's former team manager Johann Bruyneel has spoken in defence of Armstrong and their former US Postal team, saying that the team "did not invent the system" and that it was too easy to blame Armstrong for cycling's problems.
Speaking to Belgian newspaper Het Nieuwsblad, Bruyneel, who worked with Armstrong at US Postal, Astana, and Radioshack, declined to comment on the $100m lawsuit that Armstrong is facing from the US Department of Justice over allegations that he defrauded the US government by using US Postal sponsorship money to fund a doping programme, but said that he and the team were not responsible for cycling's historic drug problem.
>>> Lance Armstrong pulls out of controversial Tour of Flanders appearance just three days ahead of event
"I still can't say everything about the case because it is still running but I do know that Lance and our team did not invent the system, it did not start with us and it did not end with us," Bruyneel said.
"It is easy to blame Lance and the team for everything that went wrong in cycling but I'm sorry, I do not agree with that."
The Belgian former rider and team manager, who is currently serving a 10-year ban for his involvement in the systematic doping regime run at the US Postal team also reaffirmed his belief that Armstrong should be regarded as the winner of seven Tours de France between 1999 and 2005.
"Who else won [other than Armstrong]?" he continued. "There is so much hypocrisy. [Bjarne] Riis won the 1996 Tour, admitted he doped, but he can still keep his title. It's ASO who determines who can keep their wins, and who cannot.
"For seven years we raced 3500km, suffered for three weeks and after all that nobody won the race. No winner in all those years, that says enough to me."
>>> Lance Armstrong and US Postal team-mates race to 86th place in 24-hour mountain bike event
Bruyneel also had strong words for former riders Dave Zabriskie and Floyd Landis, describing Zabriskie's testimony as "utter bulls***" and saying that talking about either man makes his "blood start to boil." However he did show some reticence about some of his past actions
"I do not want to call it intimidation but instead arrogance, which I took part in and that was completely wrong," he continued. "We made a lot of enemies, that's a fact. I'm sorry and I can't undo that. We were in a trance, the focus was solely on results. I'm now embarrassed about how I behaved."