Police renew appeal for cyclists to protect personal information on ride-sharing sites
Police in Dorset believe a recent spate of high-value bike thefts are linked to cyclists giving away location of bike on ride-sharing apps and websites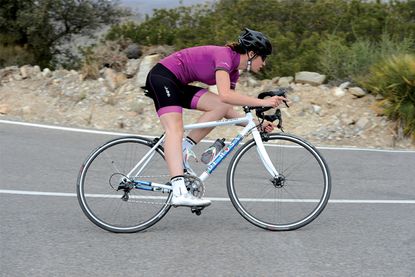 Dorset Police have issued a warning to cyclists using online ride sharing websites to keep their home location private after a recent increase in the number of expensive bikes being stolen in the area.
In a statement issued on Tuesday, Dorset Police urged all cyclists to use online mapping sites' privacy settings to mask the location of where their bike is stored to thwart thieves' efforts.
"We have noticed a rise in the number of high value cycles being stolen recently, particularly from the conurbation, which we believe could be linked to people unwittingly leading thieves to their home addresses due to posting information online," said Sergeant Ady Thompson of Poole's Safer Neighbourhood Team.
"We are urging all cyclists to be mindful of the amount of personal information which they share over the internet and how this can be interpreted by criminals, as data isn't just accessible to fellow enthusiasts, but to thieves too.
>>> Police warn cyclists of thieves using GPS apps to steal bikes
"Changing the privacy settings on an app will make it hard for would-be thieves to pinpoint where the bike is stored when not in use. It takes seconds to do, but can save thousands of pounds, hours of frustration and upset and deny the criminal a 'quick thrill' or a sale."
Dorset Police state that there have been 481 reported incidents of bicycle theft in its area alone. Bikes stolen in Poole were of particular high value, averaging £600.
Watch: Tech of the Month - October 2015
Police urge cyclists to get their bikes marked, so that if they are stolen they can be traced back to the original owner. Keep a photograph of your bike, and make a note of its frame/serial number so that it can be identified.
The use of ride mapping sites by thieves to target residences with high-value bikes was first reported back in 2012. We would urge all users of online ride mapping sites to hide their home location and not list the exact make and model of their bikes, to prevent thieves stealing to order.
In June this year, we also reported that thieves in Wiltshire were targeting houses with cars parked outside that had bike racks installed. Police urged people to remove their bike racks from their cars between use.
Thank you for reading 20 articles this month* Join now for unlimited access
Enjoy your first month for just £1 / $1 / €1
*Read 5 free articles per month without a subscription
Join now for unlimited access
Try first month for just £1 / $1 / €1